An ultimate buying guide for Lithium ion e bike battery manufacturers
36v lithium ion e bike battery factory
14-year professional lithium ion battery manufacturers, 10-year warranty on battery packs, using the best BMS protection board, protecting the lithium battery pack from overcharge, overdischarge, overcurrent, short circuit, etc, with excellent self-discharge rate. Configurable Bluetooth, can be connected in series and parallel. The heating function and other special functions can also be customized. Enough stock for the 10 series of 36v lithium ion battery. Can be shipped within 3 days.
Introduction
The battery is the only thing, that will make you love or break your trust on electric bike. As if you wish to spend a joyful day whilst traveling by your electric bike, then you must need to have strong and best e bike battery. And also you need to have detailed knowledge about e bike battery. If you are e-bike user then this is very important blog for you.
An electric bike is faster and pollution-free, environment-friendly, technology getting popular these days, it uses rechargeable e bike battery and e bike can travel approximately 35 Miles per hour. At a single charge it can travel approximately 100km distance. In fact there is a slight difference from normal bike to electric bike. Electric bike usually contain a rechargeable e bike battery pack, motors and display screen and other components, etc.
Electric Bike batter types
It is wrongly believed that e bike battery is universal or all e bike batteries are same or e bike battery is exchangeable.
Depending on various features like capacity (amp-hours), voltage, weight and dimensions, there are numerous types of e bike battery.
▪Lead batteries
▪Nickel batteries
▪Lithium ion batteries
1. Which battery is best for e bike?
Along with the above features like voltage, capacity and dimensions another important feature of e bike battery is its performance and lifespan, which you need to care before choosing an e bike battery. According to the user's experience Lithium ion batteries are good to choose for your e bike.
Lithium ion batteries are lightweight and compact in size and durable as compared to lead acid and nickel batteries. So based on these facts we can say that Lithium ion batteries are suitable to be the primary power source to ebike.
2. Why Lithium ion batteries is good for e bike?
Lithium ion battery is believed to be superior and high performance, electric bike battery and is the ideal battery as it is long lasting. Its warranty usually lasts for five years and can be charged over 2500 cycle life. Lithium ion e bike battery is efficient. It can quick recharge and like 72V35ah e bike battery at a single charge (capacity Ah) it can go as far as 100km.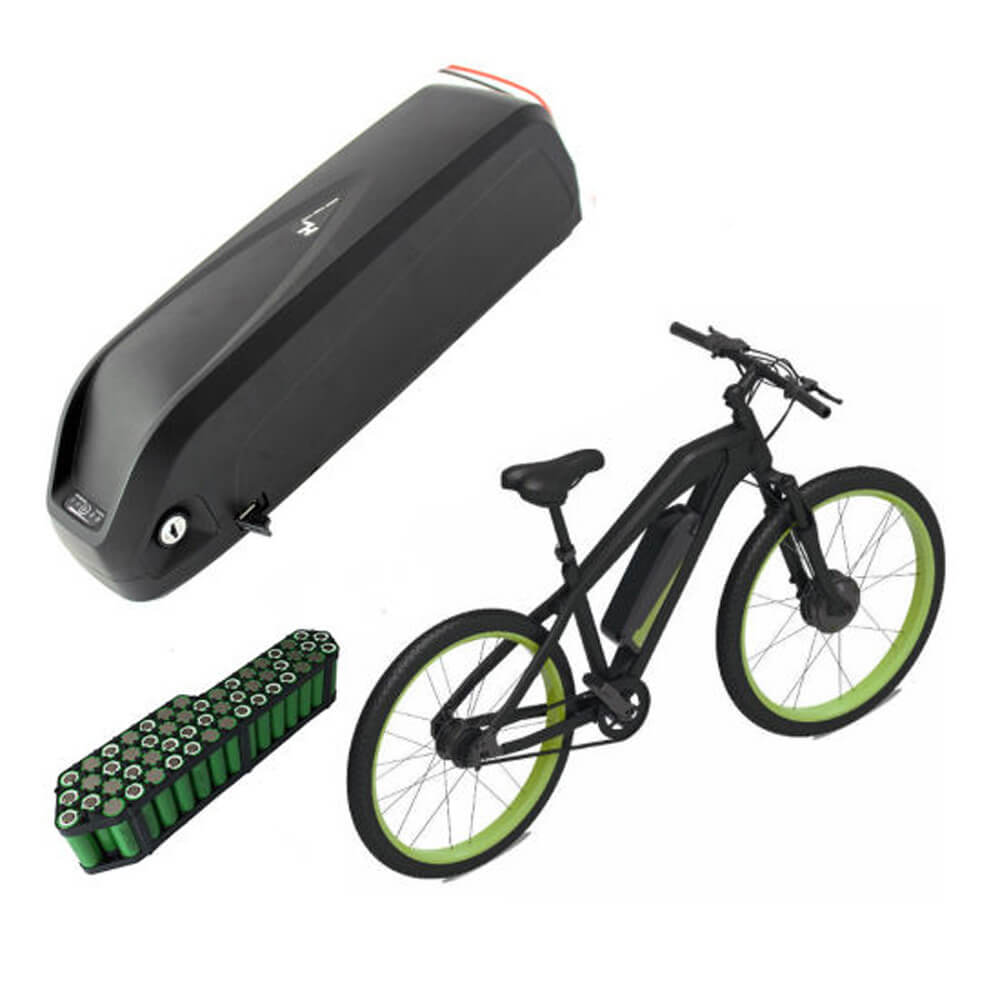 3. E bike lithium ion battery price
If we compare the price of both, lead acid battery and Lithium ion battery, e bike lithium ion battery price is high. Its price is directly proportional to its capacity, as the capacity increases, the price also increases. Like the 10Ah e bike lithium ion battery price is low but that of 20Ah, will be higher.
Electric bike batteries explained
In the electric bike, the major element is its battery. This statement is enough to make you understand the importance of a good battery in an e-bike.
1. Which will be right battery for an electric bike
To decide which will be right battery for your electric bike depends on the efficiency and durability of the battery. At the moment when you think about the battery of your ebike, you need to be familiar with the technical terms of the battery. That is current (amp), capacity is Ampere hour(Ah), Volt (V), watt hour (Wh).
2. Volts
Volts is the measure of electric potential. Electric bikes usually need specific volt for which it is manufactured. Except than that it will not perform or perform poorly or it may damage your ebike motor or other elements.
Usually the nominal voltage of ebike is in between 24v/36v/72V and 48v lithium battery for electric bike.
3. Amps
Amps is measure of current, in terms of mechanics, amp is measure of torque of ebike. So I higher current is drawn by electric bike motor, higher will be motor torque and consequently its speed per hour will be higher as well.
4. Capacity Ah amp hour of ebike battery
Capacity ah amp hour of e bike battery is measured in Ampere hour(Ah) means the amount of current that is produced in an hour. It is electrical charge at single recharge. For example for battery of 20Ah will discharge 20amp in an hour.
5. Watt Hour (Wh)
Watt hour is the measure of the usable energy delivered by the battery. For better understanding, you can say, amount of power in watt, in complete one hour. For example a battery o 100Wh can deliver 100watt power in one hour or 200watt in 30 minutes, or 50watt in 2hours etc.
Battery energy Load Run time in hours
100Wh 50Watt 2 hours
100Wh 100Watt 1 hour
100Wh 200 watt 30 minutes
Watt hours is usable energy delivered by the battery
How long do batteries last in E bikes?
Actually battery is the most expensive part of your electric bike. So it needs attention to find the high quality battery and then keep it in good and well maintained condition. Lithium ion e bike battery is significantly good for the electric bike. These batteries last longer if well maintained and usually last for almost five years life cycle.
Here are the main factors that ensure the long usage of your e-bike battery.
1. Temperature of the battery
Hot weather significantly affects the life and performance of the electric bike a battery. So it is good to keep the ebike equipped with battery, in a cool place or at normal room temperature instead of in sunshine at high temperature.
It was observed during an experiment that a 100% charged battery when stored at room temperature, it just discharge 20% and remained 80% charged over the time of 3months. But when the same battery at 100% charge was stored at higher temperature of 60°C for 3 month period, after self discharge it remained only 60%.
This is evident that self discharge of the battery is less at room temperature and higher in hot sunny weather.
2. Never let your battery discharge to completely Zero
If you store your e bike battery in a condition, even it is fully charged, still there will impact on its capacity. Lithium ion battery usually self discharge over a period of time, even if not in use. So during this if the volt drops to Zero, then it may cause permanent damage to the cell. So it is highly recommended that whenever you need to store your ebike battery, make sure it is charge over 50%. And try best to not let it discharge to fully zero. And also don't keep your battery on charger for longer time.
It is also evident that letting your battery regularly discharge to 0% is dangerous. It is suggested that keep it partially discharge.
Electric bike battery lifespan will be increased if good storage condition and well maintained. In this way your e bike lithium battery will last for approximately five years with extended life cycles.
How long will e-bike battery 48V 20Ah battery last?
There are few factors which indicate that how long will e bike battery 48v 20ah battery last?
a)Condition of ebike battery
b)How many times its been charged
c)Life of battery
Life cycle of lithium ion battery is over 2500 times before it gets expired. And the good battery will let the rider to ride as far as 100km at a single charge.
1. 48V 20Ah electric bike battery
Actually there is a way to calculate, how long will e bike battery 48v 20ah last, that is
Am-hour(Ah) x Volt(V) = Watt- hour(Wh)
Here
Am-hour(Ah) is 20Ah
Volt(V) is 48V
20Ah x 48V = 960Wh
Approximately
1 mile requires 15Wh
Hence,
960Wh x 1mile/15Wh = 64miles 100km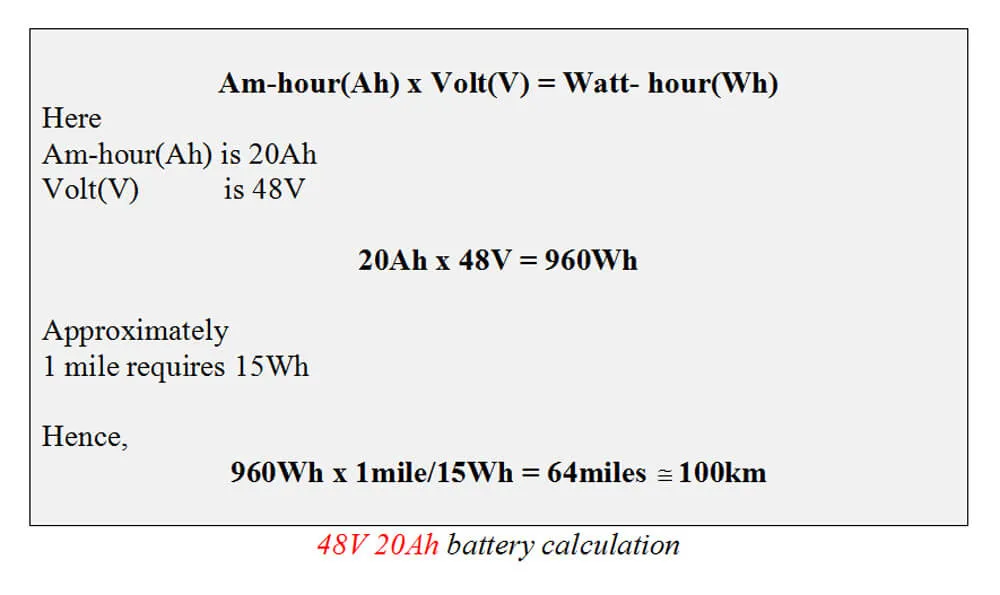 So, we can say that if e-bike consume 10Wh to cover 1 mile of distance then the electric bike with capacity of 20Ah and volt of 48V,will cover the distance of 96 miles.
But here is it also important to notice that weather condition like if it hot sunny day, and the weight the e-bike will carry will highly impact the performance of the electric bike battery.
2. Lifespan of 48V 20Ah e-bike battery
Lifespan ebike battery highly dependent on factors like; weather conditions, the temperature of battery at the time of charging and discharging, the rate at which it is being charged either it is quick or very slower, at which voltage rate it is being charged, and last but not least the DoD that is depth of discharge.
Age of battery is also important factor affecting the lifespan of the battery. If we compare the performance of the ebike battery, the new battery will be more efficient in terms of performance as compared to the aged battery.
3. How to charge your 48V 20Ah e-bike battery to make it last longer
As mentioned above, it is not recommended to put your fully charged battery at elevated temperature. And also don't place your ebike battery at high temperature while it is getting charged. So the best method is always charge it at cool place that can be shady place or at room temperature.
And always prefer to use slow charger of your ebike battery. Like if a charged takes 2hours to fully charge your battery is never recommended but the charger which use 6hours to fully charge your battery is recommended. Slower the charger, best will be the performance.
Which battery are used in electric bike?
Electric bike get its driving force from its battery. So how good the performance of the electric bike is, mainly dependent on its battery.
Here I will explain, about the ebike batteries, on which basis ebike batteries are similar or non similar and which is the best battery for your electric bike.
Among the various categories of ebike batteries, like lead acid battery, Li-ion battery is the most reliable choice for your ebike.
1. Lithium Ion power bike batteries
Lithium batteries are most loved among electric bikers due to its strong durable features like long lifespan, high performance, light weight and compact size.
2. Categories of lithium Ion power bike batteries
Lithium ion batteries come in different categories that are discussed below
a)Lithium Manganese battery
Among the Lithium ion batteries, Lithium Manganese battery is the most latest lithium battery technology and famous for its range and age. Among other lithium ion batteries, Lithium Manganese battery last for longer time. Good for heavy duty applications.
b)Lithium Cobalt battery
Its also reliable but rather older technology in lithium ion batteries but its energy density is better than the rest Li-ion batteries.
c)Lithium Polymer battery
It is light weight, low price and good performance battery.
It is dry battery and deliver more stable performance.
It is good for light use and light applications like electric bike, as e-bike is low power application.
We will highly recommend you to use lithium ion batteries due to its unbeatable features and smart technology. Consequently you will love your ride by your electric bike.
Can I use a 36v lithium ion battery e bike with a 48v ebike motor?
The questions which are most frequently asked by electric bike riders are; Can I use a 36v lithium ion battery with a 48v e bike motor? Or Can I use any battery for my ebike ?
Simply answers to all these questions are, electric batteries are not universal and interchangeable. Each electric battery has unique specifications based on its dimensions, volt and capacity (amp-hours).
So it is wrong perception that ebike battery is universal and interchangeable. Based on these facts, we can't use a 36v lithium ion battery with a 48v e bike motor. Otherwise it will affect the performance of battery or will damag e the sensitive parts and components of ebike.
1. Why ebike battery is not a universal battery
For riders and manufacturers, e bike battery replacement is important task. Every lithium ion battery come with unique technical specs in terms of its capacity(Ah amp hour), amps ,volts and watt hour(Wh) and dimensions.
Actually watt-hour is a measure of power produced by the battery and is consumed by the ebike motor to make it move toward the destination.
So this is evident that a battery with different volts and amp-hour will generate different watt-hour. In addition to this, watt-hours should match with battery charger as well as with the ebike.
The dimensions of two lithium ion batteries with 48Volt and 36volt, will be different. Of-course Li-ion 48Volt battery will be lager and heavier than that of 36Volt.
Am-hour(Ah) x Volt(V) = Watt- hour(Wh)
Here
Am-hour(Ah) is 20Ah
Volt(V) is 48V
20Ah x 48V = 960Wh Am-hour(Ah) x Volt(V) = Watt- hour(Wh)
Here
Am-hour(Ah) is 20Ah
Volt(V) is 36V
20Ah x 36V = 720Wh
Hence,
960Wh 720Wh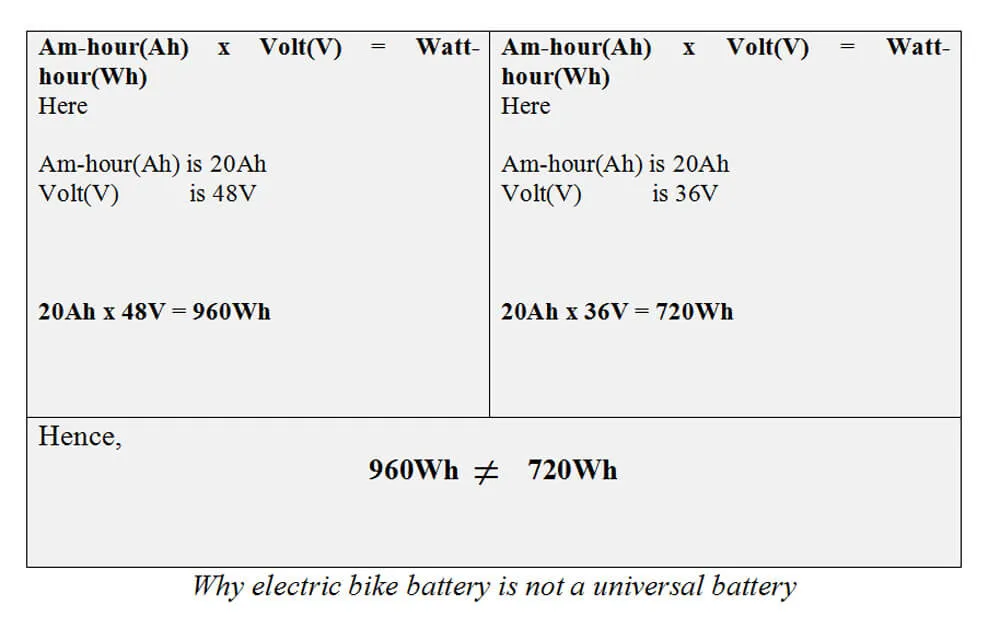 2. Electric bike voltage
Usually electric bike voltage lies in the range of 24volt to 72volt. There is difference between power and speed. Higher voltage can produce high speed but it doesn't mean high power. If your electric bike is designed for 36Volt but you want to increase speed so you adopt 48Volt battery, then ultimately it will over discharge and stop working. That is also answer to your question why e-bike battery isn't universal.
3. Should I acquire high Amp-hour battery for my e bike
Amp-hour indicate the capacity of the ebike battery. This capacity actually indicate how long this battery will last and how far it can take you.
So, the capacity will determine how much distance you can cover at a single charge.
The important thing is that you cant interchange your ebike batteries. As each ebike has different watt-hour
Am-hour(Ah) x Volt(V) = Watt- hour(Wh)
Here
Am-hour(Ah) is 20Ah
Volt(V) is 48V
20Ah x 48V = 960Wh Am-hour(Ah) x Volt(V) = Watt- hour(Wh)
Here
Am-hour(Ah) is 20Ah
Volt(V) is 36V
20Ah x 36V = 720Wh
Hence,
960Wh 720Wh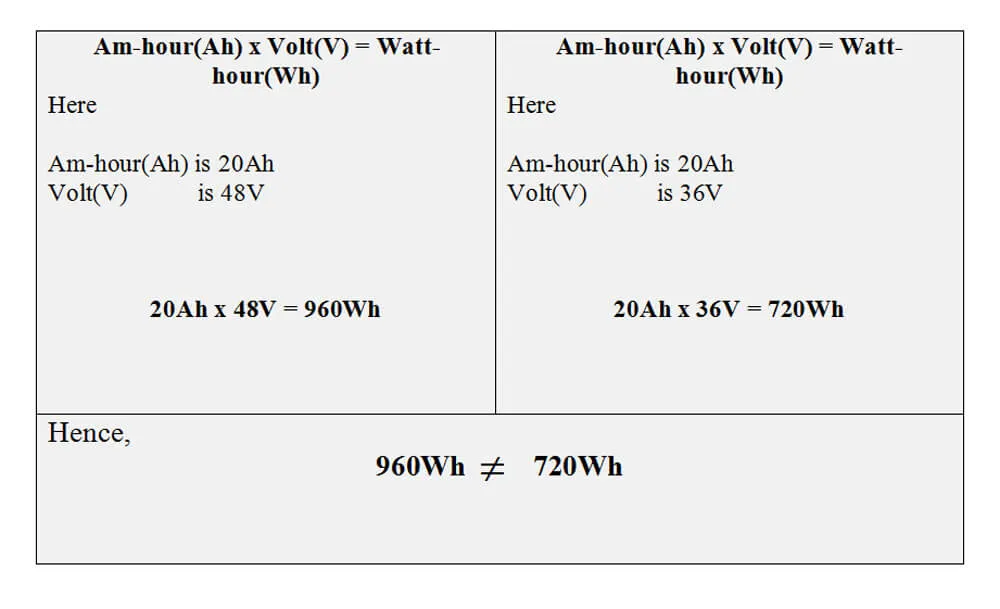 E bike battery pack
Actually an e bike battery pack is made up of various smaller battery cells. All these cells are composed in a way that collectively they could deliver the required power to your ebike. Depending on cell compositions of a Lithium ion battery, size, weight and shape also vary.
Here is a suggest for all ebike users, always prefer a battery which is light weight, small in size able to meet the required demand. Decision about which battery pack is suitable for your ebike is mainly dependent upon, how longer do you wish to travel without any stoppage in a single charge.
If you hardly travel 50km at all, then why you want to have a battery capable of travelling 100km at once. It an electric bike with smaller battery pack will be rather cheap, light weight, quick to charge and make your ride more comfortable and pleasuring.
1. Quality of battery pack
Quality of a battery pack is highly dependent on individual battery cells. In the recent years cells of a battery pack have much improved.It also depend on the brand of the battery, usually all Lithium ion batteries are good and reliable but, the battery made by reputed company will also addition to its quality assurance.
Other than lithium ion technology is Lead Acid battery which much heavier, larger in size totally not recommend for the ebike applications.
Is 250 watts enough for eBike?
Watt is a power which is made up of Volt and amp
That is
Volt(V) x Amp(A) = Watt
If 250Watt is a load of an ebike. Then 500Wh battery with a load of 500W, will run for one hour. Similarly a battery of 500Wh with a load of 250Watt will last for 2hours and if a battery of 500Wh has a load of 1000Watt then its run time will be reduced to 30 minutes only.
1. Capacity(Ah) vs Energy(Wh)
Capacity and energy will determine, how long is the run time of your ebike battery and how far it can take you, when your battery is fully charged.
For example: if a battery is 38V and 10Ah
38V x 10Ah = 380Wh
And other batter is 50V and 10Ah
50V x 10Ah = 500Wh
So the battery with 380Wh will run for a shorter time and cover less distance, while the battery with 500Wh will run for a longer time and cover more distance.
Can I put a bigger battery on my eBike?
It is not like that you wish to use large battery for your ebike and you can do it. It is purely technical and need based decision.
This is a technical procedure to decide either what size battery is best for electric bike. It primarily depend on your usage of electric bike.
If you need to cover a certain distance along with some extra load on your ebike except than your own weight. Then it means your electric bike motor will require more power for that, in terms of capacity (Ah amp hour)and energy(Wh) at a single charge. Then to meet your need the capacity will be rather higher and which will also increase the size of the battery of your electric bike.
But if the conditions different like if you need to cover a shorter distance not even more than 10km, and your electric power bike only need to carry your weight then its capacity will be rather lesser and of course it will also smaller in size, lesser in weight and shape.
So it is purely technical decision, which size, shape, weight and capacity of battery you need for your electric power bike.
Conclusion
a Li-ion battery for electric bike come in three main categories and the best for light applications like,electric bike is, Lithium polymer battery. Li-ion battery for e bike is a Cost-effective, compact size, light weight and long lasting.
Infact main part of an electric bike is its battery. While you are buying your electric bike, mainly you should concern about the quality of battery, its type, capacity and energy along with other features like, its weight and size. Which type of Li-ion battery is good for you is dependent on your need. If you need to travel to faraway places, then for sure you need a battery which will likely last for longer time. Li-ion battery need special attention to its maintenance. A well maintained battery can even last for 4-5 years. Thing you need to care is, avoid over-charging, over-discharging, avoid its exposure to high temperature places and never let it drain below 20%. Lithium ion battery is a smart battery and low self discharge when they are not in use. In case, if it will fully discharge to Zero percent, then it may influent performance to the battery pack cells.
We always come up with useful information about Lithium ion batteries, stay with us.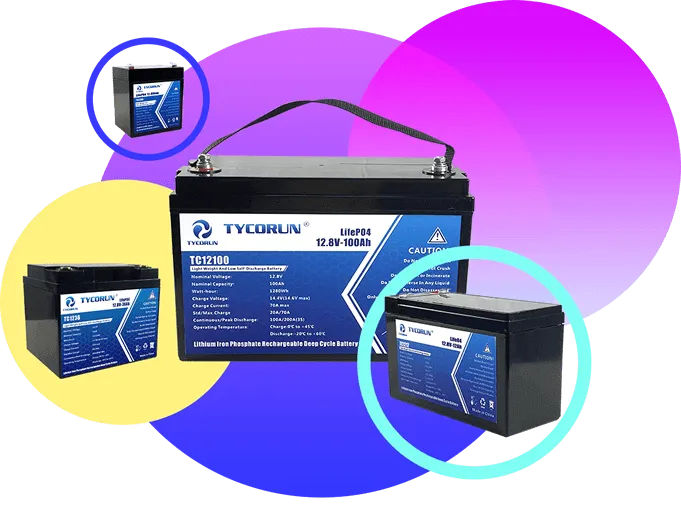 About lithium ion battery manufacturers
TYCORUN® has more than 14 years of experience in the lithium e bike battery industry and is a Chinese high-tech enterprise that develops, produces and sells various new energy battery products.
36V lithium ion battery e bike production capacity accounts for 80% of our lithium battery manufacturing products
The capacity of the battery cells is also getting larger and larger, and the battery pack is also getting larger. So, how should the cables of the optical storage system be designed and selected?