Guide for choosing best custom lithium battery manufacturers
12v custom lithium battery manufacturers
15-year professional custom lithium battery manufacturers, 10-year warranty on battery packs, using the best BMS protection board, protecting the lithium battery pack from overcharge, overdischarge, overcurrent, short circuit, etc, with excellent self-discharge rate. Configurable Bluetooth, can be connected in series and parallel. The heating function and other special functions can also be customized. Enough stock for the 10 series of 12v lithium ion battery. Can be shipped within 3 days.
Guide for choosing best custom lithium battery manufacturers
Batteries are needed for a wide range of products and use and as such these batteries need to fit corresponding needs. However, battery with one size doesn't fit all equipment and sometimes special batteries are needed for special purposes. Well, this is where custom lithium battery manufacturers come in, these manufacturers have the purpose of designing, producing, and selling specially designed batteries that have been made to fit specific purposes and needs.
In this article, we'll be breaking all the necessary details on custom batteries, custom lithium battery pack, and custom lithium battery manufacturers.
What is a custom battery
Customized batteries are no different from regular batteries simply having one minor detail about them; they were designed specially to specific B-end customer's requirements and not mass produced like regular batteries.
A custom battery is designed with specific energy density, capacity, temperature resistance, and cycle life and even come in specially designed packaging. This is a result of certain power requirements and specific measurements that regular mass-produced batteries cannot meet, hence the need to design a custom battery pack.
Can you make your own lithium-ion battery
With the help and service from professional custom lithium battery manufacturers, clients can indeed make their own lithium-ion battery for corresponding needs. It is not advised that you attempt to personally make a custom battery, not only because you may lack of the necessary experience to do so but also because several health and fire hazards are attached to the process. These custom lithium battery manufacturers have the required experience and expertise in addition to having the right equipment and staff needed to build custom batteries to perfection and the right specifications.
The benefits of a custom battery
Custom batteries have specific design components and parameters that make them ideal for a specific range of uses and applications. Some of these benefits include!
● Tailor-made design: Custom batteries are the result of a need or specification that regular batteries cannot provide, hence they are specifically designed to perform these functions. They may be designed to fit different shapes, sizes, energy ratings, capacity levels, and packaging that make them ideal for use with specific devices and appliances. These custom batteries are so unique that they may only be found when professional custom lithium battery manufacturers design and produce them.
● Specific requirements are met: With the production of custom batteries, there are now certain battery requirements that are provided that may not have previously been possible. For instance, certain new-age medical devices or equipment that are only used for high-profile surgical cases may need custom batteries that are not found on the open market. As such, these batteries will need to be custom-made to be used alongside these devices, filling a specific requirement.
● Unique design model: Having custom-made batteries not only fills specific needs and requirements but the batteries themselves are now unique. Custom lithium battery manufacturers produce batteries that can only be found upon demand and are simply not common. Having these custom batteries makes a business stand out as they are best meet the needs of your device or project.
● Reduced cost: While having a custom battery maybe sometimes be expensive depending on several factors, but it is equally cost-effective to have them made as well.
For instance, if a certain important device requires a custom battery that cannot be found on the open market, it is actually more cost-effective to make custom batteries. This is because the alternative is having to replace the device itself or change its intrinsic design for a more generic design model which will definitely be more expensive than simply making a custom battery. And if a suitable custom battery manufacturer is found, when the sample of the custom battery is determined, the manufacturer can also mass-produce the custom battery as required. It is even possible to develop a production line, and mass production will reduce the cost of a single battery, so it is also very affordable from this point of view.
What can be customized
There are several battery specifications that custom lithium battery manufacturers can customize and change. Some of these include;
● Voltage range: A battery can be customized to have a specific voltage range that may have previously been unavailable. This voltage range can either be higher or lower than common voltage specifications depending on the specific use intended for the battery.
● Size and shape: Custom batteries can be made available in different shapes and sizes specifically designed to fit whatever device or appliance they are intended to be used with.
● Temperature: Customized batteries are built with temperature requirements in mind and as such can be made to function at certain temperature levels much higher or lower than regular batteries.
● Capacity: Batteries can be customized with a range of capacity levels that can greatly improve energy working time and the life cycle of the battery.
● Packaging: In addition to the size of the battery, the outer design and overall packaging of the battery can be customized. This may include shell logos, colors, additional features such as BMS, display screens, and much more.
The whole process of customizing a lithium battery from order to production to delivery
The customization process may differ between custom lithium battery manufacturers but they follow a common order from Order to Delivery.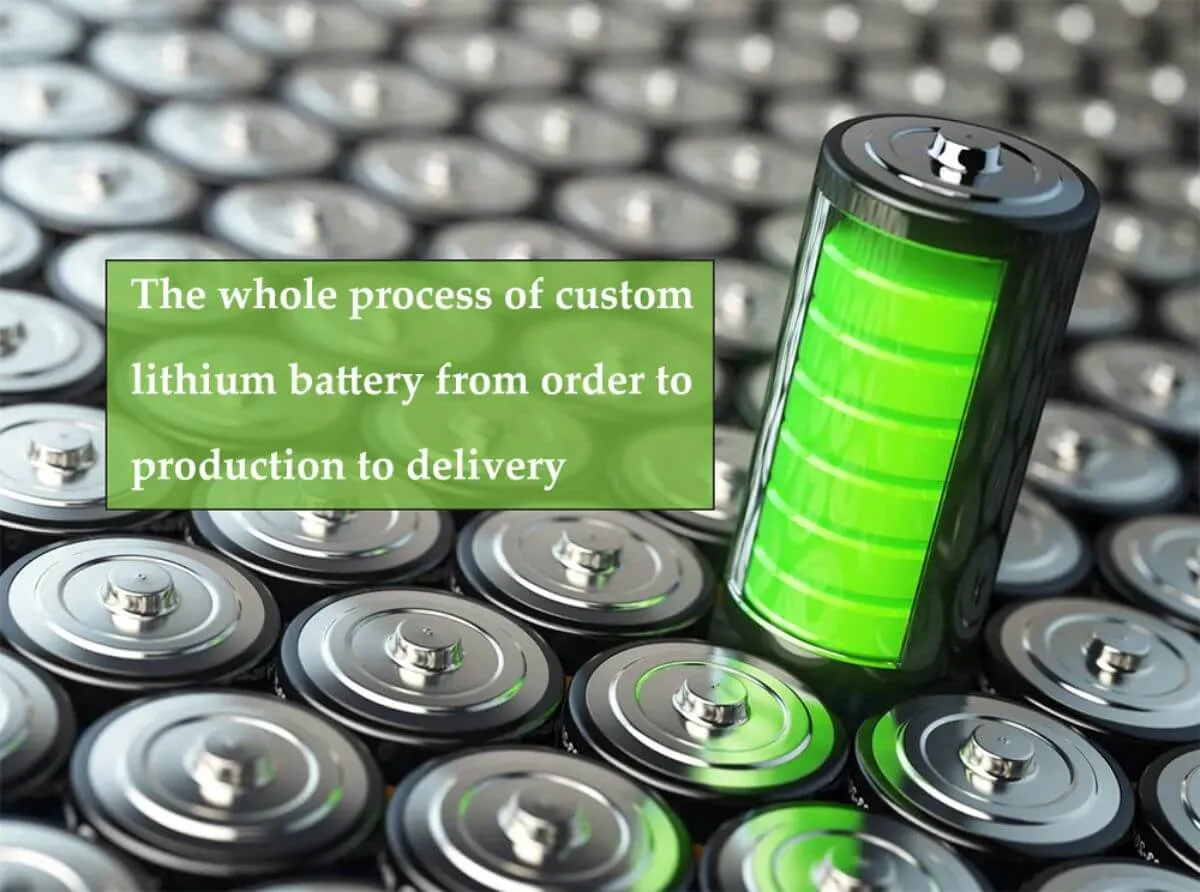 ● Get a quote and place an order: Using the obvious needs and requirements of the battery your company might want, you can contact custom lithium battery manufacturers to get a quote on the cost based on the quantity, specifications,packaging etc every detail you need. This quote will give the exact price as well as the delivery details of the finished product. Some manufacturers require to pay a down payment of a certain percentage to activate the order with the rest to be paid upon completion.
● Sample order: In order to avoid the risk of battery mismatch before ordering a large quantity, users usually need samples to test if they meet all customization requirements. Whether the appearance, size or parameters need to be changed, if the requirements meet the needs, mass orders can be made.
● Production: After the order had been placed, the custom lithium battery manufacturer get to work on producing the custom lithium batteries. Based on the specifications of the order( size, voltage range, temperature resistance, capacity, BMS, and many more) the manufacturer will begin. Using the best lithium materials available, the manufacturer should be able to assemble the battery to perfection based on the specifications of the order. The final products will be rigorously tested to ensure it fits all local and international standards for lithium battery production.
● Delivery: After production has been completed, the next step is delivery. The delivery could either be local or international and international shipping standards will have to be adhered to.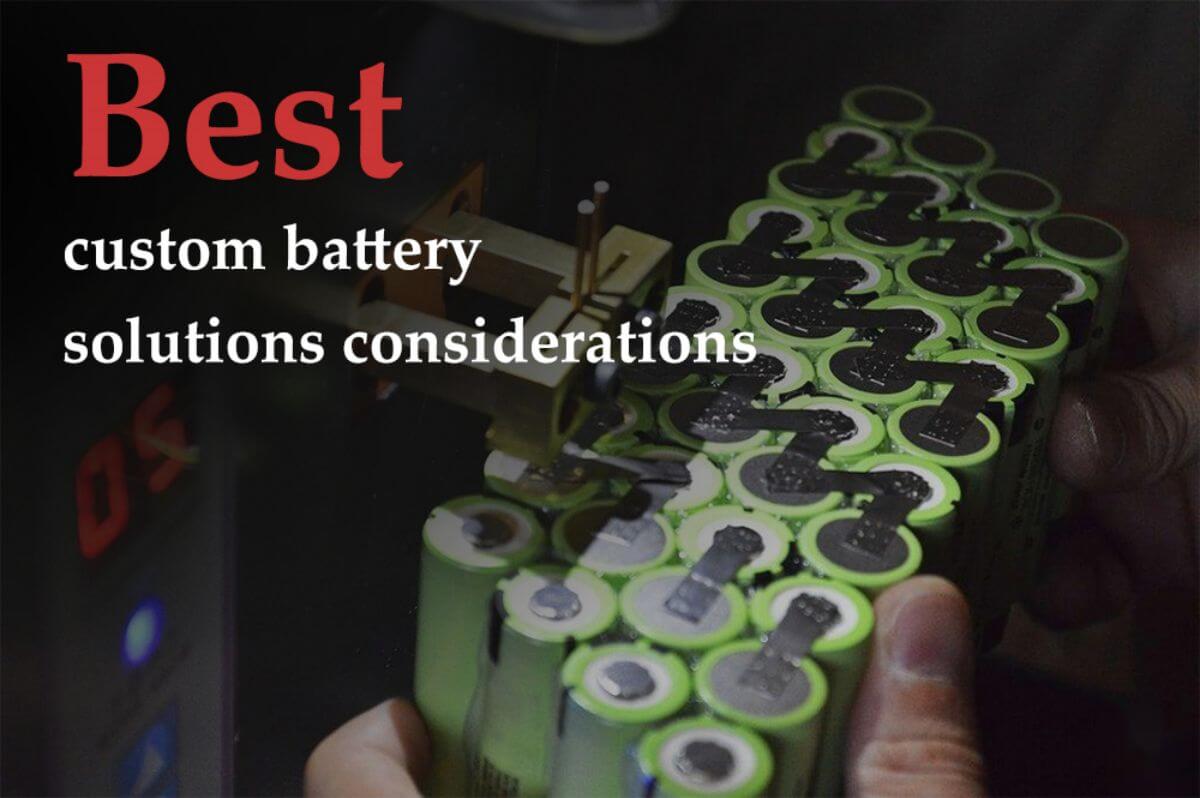 Which battery is more suitable for your product
Knowing the right battery suitable for your product depends on several factors that include;
● Energy requirements: One major factor to consider is the energy density of the battery which will determine energy potential of the entire system. A battery with high energy will be preferable for high drain devices and large applications.
● Battery capacity: The battery capacity will determine how much energy it can store at once which will, in turn, determine how long the battery will last when in use.
● Durability: The overall durability and quality of the battery will be important to determine how well the battery will perform and for how long it will do so before needing to be replaced.
● Cycle life: The cycle life of a battery determines how many times it can be charged and discharged before going below the optimal level of efficiency.
● Device matching: This simply speaks to the compatibility between the battery and the device it is meant to be used with. There needs to be a voltage match between the battery and the device as there could be a mismatch if the voltages greatly differ such as high voltage battery and low voltage battery.
Choosing the right custom lithium battery manufacturer
When deciding to choose custom lithium battery manufacturers to produce your customized battery you need to consider some important factors.
First, you need to be sure they have the required level of experience needed to give you the best-customized battery. Second, do they have the required team of battery experts and specialists needed to transform your battery idea into a functional customized battery? Third, are they certified to produce and deliver these customized batteries, and what the certificates they have in the field to do so. Fourth, do they have a track record of satisfied customers that can attest to their skills and professionalism?
It also depends on the manufacturer's factory size, production line capacity, and advanced equipment.
How to guarantee the quality of custom lithium battery
Ensure that whatever custom lithium battery manufacturers you decide to entrust with producing your customized lithium battery that they are using the best and most standard industry practices to perform the task. They must use the best a grade lithium cells from the famous brand as well as the best equipment to assemble the batteries to ensure they are of the highest quality.
Like TYCORUN ENERGY in lithium top 100 battery manufacturers with 15 years of experience, a reliable team to provide users with battery application solutions, and strong technology to meet customers' customized needs.
What factors will affect the delivery of customized battery products
The major factors that may affect delivery of customized battery products are if there is a delay in shipping which may be unavoidable due to unforeseen circumstances or might be a result of the custom lithium battery manufacturers not having the appropriate documentation.
FAQs
Briefly describe the process of customizing a 18650 lithium battery pack
This process involves 3 main stages and may differ with different custom lithium battery manufacturers. The first stage involves sourcing the best electrodes and lithium battery cells to be used. The second stage involves the cell assembly where all the battery components are assembled. Lastly, there is the cell finishing which involves all final touches including the addition of BMS and final packaging.
What are the battery certifications
These certificates are standard licenses that show that the customized lithium battery was produced using standard-legal practices and is approved to be shipped both locally and internationally and to be used in whatever applications it is designated for. TYCORUN ENERGY battery manufacturers has done CE, MSDS, UN38.3, FCC, UL, ROHS, BIS and other certifications.
If you want to know more about battery manufacturers, you can refer to top 10 powerwall manufacturers for home energy storage.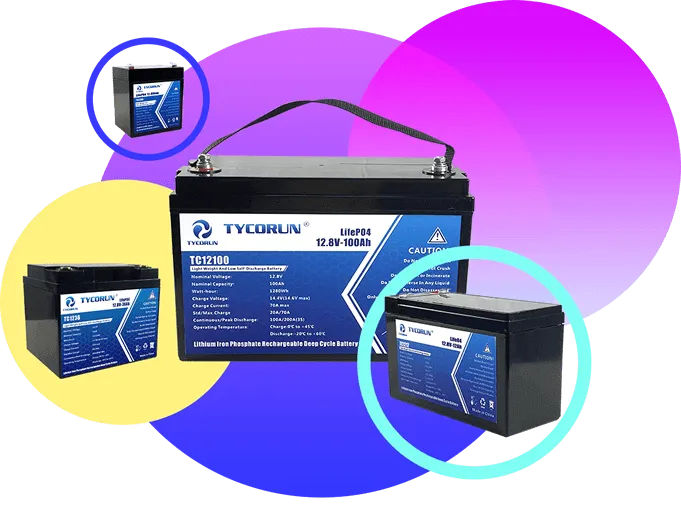 About lithium ion battery manufacturers
TYCORUN® has more than 15 years of experience in the custom lithium battery manufacturers and is a Chinese high-tech enterprise that develops, produces and sells various new energy battery products.
12V lithium ion battery production capacity accounts for 80% of our lithium battery manufacturing products
This article talks about the main stream technologies of extinguishing lithium ion battery fires, and introduces the related research on fluor-based rapid fire extinguishing and passivation cooling methods to prevent reignition.