A close understanding of UTV battery and ATV battery
12v lithium ion battery manufacturer
15-year professional lithium ion UTV battery manufacturers, 10-year warranty on battery packs, using the best BMS protection board, protecting the lithium battery pack from overcharge, overdischarge, overcurrent, short circuit, etc, with excellent self-discharge rate. Configurable Bluetooth, can be connected in series and parallel. The heating function and other special functions can also be customized. Enough stock for the 10 series of 12v lithium ion battery. Can be shipped within 3 days.
A close understanding of UTV battery and ATV battery
What is UTV battery?
The battery used to power up Utility Task Vehicle (UTV) is known as a UTV battery and it comes in different voltage and chemistry. However, most vehicles use 12v batteries and are available in flooded, AGM, Gel-cell, and 12 volt lithium battery.

Are all 4-wheeler batteries the same?
Not all four-wheeler batteries are the same. They may look identical externally, but UTV batteries differ in technology, chemistry, power capacity, weight, and external dimensions. Also, their charging, maintenance, discharge rate, life expectancy, etc., vary according to the type and the technology used in the battery.
What type of battery does a UTV or ATV use?
There are many UTV battery and ATV battery types, and UTV or ATV uses batteries depending on their power consumption requirements. The most popular types of batteries are as follows:
● Acid battery (Flooded Lead Acid Battery)
● AGM battery (Absorbed Glass Matt Battery)
● Gel battery (Gel-Cell Battery)
● Lithium-ion battery (Li-Ion Battery)
What is the best UTV battery?
Many factors are required to consider for buying the best UTV battery, especially its performance and life. Continued power delivery capacity is crucial when selecting the best UTV battery rather than considering its prices. We can find the best UTV battery from acid, AGM, Gel-Cell, and lithium-ion batteries. The acid batteries are cheap compared to the costs but they require periodic maintenance. However, AGM and Gel-Cell batteries are costlier than acid batteries.
On a long-term basis, lithium-ion batteries are more economical than other batteries, even though they are more expensive to invest in initially than other batteries. Lithium batteries can up to 4,000 cycles, and they are maintenance-free. Lithium-ion batteries come in sealed format and are spill-proof. These batteries offer high voltage output than acid, gel-cell, and AGM batteries.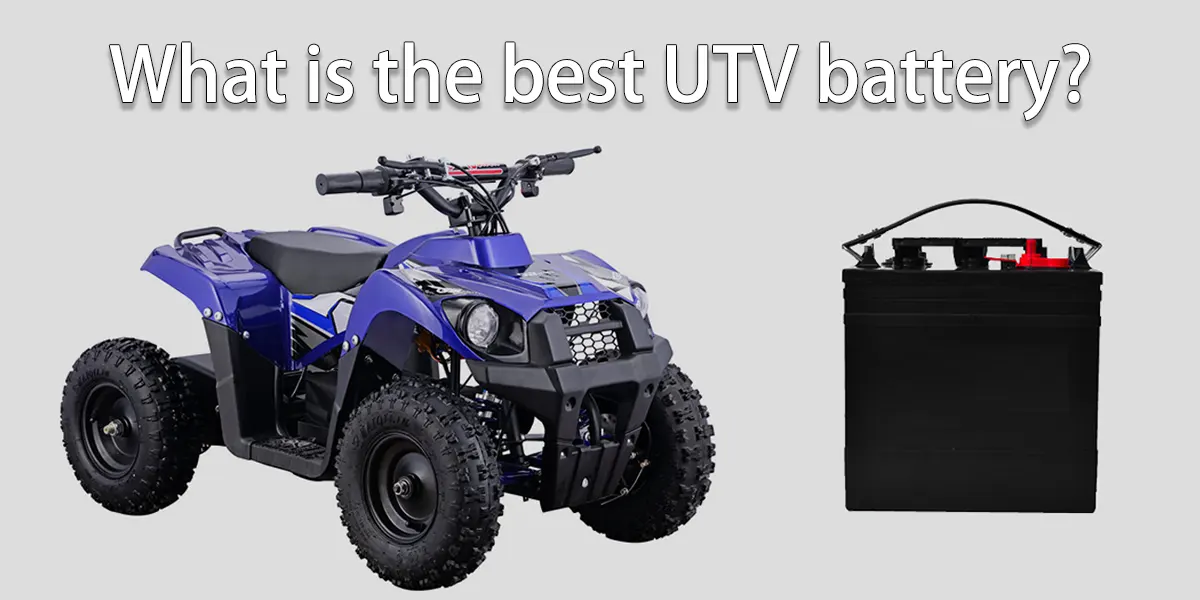 Another attractive feature of lithium-ion batteries is their quick recharging quality. They can charge two times faster than conventional batteries. Also, lithium-ion batteries' self-discharge rates are very low. It means they can hold power for an extended period than other batteries, even if you are not using it. They are lightweight and hence easy to transport from one location to other.
Comparison of lithium-Ion vs acid vs Gel-cell vs AGM batteries
| | | | | |
| --- | --- | --- | --- | --- |
| Particulars | Lithium-ion | Acid battery | Gel-Cell | AGM |
| Cost | High | Cheap | Costlier than acid battery | Costlier than acid battery |
| Life cycle | Up to 4,000 cycles | Short life | Longer than acid battery | Longer than an acid battery |
| Maintenance | No maintenance | Maintenance required | No maintenance | No maintenance |
| Weight | Lightweight | Heavy | Medium | Medium |
| Self-discharge | 1-2% per month | 4-6% per month | 2-3% per month | 2-4% per month |
| Voltage output | High | Nominal | Nominal | High |
| Spill-proof | Yes | No | Yes | Yes |

What size battery do I need for UTV and ATV battery?
The battery's power capacity matters more for UTV and ATV than the size. Most of the UTVs required a 12v battery. The size of the battery depends on the model and make of the UTV and the battery chamber.
Is 4-wheeler UTV or ATV battery 6v or 12v? Is UTV battery 12 volt?
The standard voltage requirement of a 4-wheeler battery is 12v. But in some specific sizes, the battery comes in 6v and 24v as per the requirement of the UTV/ATV. 12v batteries are popularly used in UTVs, but UTV battery is available in 6v and 24v too.
What are the characteristics of batteries in UTV And ATV?
Both lithium iron phosphate and AGM batteries have advantages and disadvantages for using in UTV and ATV. These vehicles commonly use 12v batteries for better performance. The main characteristics of lithium-ion batteries in UTV and ATV are as follows: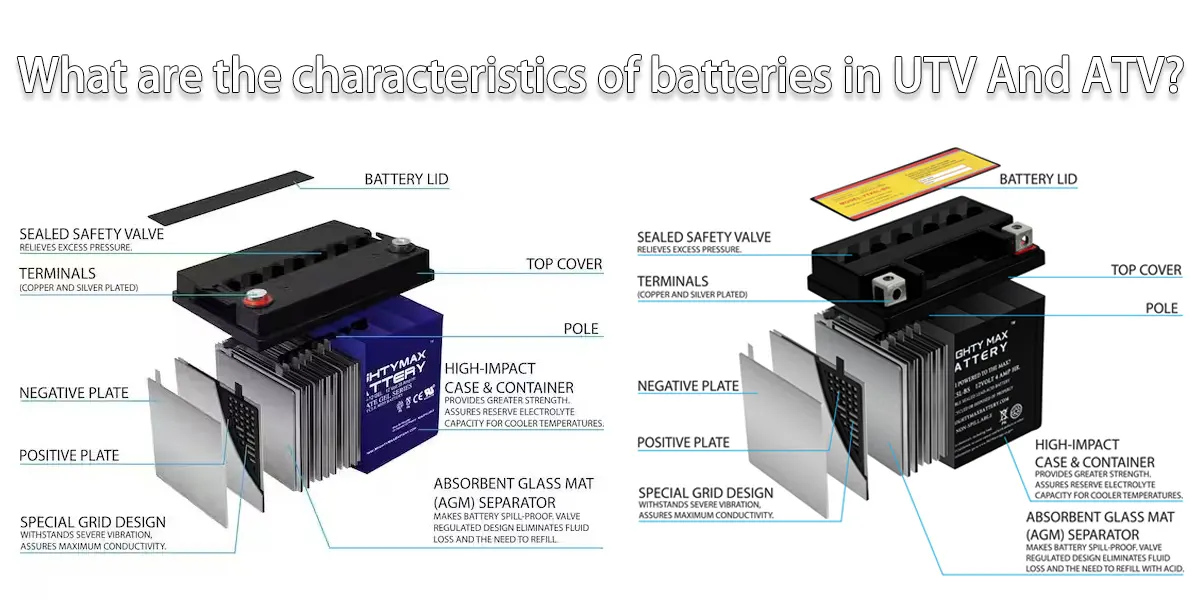 ● Low self-discharge
● High energy density
● Constant voltage and high voltage output
● Fast charging
● More than 2,000 cycles of life
● No spillage
● No maintenance
Typical specifications for a UTV battery
UTV batteries are available in lithium-ion, AGM, Gel-Cell, and flood units (acid). The specifications of the batteries will vary according to the chemistry and size of the batteries. The specification for a standard lithium-ion battery for a UTV is as follows:
● Voltage: 12v
● Amp/hour: 14Ah
● CCA (Cold Cranking Amps): 210CCA
● Weight: 1.88lb
What are the differences between UTV and ATV battery?
The majority of UTVs and ATVs use 12v batteries for their power requirement. But UTV and ATV batteries are also available in 6v and 24v. So, from the power capacity point, there is no difference between a UTV and ATV battery. When ATV stands for All Terrain Vehicle, UTV is Utility Task Vehicle.
The former is a single-seater sports vehicle, and UTV is a multi-seater. Therefore, due to some differences in the functions of UTV and ATV, the requirements for the energy and current of the battery are also different.
How long does a lithium UTV battery last?
The life of a lithium UTV battery depends on how you use the battery. Generally, lithium batteries will have more than 2,000 life cycles. One full recharge and discharge is considered one cycle; hence you need to be careful of its charge and recharge process. It would be best not to allow the battery to charge 100% and 0% discharge. The best practice to increase the life of a lithium-ion battery is to maintain the charging level between 15-85 percent.
How to charge UTV battery? What charger do I need for UTV battery?
UTVs come with an inbuilt charging system, which gives it enough power to run smoothly. Irrespective of the type of battery, you must use a smart battery charger corresponding to the specifications.
Before you connect the charger, you need to determine what type of battery your UTV or ATV has. Some types of batteries require a specific type of charger to charge properly. If you are charging a flooded battery, then you should add the required level of distilled water and use a manual or automatic charger with the specific charge rate.
For AGM and sealed lead acid batteries, it is better to use an intelligent charger with the specific charge rate.
Gel-Cell batteries are sensitive. The charger must be specially designed to charge Gel-Cell batteries. It should have features to monitor temperature and voltage fluctuations.
While charging, a lithium-ion battery must charge with a specific lithium ion battery charger with a relatively high charge rate. If you use a charger with a higher voltage and charge rate than is suitable, the battery may explode or be permanently damaged.
How to properly use a UTV battery?
A UTV becomes useless if it does not have a proper power supply battery. The battery required periodical maintenance to run the UTV to its full potential.
For flooded batteries, it required periodic electrolyte level checking. You need to add distilled water as necessary and recharge the battery.
Keep the battery clean using baking soda or soap. Also, ensure the cables are in perfect condition and have tight terminals. Remove the corrosion on the terminals, if any. Further, make sure there is no sulfation or moss. Keep the electrolyte at the required level.
In the case of a lithium-ion batteries, they are airtight and maintenance-free, requiring only routine inspections, e.g. the battery terminal must be tight and clean without any corrosion, and there must be no loose contact. To properly use the battery, check the charge status regularly and recharge it as and when required. Do not make the UTV battery overcharging and overdischarging.
Also, check the battery run time. If the battery run time shows less than 80 percent, it is time to replace the battery with a new one. There are no other maintenance scopes for a lithium battery. If you want to store the battery, then keep the battery power to 50 percent and store the battery between 5-20 degree Celsius.
What factors will affect the life of UTV battery? How to make UTV battery last longer?
Depending on the type of battery, many factors affect the life of a UTV battery. For example, if the battery is flooded (acid), AGM, or Gel-Cell, its chemistry will differ entirely from that of lithium-ion. The maintenance and charging factors will be entirely different. In an acid battery, the electrolyte level is required to maintain correctly, and the battery needs 100 percent recharging for better performance.
In sealed batteries like AGM and Gel-Cell batteries, though there is no requirement to maintain the electrolyte level, the charge level need to check periodically, and the battery needs to recharge to the total capacity before use.
Lithium-ion UTV battery is easy to maintain. It has no electrolyte level to maintain, but the battery must be charged as per the profile and not allowed to charge fully and discharge completely. A proper balanced charge level can increase its life cycle.
Irrespective of the type of battery, the best practice to increase the battery's life is never to allow the power to drain completely. If you are using a flooded battery, you must maintain the acid level for better performance. For flooded and AGM batteries, you can put it in a charger periodically to ensure its power capacity remains the same.
To extend the life of a lithium UTV and ATV battery, you need to maintain the charging and discharging within reasonable limits. Do not overcharge or over-discharge the battery. Over-charging and over-discharging will affect the lithium battery life and battery safety. Also, the battery should be charged at least once a month when the UTV or ATV is not being used. It is also necessary to store UTV battery or ATV battery in a dry and ventilated place.
How to test UTV battery and ATV battery?
Using a multi-meter or voltage meter, we can check a UTV and ATV battery irrespective of the type. Before checking the voltage with a voltage meter or multi-meter, it is imperative to check the external condition of the battery. If the battery shows fluid leakage or bumps, then it warrants a replacement.
Before testing a fully charged battery, allow it to rest after disconnecting from the charger. Before checking the voltage, disconnect the battery terminals by removing the cables. Usually negative terminal is black, and the positive terminal is red. Keep the positive terminal (red) connected with the red lead and the black (negative terminal) with the black wire. If you use an automatic multi-meter, set the meter to V or DCV 20 if you use a manual voltage meter.
The same testing process is applicable for lithium-ion UTV and ATV batteries. You need to charge the battery for enough time and disconnect it from the charger before testing. If a 12v battery shows 12v after recharging, it indicates its last pace. If the reading shows 12.6, then it is an indication of a healthy battery.
How do I know If my UTV battery is bad?
If the UTV battery cannot hold the power meeting the required run time after the charge is finished. It will be an indication of the bad state of the battery.
Alternatively, you can check the battery voltage using a multi-meter or voltage meter, if the battery is 12v, setting the reading to 15-20v. Without lights, if the battery cannot show a reading of 12.6v, it indicates the battery requires replacement.
Can you put a car battery in a UTV?
Theoretically, you can put a car battery in a UTV, but technically it is not a good option. UTV engine is much smaller than a car engine, so it does not require a CCA of more than 100 to start the engine. An ordinary car may need about 300 CCA, but a UTV requires only 100 CCA. Since the capacity requirement is small, the battery will be small, and a car battery will not fit in a UTV.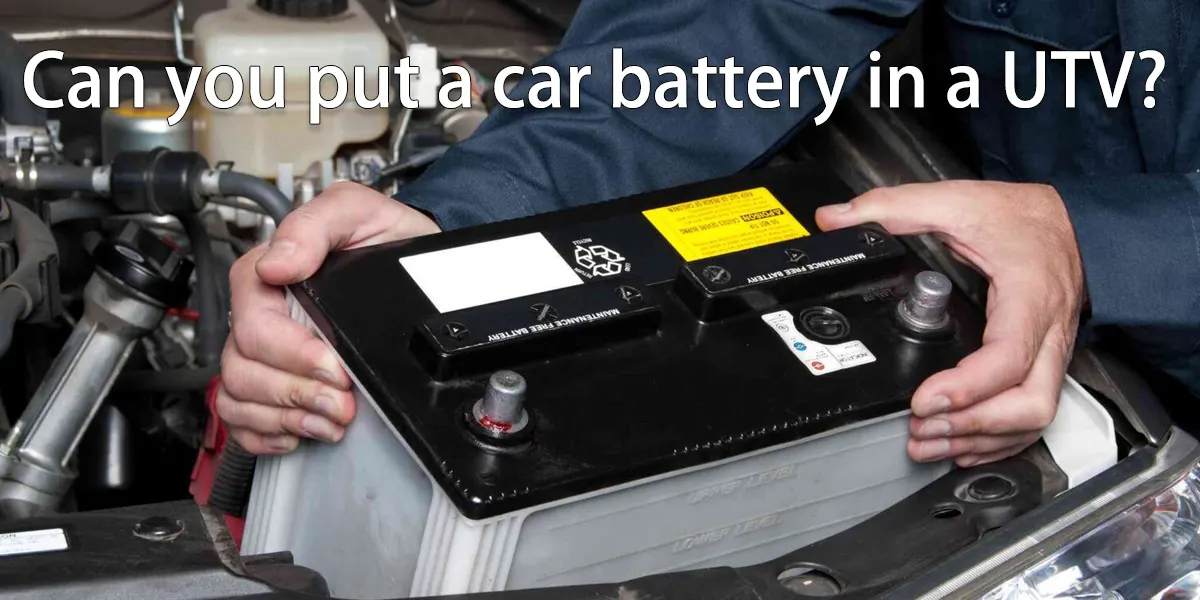 Secondly, batteries using in car and UTV also vary in size and volume, and a car battery won't necessarily fit in a UTV, much less run properly.
Conclusion
Lithium-ion batteries are the best option for UTV and ATVs, considering their low maintenance, lightweight portability, extended discharge performance, and power capacity. Likewise, lithium ion battery is the best chose for motorcycle battery and golf cart batteries. Though lithium-ion UTV battery is expensive compared to flood, AGM, and Gel-Cell batteries, in the long run, it can outsmart conventional batteries.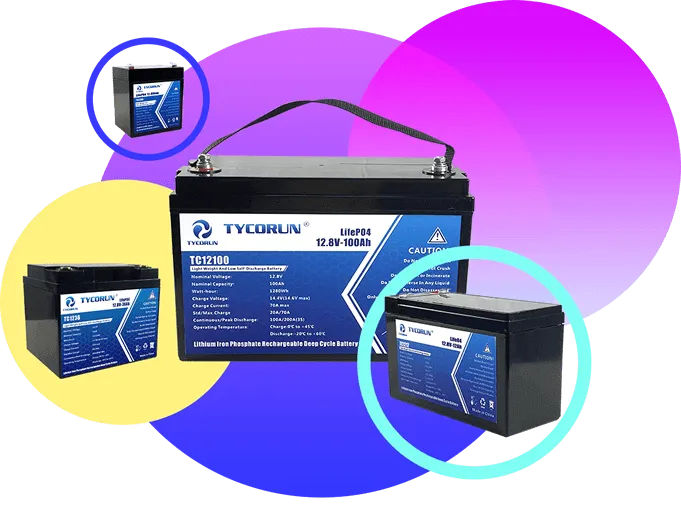 About lithium ion battery manufacturers
TYCORUN® has more than 15 years of experience in the lithium UTV battery industry and is a Chinese high-tech enterprise that develops, produces and sells various new energy battery products.
12V lithium ion battery production capacity accounts for 80% of our lithium battery manufacturing products
This article talks about the main stream technologies of extinguishing lithium ion battery fires, and introduces the related research on fluor-based rapid fire extinguishing and passivation cooling methods to prevent reignition.