Introduction of three wheeler battery types and market details
72v lithium three wheeler battery manufacturers
15-year professional lithium ion three wheeler battery manufacturers, 10-year warranty on battery packs, using the best BMS protection board, protecting thethree wheeler battery pack from overcharge, overdischarge, overcurrent, short circuit, etc, with excellent self-discharge rate. Configurable Bluetooth, can be connected in series and parallel. The heating function and other special functions can also be customized. Enough stock for the 10 series of 72v lithium three wheeler battery. Can be shipped within 3 days.
Introduction of three wheeler battery types and market details
Electric three-wheelers have gained popularity in the last few years. Environmental conservation and the universal goal to reduce carbon emission is the driving force behind their popularity. The increased popularity of electric three-wheelers has created the need for their batteries. Additionally, there's more research and production of three-wheeler batteries. This article will focus on three wheeler battery. It will explore the best ones in the market, their popularity per region, and their advantages.
What is a three wheeler battery
A three wheeler battery is specially designed for regular three-wheelers or auto rickshaw applications. There are different types of three wheeler batteries and they include:
● Lead-acid batteries
● Lithium iron Phosphate batteries
● Ternary lithium batteries
Which battery is best for a three-wheeler
Lithium ion battery such as LiFePO4 battery and ternary lithium battery are best for a three-wheeler. lithium batteries are different from other batteries in that they have a higher energy density, making them perfect for Electric Vehicles such as Electric three-wheelers and motorcycles. They have longer cycle life than ordinary batteries. Additionally, they are the lightest type of lithium battery available. Generally speaking, the larger the capacity of the battery, the larger the volume and the heavier the weight. The volume of a 100ah battery is much larger than that of a 6ah battery.
The power equipment needs to consider not only the battery life of the battery board, but also the overall weight of the equipment. The ternary lithium battery is the battery with the highest energy density on the market. Under the same specifications, the volume and weight of the ternary lithium battery are only 1/4-1/6 of that of the lead-acid battery. The lithium iron phosphate battery is more prominent in terms of safety and life. Therefore, ternary lithium and LiFePO4 are used as the main electric vehicle batteries.
How much electricity does a three-wheeler use
90% of the global electric vehicles are two & three-wheelers, with their concentration mainly in Asia. This is partly due to the charging/electric infrastructure already in place. While relatively small compared to electric cars, electric three-wheelers also require high power capacity. On average, most three wheeler batteries have 12V. At the moment, the market comprises three types of three-wheelers based on power: 1,000 W, 1,000-1,500 W, and over 1500 W.
There are two major types of three-wheelers:
I.Delta
This type has one wheel at the front and two at the back.
II.Tadpole/Reverse trike
This type is the reverse of the delta with two wheels at the front and one at the back, thus offering more stability.
Can I upgrade my three wheeler battery
Yes, you can upgrade your three wheeler battery. If you use lead-acid batteries, you can change to Lithium ternary battery or LiFePO4 batteries, which last longer. From a cost standpoint, lead acid batteries are cheaper initially. However, LiFePO4 batteries are the most cost-effective in the long run as they last about 4 times longer. Plus, they do not require maintenance.
How to choose a powerful three wheeler battery
Power is one of the most important considerations when picking a three wheeler battery. Together with temperature, humidity, and general makeup of a battery, power determines the durability of a battery. Ensure that the battery you choose fits the battery compartment as well as its compatibility. It is essential to know about the following three items that determine the power of a battery:
● Capacity
● Peak Power
● Continuous power
You can find the above parameters in the specification book provided by the battery manufacturer. You can also contact the battery manufacturer for more detailed information, or directly customize according to your usage needs.
In which countries is the three wheeler battery popular
Three-wheelers are hugely popular in Asia and especially in the Asia-Pacific region. On top of that, the three-wheeler market in Africa is steadily growing. The growth of these markets is good news for three wheeler battery manufacturers as the two go in tandem. By 2021, the market value of three wheelers in Africa and the Middle East was $15,748.91 with projections expecting it to grow.
The increasing demand for three wheeler batteries in these regions is catapulted by:
● Support for three wheelers in public transportation systems.
● Concerns about carbon emissions from regular motor vehicles.
● The rising global costs of oil and motor vehicle petroleum products.
Countries with a high number of three-wheeler batteries
1.India
As it currently stands, India and China are the two largest three-wheeler markets globally. In India, three-wheelers are commonly referred to as rickshaws. Three major things propel their demand:
● To support a poorly supported public/passenger transport system in major cities and towns.
● An increased network of better CNG fuel stations
● The need to support penetration to rural areas and local towns.
2.China
China dominates the Asia pacific market in three wheelers market share. These are supported by the following:
● A high urban population
● A good network of battery swapping stations to support fast and efficient charging.
● To lower carbon emissions from fuel-powered motor vehicles.
● And China is also a major producer of tricycles and lithium-ion power batteries.
3.Thailand
Tuk Tuks as three-wheelers are commonly referred to in Thailand, are used to transport passengers in major Thailand cities. The name comes from the sound the engines make while in transit. From this, we can infer that a market that supports three wheelers also supports three-wheeler batteries and their market.
However, the growth of this sector has faced some challenges. Especially due to the accessibility and price of three-wheeler batteries and most governments' initiatives to Go Green. As a result of this, there has been extensive research on electric three wheelers and the technologies that will support their adoption.
What is the battery swapping policy in three-wheelers
Electric three-wheelers have faced one major challenge, the amount of time it takes to charge their batteries. Three-wheeler batteries can take about 5 hours to fully charge. Many three wheelers will be used for profit, and long charging times are not viable for electric three wheelers that need to be driven and used all day. Due to this, most three-wheeler drivers are forced to charge their batteries overnight and hope that the batteries do not die while in use. This particular problem has intensified adoption of battery swapping stations around major cities with three wheelers.
Battery swapping stations are designated areas where electric vehicle owners can exchange their dying three-wheeler batteries with fully charged ones. The process takes about one minutes on average. Countries such as India and China have legislations regarding battery swapping stations. The battery swapping policy was developed to standardize the three wheeler battery market. Furthermore, it helps cut down the costs of the batteries while also solving the range anxiety of three-wheeler drivers.
The idea behind battery swapping stations is to separate the three wheeler battery from the vehicle. As a result, the owner of the three wheeler does not own the battery in the swapping station. In this instance, batteries remain under the ownership of the swapping company, which also supplies fully charged batteries in the swapping stations.

Advantages of swapping battery station
● They reduce the battery charging time.
● They improve accessibility to three-wheeler batteries
● Increase efficiency in transport
● Increased operating hours of profitable tricycles
● Guaranteed charging safety
More information about battery swapping cabinets can be found through battery swapping station business model.
How to find the best three wheeler battery manufacturers
With the accelerated demand for three wheeler batteries, there is an increase in three wheeler battery manufacturers. Lithium iron phosphate and lithium batteries are the leading frontrunners, with a large percentage of the market due to their reliability and longevity.It is recommend that purchase three wheeler batteries from established and reliable three wheeler battery manufacturers. Countries such as India and China, which manufacture and export three-wheeler batteries, have some of the leading battery manufacturers.
But how do you find the best three wheeler battery manufacturers? There are certain things to look at. Additionally, the customer cooperation cases helps in the identification of the leading manufacturers. Below is a criterion to identify the best three wheeler battery manufacturers:
● They are transparent about their battery manufacturing process.
● Their batteries have a manual.
● They offer customer service and support.
● They have good reviews from previous customers.
● They have a good market share indicating that customers like their products.
● They have good distribution channels.
● Their products serve your purpose.
● Relevant government bodies verify them.
● Their three wheeler batteries are cost-effective
● They have a defect policy that allows you to return the battery if it was damaged during purchase.
Can the three-wheeler battery be used on a two-wheeler
Technically yes. Three wheelers generally require more power than two wheelers. Additionally, the charging mechanisms of the two types of batteries may differ. However, when it comes to batteries, compatibility is essential. If the three wheeler battery has the power capacity needed to power a two-wheeler and can fit in the latter's battery compartment, you can use it. However, manufacturers recommend that users employ suitable battery types for their vehicles to minimize the chances of damage.
Conclusion
Three wheeler batteries are rising in popularity globally due to the increase in two and three-wheelers. Lithium iron phosphate and lithium ternary batteries are the two leading battery types due to their low maintenance, long cycle of life, and enhanced safety features. Furthermore, the global effort to go green to reduce pollution has increased the use of three-wheelers and lithium ion batteries. While three-wheelers are dominant in Asian and Middle Eastern countries, there are gaining popularity in other markets such as Africa. This will increase demand for three-wheeler batteries. Contact verified three wheeler battery odm lithium ion battery pack manufacturer for questions relating to their use.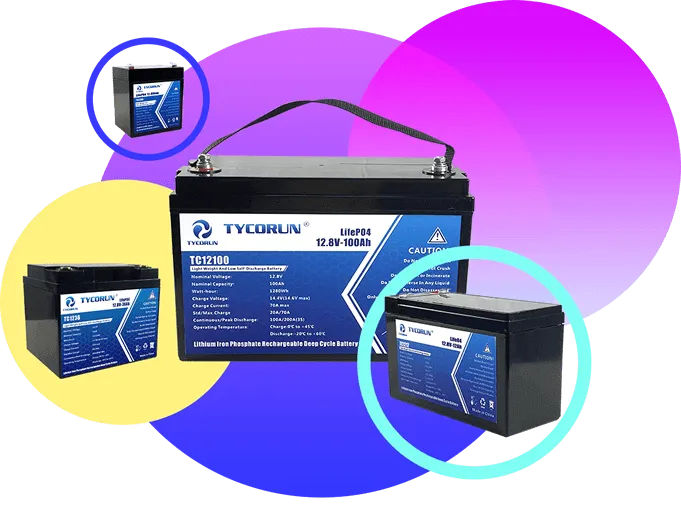 About lithium three wheel battery manufacturers
TYCORUN® has more than 15 years of experience in the lithium three wheel battery industry and is a Chinese high-tech enterprise that develops, produces and sells various new energy battery products.
72v lithium ion battery production capacity accounts for 80% of our lithium battery manufacturing products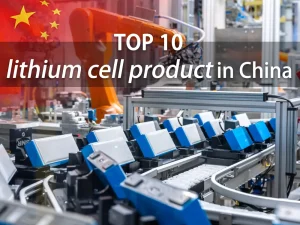 In this article, we will take a detailed look at top 10 lithium cell product in China.