Your Best Guide to Lithium ion Motorcycle Battery in 2023
Lithium ion battery factory
15-year professional lithium ion battery manufacturers, 10-year warranty on battery packs, using the best BMS protection board, protecting the lithium battery pack from overcharge, overdischarge, overcurrent, short circuit, etc, with excellent self-discharge rate. Configurable Bluetooth, can be connected in series and parallel. The heating function and other special functions can also be customized. Enough stock for the 10 series of 12v lithium ion battery. Can be shipped within 3 days. We can be your 12v motorcycle battery expert.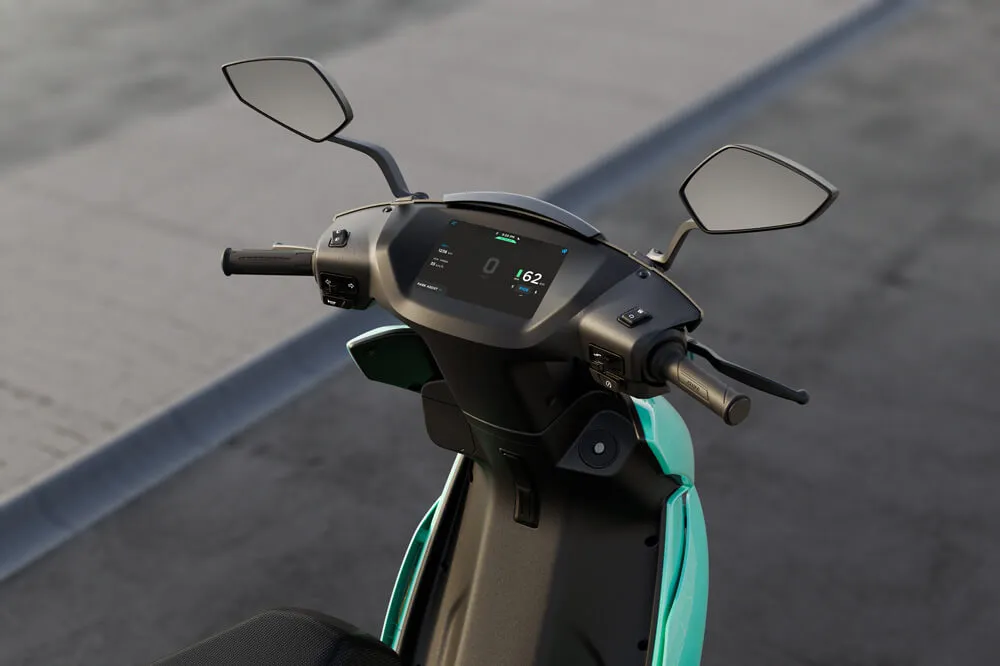 Your Best Guide to Lithium-ion Motorcycle Battery
1.What is lithium ion motorcycle battery?
Lithium-ion batteries (commonly referred to as Li-ion) since the 1980s have been adopted as the industry standard by the automotive sector, thanks to their high energy density, lightweight, and adaptability to a variety of motorcycles and vehicles. Advancements in battery technology – primarily in enhancing charging speeds, service life, safety, and reducing the unit cost have resulted in the design and production of a wide variety of Li-ion batteries.
This article will help you understand and select Li-ion motorcycle batteries based on your use case for a motorcycle and detail the pros and cons to avoid the pitfalls of marketing terms and lithium battery chemistries.
Lithium-ion battery principle
Lithium-Ion motorcycle battery consists of three or four Li-ion cells, depending on the nominal voltage. Each Li-ion cell consists of a Cathode and an Anode. The anode is typically made of Carbon, and the Cathode composition is a Lithium-based chemical. Depending on the type of Li-ion technology, Cathode composition varies. Most commonly, Cathode is made of Lithium Ferrous Phosphate, with Lithium Perchloride used as the electrode. As the battery is being charged, lithium ions from the Cathode move towards the Anode (carbon).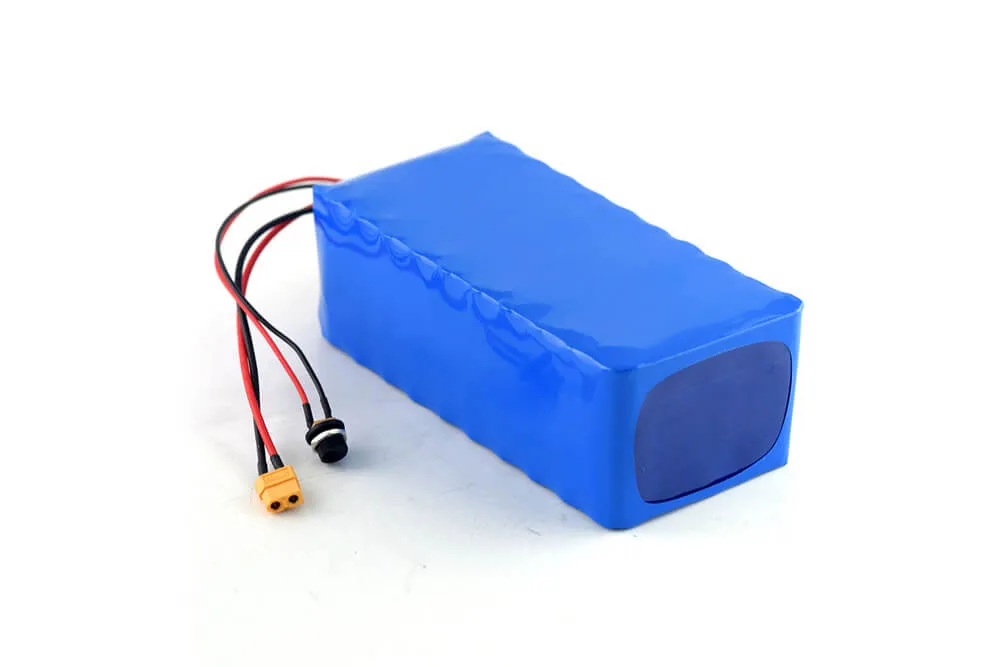 Once the battery is completely charged, all the Lithium ions are present in the porous carbon, filling the Cathode. When the battery is completely discharged, Lithium ions are present in the Cathode and the Electrode. The movement of lithium ions from the Cathode to the Anode causes an electric current to the Motorcycle.
Lithium ion motorcycle battery technologies
In the case of Lithium-Ion Motorcycle battery, the cell configuration is Lithium based. Two battery chemistries are prominent:
one with a cell voltage range of 3.2 to 3.3 V and the other with 3.6 to 3.7 Voltage. The cell with a 3.2 – 3.3V range commonly uses Lithium Ferrous Phosphate (LiFePO4) as the Cathode, and the 3.6 – 3.7V range cell uses Lithium Cobalt Oxide (LiCo) as the Cathode.
Though LiFePO4 and LiCo have their own advantages and disadvantages. Following sections details the pros and cons, along with their respective applications.
LiFePO4 Battery (3.2 – 3.3 V): Marketed as LiFe or LFP batteries, these contain Lithium Iron Phosphate (LiFe) or Lithium Nano Phosphate (LFP) as the cathode element. Typically, the technology uses four  cells with a voltage range between 3.2 to 3.3 V, arranged in series to provide a combined voltage of 12.8 V, with a maximum charge capacity up to 14.6 V.
LiCo Battery (3.6 – 3.7 V): These batteries contain Lithium Cobalt Oxide (LiCo) or Lithium Manganese (LiMN) as the cathode element. For specific motorcycle applications, a combination of both cathodes is used. LiCo battery consists of three cells of voltage range between 3.6 – 3.7 V, to add up to 11.1 V. These batteries have a max charge capacity of 12.6Volts and are often used with motorcycle jump starter packs. LiCo is often used in smaller mobile terminals and jumper start packages, than as a stock motorcycle battery.Applications of LiCo, 3.7 V cell batteries include mobile phones and other portable electronic gadgets.
2.How do i know what battery to buy for my motorcycle?
Lithium-based batteries and Lead Acid batteries are two prominent battery technologies, conventionally accepted as the industry standard for motorcycles since the early 1960s.
Lead acid battery for motorcycles
Lead Acid batteries are generally of three types: Absorbed glass mat, Gel, and Pure Lead.
Absorbed Glass Mat (AGM): Popular for their long service life and reliability, AGM batteries are one of the best motorcycle batteries available in the market. These are robust and suitable for motorcycles with heavy vibrations and harsh weather applications.
Gel: These batteries are famous for delivering tremendous instantaneous power to the motorcycle, and due to their construction, these batteries are leakproof and are maintenance-free. This battery can be used for a long time even if you are not using it for a considerable time.
Pure Lead: This battery has good starting power and can perform well in extreme weather conditions. This battery can be stored for a long time with no harmful effect on battery condition.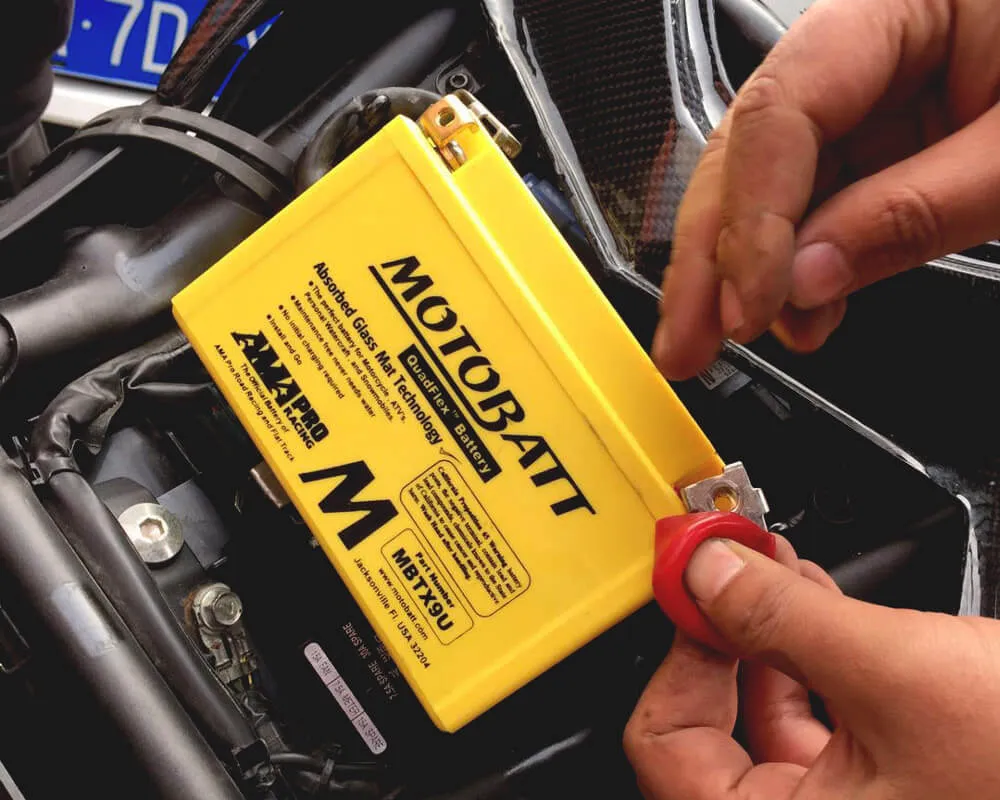 Lithium ion motorcycle battery
Lithium-ion batteries are superior to acid batteries and safe to handle. Li-ion batteries for motorcycles are maintenance-free, leak-proof, and lighter than Lead-acid batteries.
Comparison of lead acid batteries with lithium-ion batteries (applied for motorcycles)
● Heavier compared with Lithium based batteries
● AGM Lead batteries need water top-up to compensate for evaporation due to heat generated with the cell
● Lead-acid batteries are prone to leak, leading to corrosion of battery clips and loose connections
● Suffer during cold weather conditions
● Loss of lead-acid battery charge when kept idle. 15 – 20% charge loss in four months (if kept idle) for a lead-acid battery, significantly higher than the 1-3% charge loss for a Lithium-ion battery when kept idle for the same period
● Lesser service life (cycle life) compared to Lithium-based batteries
3.Is a lithium-ion battery better for my motorcycle?
Yes. Lithium-based batteries are one of the safest batteries built so far for motorcycles. Although Lead Acid batteries have maintained prominence since their invention, Li-ion batteries are slowly replacing lead-acid batteries in motorcycles hence become the best motorcycle battery.
Advantages of lithium ion motorcycle battery
As the best motorcycle battery, Lithium-Ion batteries have the following advantages compared to Lead-acid batteries:
● Better ride experiences due to lightweight and optimized center of gravity
● Improved fuel efficiency due to weight reduction. A standard Lithium-ion battery is at least 4-5 pounds less than the Lead-acid battery (generating equal power to a motorcycle)
● A lithium-based battery charger can be used to charge a lead-acid battery; however, the converse is not valid.
● High energy density and charge output compared to lead-acid counterparts
● Most lithium-ion batteries contain a Battery Management System (BMS) to revive the battery from low voltage levels. BMS has a lot of advance monitoring and management system for battery as listed below:
1.Fast and effective balancing
2.Reduces charging time
3.Improved range per charge
4.Functionally safe
5.Maximum Battery Life
● Better cranking ability and performance during cold climatic conditions
● Leak-proof and maintenance-free. Eliminates topping up with distilled water
● Higher service life and shelf life (when kept idle)
Disadvantages of lithium ion motorcycle battery
Though Lithium-ion motorcycle batteries have several reasons to choose them over conventional lead-acid batteries, the following are certain disadvantages of Li-ion batteries:
● Lithium batteries are prone to fail or catch fire if increased voltage (beyond 15 V) is applied
● Special chargers are required for lithium-ion batteries, which deliver controlled low current charge till it reaches its maximum voltage (12.8 V)
● Using several motorcycle accessories with a Lithium-ion battery can lead to a significant charge drain
● Lithium-ion batteries are costlier than lead-acid batteries, providing the same charge output. They can be 50-200% more expensive that is cost effective than their lead-acid counterpart. However, compared to the Lead acid battery, the service life of a Li-ion is significantly higher and hence, the return on investment on a Li-ion is justified.
Can i use a lithium-ion battery in my motorcycle?
Yes. The following points should be assimilated before using a lithium-ion motorcycle battery. The charging system and the physical fitment of the battery and its accessories.
a.Charging System: It is the single most crucial factor in Lithium-ion motorcycle batteries. Unfortunately, many motorcycles do not have the appropriate stock charging system with Lithium-ion batteries. Motorcycles manufactured after 1980 can only run-on lithium-ion batteries, provided they are in "Good Working Condition" and are replaced with the appropriate lithium ion motorcycle battery charger (charge between 13.4 to 14.6 V). If the charger is rated below 13.4V, the battery can never charge, and if it is rated beyond 14.6V, your regulator will fail, and the over-voltage protection is triggered. Else, there the battery can heat up and potentially inflame.
b.Physical fitment: If the stock battery for a motorcycle is Lead acid-based, replacing the battery with Lithium-ion shall require significant design modifications for a proper fit.
How many kinds of lithium ion motorcycle batteries are available?
Lithium-Ion motorcycle batteries are available in various capacities and sizes for all motorcycle models. However, as mentioned in section 1.2, all Li-ion batteries of either 3.2 V LiFe type or 3.6V LiCo (also referred to as Lithium polymer) type.
Following is the list of various Li-ion motorcycle battery types available, apart from LiFe:
● Lithium Cobalt Oxide
● Lithium Manganese Oxide
● Lithium Iron Phosphate (LFP)
● Lithium Nickel Manganese Cobalt Oxide (NMC)
● Lithium Nickel Cobalt Aluminum Oxide
● Lithium Titanate
Are there different size lithium ion motorcycle batteries?
Each Li-ion motorcycle battery can be designed as the Voltage and Current (Amp) requirements of a motorcycle. OEMs provide the physical design limitations for each model, within which a suitable size can be selected based on the application requirements. Therefore, before purchasing, optimizing the casing size, weight, and Li-ion battery's cost is necessary.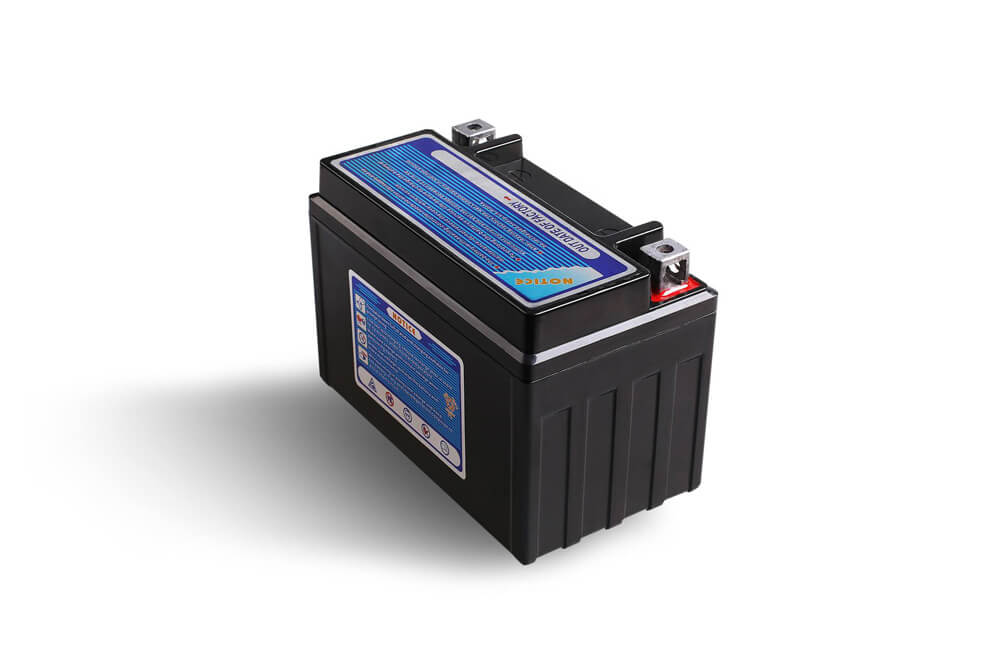 How much does a lithium ion motorcycle battery cost? And which lithium battery is the best for motorcycles?
Lithium-ion batteries generally cost between $60 to $800, depending on the Amp-hour and voltage rating and the type of battery technology.
LiFePO4 is the most popular battery model, fastly adopted by motorcycle enthusiasts to utilize the advantages of Lithium-ion cell technology. A LiFe battery, 12.8V rated, typically costs $130 to $550 based on the size and is universally applicable for all motorcycles – provided a suitable charger is used with the battery.If you are still using the conventional lead-acid battery for your bike, then it is time for you to upgrade yourself to the best motorcycle battery, a Lithium-ion battery.
4.Charging, discharging and jump starting a lithium ion motorcycle battery
How long will a lithium motorcycle battery last?
If used at once, the cycle life of a Li-ion battery is between 2000 to 5000 charging cycles. However, service life depends on the charging and usage quality.
How to charge a lithium ion motorcycle battery?
A Li-ion motorcycle battery can be charged in two ways: Using an appropriate lithium ion motorcycle battery charger and Jump starting the motorcycle battery, also there are other two special charging methods to share with you.
a.Using a Battery charger:
-Select the appropriate battery charger. Overcharging (using a higher rated charge) can permanently damage the battery.
-Li-ion batteries are considered under-charged if the voltage dips below 12V. If it falls below 8V, it is deemed critical, and BMS (battery management system) automatically operates to cut off the charge from the battery.
-An appropriate lithium ion motorcycle battery charger shall be connected, and the current is delivered using a low current until the rated voltage – 12.8V is reached.
-Measure the voltage using a voltmeter or potentiometer and install the battery.
b.Jump-Starting:
-Jump starting a Li-ion motorcycle battery is performed using Jump starter packs. Refer to section 4.4 for the detailed procedure to jump-start.
c.Electric motorcycle charging station:
Not only electric vehicles have popularized charging piles in many areas, electric motorcycles also have charging stations, such as streets, residential areas and other places, which are convenient for residents to park and charge, and greatly improve the safety of charging.
d.Motorcycle battery swapping station
Electric motorcycles are in high demand in many regions and have many application scenarios, and changing the battery is the most efficient method, directly saving the charging time, go to the battery swapping station to replace the low battery in the electric motorcycle with a fully charged battery, and you can continue to use it, greatly increasing the frequency of use of the motorcycle.
If you want to know more about the replacement station, you can watch the video below.

Do lithium ion motorcycle batteries need a special charger?
Yes. Conventional or stock motorcycle chargers are often suitable for Lead-acid batteries and charge via high current and low voltage. On the contrary, Li-ion batteries require a low current to charge, and hence, special lithium ion motorcycle battery chargers are needed. However, the advantage of these special Li-ion battery chargers is that they can also be used for lead-acid batteries.
Depending on the features of lithium ion motorcycle battery chargers, they become cheaper or dearer. A Charger with a simple low current PCB module can cost less than a charger with BMS or overload protection features installed. Users can choose a charger according to the budget feasibility.
Can you recharge a dead lithium ion motorcycle battery? Or can you jump start a lithium ion motorcycle battery?
Yes. Li-ion motorcycle batteries can be jump-started; however, frequent jump-starting is not recommended, as it can depreciate the battery. This is especially true if a Li-ion battery completely discharged and then jump-started from a donor vehicle. Jump-starting a completely discharged battery fries the Li-ion battery due to the heat generated within the battery, and may even lead to inflammation in some cases.
A safe way to jump-start a Li-ion motorcycle battery is to use the Lithium Jump Starter Pack and maintain the battery's quality, than using a donor vehicle to jump start. The Lithium Jump starter pack typically uses an 11.1V battery and contains a larger diode. Using the jump start pack prevents voltage from pushing back from the battery once it is completely charged. The procedure to jump-start is similar to that of a standard motorcycle battery.
5.Maintenance tips for a lithium ion motorcycle battery
How do i make my lithium ion motorcycle battery last longer?
The following guidelines can be followed to extend the service life of Li-ion motorcycle batteries:
● Unlike the charging cycles on a lead-acid battery, it is advised to avoid fully charging (100%) the Li-ion battery
● A Li-ion battery is studied to perform well when the charge doesn't dip below 30% or 13V
● The best practice is to use the battery in partial discharge cycles, i.e., reaching 30%-40% battery levels, before recharging again.
● A Li-ion battery should never be charged below 0°C or 32F. This can lead to metal plating at the anode and permanently damage the battery.
● Using an appropriate battery charger is of extreme importance. High charge and discharge current will reduce the life of the Li-ion motorcycle batteries.
Do lithium ion motorcycle batteries go bad if not used?
Li-ion batteries have a lower discharge capability than Lead-acid batteries, which can significantly discharge in idle conditions. Li-ion batteries have a low discharge capability.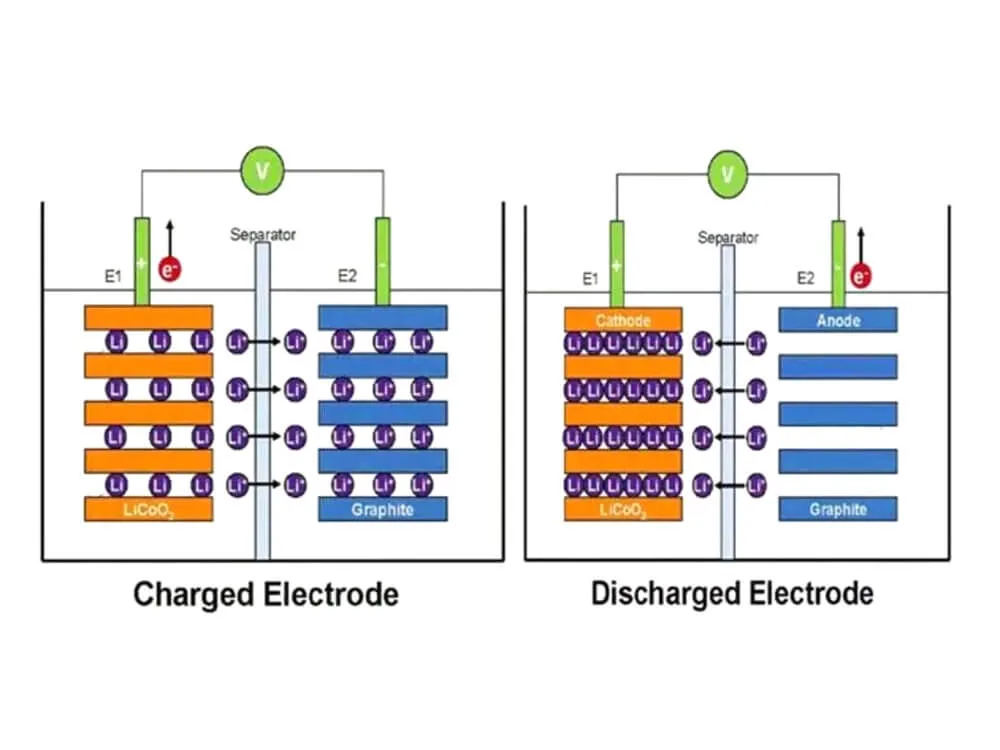 Therefore, Li-ion batteries work well, even if they are unused for more than six months. Studies revealed that a Lead acid battery, when kept idle for four  months, had discharged up to 15%, and a Li-Ion battery has discharged 1% every month. Therefore, Lithium-ion based batteries are safe, even if they are not used for longer intervals.
TYCORUN odm lithium ion battery pack manufacturer also is one of the top 10 electric motorcycle battery swapping companies in China, so if you want to consult more information about motorcycle battery or motorcycle battery swapping station, you can click the button below.
FAQs about lithium ion motorcycle battery
Is lithium ion battery good for motorcycle?
Yes. Lithium-based batteries are the best battery built so far for motorcycles. Li-ion batteries are replacing lead-acid batteries in motorcycles hence they has so many advantages: light weight, high efficiency, long life cycles, no pollution, maintenance free...
How long does a lithium ion motorcycle battery last?
Lithium-ion batteries have a much higher cycle life than lead-acid batteries, running between 2,000 and 4,000 cycles, for 5-10 years, if recycled once a day.
Who makes the best lithium ion battery for motorcycles?
TYCORUN ENERGY, which has an expert group with much experience in lithium battery design as well as R&D. As a professional lithium-ion battery manufacturer with 15 years of experience, TYCORUN ENERGY can mass-produce customized motorcycle batteries, and it has cooperated with companies all over the world.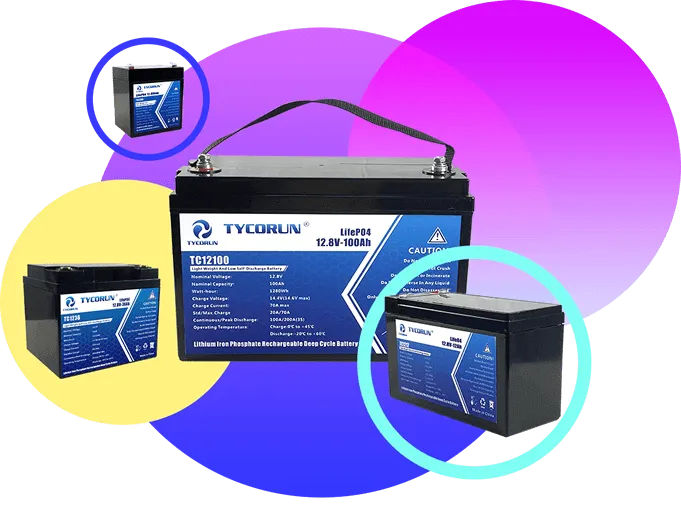 About lithium ion motorcycle battery manufacturers
TYCORUN® has more than 15 years of experience in the lithium battery industry and is a Chinese high-tech enterprise that develops, produces and sells various new energy battery products.
12V lithium ion battery production capacity accounts for 80% of our lithium battery manufacturing products. TYCORUN is your best choice for your lithium ion motorcycle battery.
This article talks about the main stream technologies of extinguishing lithium ion battery fires, and introduces the related research on fluor-based rapid fire extinguishing and passivation cooling methods to prevent reignition.