Lithium Batteries Used in Lithium RV Battery | Solar Power System for RV
Lithium RV Battery - lithium ion battery Manufacturers
14-year professional lithium ion battery manufacturers, 10-year warranty on battery packs, using the best BMS protection board, protecting the lithium battery pack from overcharge, overdischarge, overcurrent, short circuit, etc, with excellent self-discharge rate. Configurable Bluetooth, can be connected in series and parallel. The heating function and other special functions can also be customized. Enough stock for the 10 series of 12v lithium ion battery. Can be shipped within 3 days.
Lithium RV Battery | Solar Power System for RV : An Ultimate Guide
Nowadays, when people go out to travel, they have started to wean them off the traditional way of traveling in hotels and start camping in RVs. RV camping can make your travel more close to nature, and time is more free and unrestricted. But at the same time, the problem of RV camping has gradually emerged. The most common and important thing is that when camping at night, you will worry about whether the power of your camper is enough to support all outdoor activities? Will it do half of the work? Power off? Especially when the infrastructure of some campsites have been inadequate. So how do you ensure that the RV is fully charged at this time?
There are two main sources of RV power generation:
One is the external power supply through a normal 120-volt AC charger by running an extension cord to a normal outlet when you stay at free campsites.
The other is the alternator connected to your car engine. An alternator is essentially a little generator that takes the rotational energy from the engine and turns it into electrical energy. This electrical energy is then used to charge the vehicle's starter battery. An alternator only generates power while the engine is running.
In some campgrounds, you can be provided with excess to an external 120-volt power source. But what are you gonna do when you won't be able to find any electric source in campgrounds?
A gas generator for when you're not near an electrical hook-up aside. But it is loud and burns out a lot of fuel as it's running.
They aren't really set up for off-grid camping.
In order to camp in free and more remote spots and not have to worry about power given, you'll need to have solar power system for RV with lithium RV battery to be your main charge source. Once you have your panels and system set up, solar is free and clean energy.
As a source of green energy, solar power panels can make reasonable use of the roof space, reduce the radiation in the car, and continuously convert light energy into electric energy.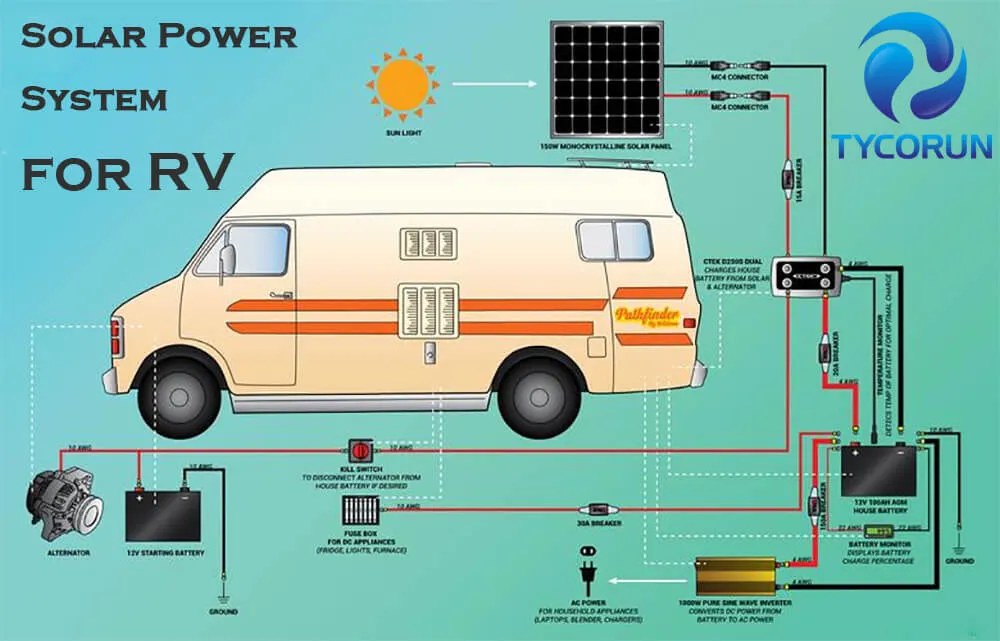 What are the 3 Types of RVs?
There are 3 types of self-propelled RVs on the market: Class A motorhome, Class B camper van, Class C motorhome. Camper vans have become more and more popular in people's social life over the last decades. Another reason why camper buying ultimate guides have become so essential.
What are the RV Classes?
Class A motorhome is the biggest and most expensive RV among all three. It is powerful enough to carry or drag a trailer. It can usually be 26 to 49 feet in lengths and typically sleep 4 people or more. Even this motorhome offers large square space to us on work and life, it still brings a great challenge to a driver who's not used to driving such a big vehicle on the road. Also, it can be an issue for people to park in normal campgrounds.
Class B camper van is the smallest type but also the most flexible one. It's about 19 to 29 feet long and usually sleeps 2 people. This family van is easy to park and consumes less gasoline than the other two motorhomes. If you tend to travel with your family or friends, this camper van can provide a comfortable space and time.
Class C motorhome is larger than Class B camper van but smaller than Class A motorhome. It ranges from 30 to 33 feet long. It's a perfect choice for couples to be away from the dirty & noise of cities and go in the open air to enjoy the outdoor camping.
How to choose your motorhome?
Class A motorhome has the largest size and space, also the best equipped RV. Class B camper van is the smallest and has less facilities in a storage area, but the most economical and practical solution for campers. Class C motorhome is a balanced type between Class A and Class B, which is continuously obtaining it's market coverage in camping.
Does a Solar Power System for RV works?
As most people know, solar panels can continuously obtain energy from the Sun light source to provide electricity for the RV. It can make your RV a real "mobile home" without worrying about insufficient electricity.
The main advantage of the solar power system for RV is that they can be kept charged all the time, even in the most remote areas, even when you have to make an unplanned stop outside the service area.
Lithium Iron Phosphate battery (aka LFP) packs have rapidly become popular in the field of solar power system for RV as the lithium RV battery. It is composed of battery pack, overcharge and overdischarge protection system, balance control system, battery case, etc. It has the advantages of safety, reliability, small size, light weight, and no overcharge and overdischarge. It can perfectly solve the "storage" of the electric energy system of the RVs.
What is the Best Solar Panel for an RV?
Monocrystalline solar panels
These are the most efficient photovoltaic cells among all types. And they are also the highest in production cost. The single crystal silicon cells are encapsulated within the toughened glass and waterproof resin. So they have a long life span in service.
Polycrystalline solar panels
The photoelectric conversion efficiency is relatively lower than Mono. And its production cost is also lower. It has a shorter life span as well.
Amorphous silicon solar panels
This is a new product of thin-film solar cells as know as Flexible Panels. It consume very little silicon material but can generate electricity in low light conditions. Each panel is very thin and does not require a frame backing so it's flexible, lighter and easier to install.
(Mono vs Poly vs Flexible Solar Panel + Series vs Parallel Wiring)
https://www.youtube.com/watch?v=kHSL_6sG5ZE&list=PLcUuWq_XtMrAQz4pAE8tcTq9VWFfx8uGV&index=4
What's the conversion efficiency of monocrystalline vs. polycrystalline panels?
Monocrystalline panels are formed with higher grade of silicone which makes them slightly more efficient than polycrystalline panels.
The photoelectric conversion efficiency of monocrystalline silicon solar cells is 20% the highest .
The percentage of energy with polycrystalline panels is converted into electricity is about 17%.
Which panel is more expensive?
Because monocrystalline panels are produced with a higher grade of silicon, the manufacturing process is slightly more expensive.
How durable are these solar panels?
Since monocrystalline silicon is generally encapsulated with toughened glass and waterproof resin, you can have a 25 year manufacturer's warranty generally.
Solar panels can be installed on the roof?
Installation design requires many factors, such as waterproof, reliable & convenient maintenance. The solar panels installed on the roof must withstand years of bumps and vibrations on road.

What is Lithium RV Battery?
A solar lithium RV battery bank is designed to power all electrical RV appliances. Through chemical methods, it collects electricity and store it for later use. When the lithium RV battery is connected to the appliances through an inverter, a chemical reaction takes place and produces electricity to power the lights, TV, thermos, ovens and refrigerator in your RV.
Do not confuse this solar battery with the starter battery. A starter battery is used to star the car engine, which requires a instant peak current. The lithium RV battery are used for a long run at low current.
Batteries are not only of the various uses but also are in different chemistries & performance. There are two main types of batteries used in RVs: lead-acid RV battery and lithium RV battery.
What are the features of lead-acid RV battery and lithium RV battery?
Battery lifespan is measured by number of charge vs discharge cycles and referred to as cycle life. At present, lithium ion battery & lithium iron phosphate battery are more popular battery chemistry in the market. Cycle life of lithium iron phosphate battery is around 3000 to 5000 times; Lithium ion battery ranges at 800 to 1000 times; lead-acid battery is only about 350 times. Apparently, the lifespan of lithium batteries are about 3 to 10 times of lead-acid batteries.
Lithium batteries have obvious advantages in charge & discharge efficiency, storage capacity, weight and other aspects.
The usable capacity of a deep cycle lead-acid battery is actually only 50% of the rated capacity.
Discharging past this point will reduce the lifespan of the battery.
The regular depth of discharge for lead-acid batteries is 80% or less. Lithium batteries charge quickly and efficient with an efficiency of 95% or more. Their charge rate can also be quite high allowing them to charge very quickly when needed.
Lead-acid batteries are comparatively cheaper but they are also much bigger and heavier. And they have a much shorter lifespan.
The upfront cost that you pay for a lead-acid battery is lower than lithium batteries. But lithium batteries will end up being cheaper in the long run.
The really big advantage of Lithium batteries is their small size light weight compared to lead-acid batteries. BMS (Battery Management System) usually built into the battery to make sure voltage, current and temperature are staying within a proper operating range. They charge efficient and can be discharged 100% depth of discharge. They can be charged and discharged with high currents. So above all the advantages of lithium ion battery, lithium battery replacement lead acid as a lithium RV battery is a wise choice.
What is the most common type of lead acid battery?"
Flooded batteries are also called wet cell or unsealed.
AGM and GEL batteries are sealed batteries and also referred to as dry cell or VRLA ( Valve Regulated Lead-Acid).
Flooded batteries are the cheapest and longest lasting type of lead acid battery but they require regular maintenance. They are maintained by adding distilled water as the battery dries out. So it's not recommended to install a flooded battery inside the van due to the potential for spilling and the need for maintenance.
AGM and GEL batteries don't require regular maintenance as the electrolyte is sealed inside. They won't spill fluid or release any gas as this battery is truly sealed. These batteries still have safety valves but only in the case of them being overcharged or if there's a cell failure.
AGM stands for Absorbent Glass Mat and it's the most popular kind of sealed battery. The electrolyte in battery is suspended in a thin fiberglass mat located between lead plates. These batteries are quite vibration resistant for mobile applications.
The electrolyte of GEL batteries is jellified by adding silica gel. GEL batteries usually cost more than AGM but have a higher lifespan with more charge/discharge cycles. The downside to GEL is that they have the most sensitive of the lead-acid batteries. They can be damaged by high charging and discharging rates. Therefore, lead-acid RV battery is inferior to lithium RV battery.
What is the most common lithium-ion battery?
Since lithium RV battery is better than lead-acid RV battery, we should get to know what is the most common lithium-ion battery to choose the best lithium RV battery. There are many varieties of lithium-ion batteries on the market.
a.They are normally grouped into three categories in shape: Cylindrical, Prismatic and Pouch.
b.Based on the classification of cathodes: NMC (Nickel Manganese Cobalt), MCA (Nickel Cobalt Aluminium) and LFP / LiFePO4 (Lithium Iron Phosphate)
c.Battery case materials: steal case, aluminium alloy case and ABS case.
In the battery industry, there is a trend that Lithium Iron Phosphate batteries will replace Lithium-ion as the battery of choice for the short term future. Lithium Ion batteries have become extremely common and power almost all of our small electronic devices with permanent batteries inside. Lithium battery is a general term that includes many battery chemistries, including Lithium Iron Phosphate.
Lithium ion is referred to as batteries that have a lithium cobalt oxide or lithium manganese oxide cathodes in batteries. Lithium iron phosphate or LFP for short, has a cathode made of lithium iron phosphate.
What is the Best Lithium RV Battery?
Why would LFP take over for Lithium Ion in the future if it has a lower energy density?
There are two main reasons and a few other minor reasons.
①The first main reason is safety. A huge weakness of Lithium Ion batteries is their tendency to enter an unstoppable exothermic chain reaction if they get too hot. Starting at around 60 degrees Celsius on up to 100 degrees, the battery can release all its energy at once and start catching a fire.
LFP batteries do not have this weakness. LFP has excellent thermal and chemical stability and does not combust when short circuited or damaged.
②The second main reason is environmental. Lithium Ion batteries contain hazardous materials which can cause health problem when exposed to human skin or eyes or very toxic if swallowed. They require special recycling or disposal procedures and can be dangerous if they're used in landfills. To make things worse, cobalt mining for the cathode materials has significant environmental and safety issues as well. And the supply of the element nickel can not keep up with the rapidly rising demand for batteries, shortage leads to an continuous increase in cost.
(12V 100Ah Lithium Ion Battery)
https://www.takomabattery.com/product/12v-100ah-lithium-ion-battery/
What are the other pros of LFP batteries?
LFP batteries are non-toxic and made from more common materials. None of those safety concerns will be taken into account.
LFP batteries have a longer cycle life than Lithium Ion and longer shelf life when not in use, also stay cooler when discharging or charging.
All of these advantages make LFP better suited for most applications, especially the rapidly growing demand for solar power storage. So it very suitable to be used as lithium RV battery.
Why is LFP is a Dedicated Lithium RV Battery?
As campers all understand that RV electricity system is used in a bumping and shaking condition also outdoor environment where your vehicle may be idle for long periods of time.
Lead-acid batteries are cheap but too heavy and taking up too much room in RVs, also it has a very short life span. Based on this analysis, the challenge is to fit a lot more batteries within a limited space and how to handle a bumping roads. Then the intelligent choice of battery has come into lithium RV battery.
What is the intelligent choice of lithium RV battery?
Lithium Ion batteries (NMC and NCA) have a large current rating and high density in power performance but always has a major safety concern under high temperature condition.
LFP battery has got a BMS (Battery Management System) which is a safety control and management system that's designed to detect the voltage, current and temperature of batteries through sensors, provide protection against such risks as over charging, over discharging, over heating, over current, over load and short circuit in case of special or abnormal conditions.
Obviously Lithium Ion Phosphate batteries (LFP or LiFePO4) have good heat resistance, excellent chemical stability and a much longer life cycle and high safety performance during nail penetration. Therefore, it is the intelligent choice of lithium RV battery.
Is there nickle in LFP batteries?
LFP batteries do not contain any heavy metals like nickle or cobalt which are used for NMC or MCA cathodes. They are made from non-toxic, pollution free materials and comply with the EU RoHS directive requirements. LFP batteries are considered as the best choice of green power energy and a new generation of environmental friendly battery chemistry on the market. LFP is likely to become the most used Lithium-Ion battery chemistry in EVs before 2025 and also the most used lithium RV battery.
How is the Lithium RV Battery Wired?
Is lithium RV battery wired in series or parallel?
As the 12-volt lead-acid batteries used to be commonly used in automobiles, those batteries are simply six 2-volt cells connected in series. This combination of batteries have continued for a really long time and become a habit, which is adopted all over the world and known as a nominal voltage.
So most of the electrical appliances in RVs are designed to have a 12 volts. You'll have to use a 12v lithium RV battery and make sure all the appliances are running in a proper condition. As we all know, the power voltage is opposite to the power current in a given wattage. When the voltage is lower and the current goes higher, much energy is lost through heat loss during power transit. Thus, we're having a lower efficiency converting chemical energy into electricity.
To solve this problem, you can have two 12-volt batteries connected in series and get a 24-volt battery or have four 12-volt batteries hooked up in series to make a 48-volt battery. Obviously such a higher voltage battery supply can improve efficiency of power transmission.
However, higher voltage ratings can also be a danger to the users. The driving voltage of electrical appliances is recommended not to be more than 36 volts because of safety concerns.

What is the best extension cord for an RV?
What's best to use are rubber sheathed flexible cables that got multiple cores with multiple strands. They are very flexible and don't break easily. Even there are one or two of these cores broken, the rest of cores would still conduct electricity. Besides, it has always been to tolerate a wide range of temperatures which can even go down to about minus 40 degrees, particularly for outdoor use.
What is the Purpose of Solar Charger in RV System?
Why do you need a solar charge controller?
If you directly hook up your solar panels with your lithium RV battery, it may work at the very beginning. But later on, it will eventually burn them out as the charging voltage rises. This is why you'll need to have a controller to regulate the high charging voltage point within the range of voltage of your lithium RV battery.
What are the basic types of charge controllers?
There are two most common types of charge controllers for lithium RV battery.
PWM (Pulse Width Modulation)
PWM charge controllers are the more basic of two charge controllers. They match the solar array voltage to the voltage required to charge the your lithium RV battery. They work like a switch which constantly cycles on and off, regulating the amount of power that the solar panel gains. It's sending energy to the batteries when it's on and it's monitoring the capacity of the batteries through out the full state of charge when it's off.
MPPT (Maximum Power Point Tracking)
Maximum Power Point Tracking is a device designed to detect the DC voltage and output current of solar arrays, then perform intelligent calculations and implement tracking the maximum power point. Its function is to limit the output current and ensure the batteries are not overcharged. MPPT charge controllers are more advanced of two charge controllers and have the ability to electronically track and deliver the most optimal amount of energy from the solar array to the lithium RV battery pack.
What the pros and cons of both charge controllers?
PWN controllers are cheaper but less efficient than MPPT controllers.
MPPT controller are more expensive than PWM controllers but the best choice for large complete solar power system for rv.
(MPPT vs PWM: Fast comparison for off-grid solar)
https://www.youtube.com/watch?v=PB6zojol9o0
What is a Solar Inverter and How does It Work?
How does an RV inverter work?
An RV inverter plays an essential role in the solar power system for RV. It converts the variable direct current (DC) output of a photovoltaic (PV) solar panel that's stored inside of the lithium RV battery into standard alternating current (AC) power. This AC electricity then can be fed into your home to operate your appliances.
What are the two types of solar inverters?
Modified Sine Wave Inverters are the more inexpensive type of inverter and also the more basic & older version of the technology. It's not really designed to power sensitive electronics like computers, phones and TVs.
Pure Sine Wave Inverters are much more expensive but more realistic than the modified sine wave inverters. In the below graph, the voltage goes from a high of 120 volts to a low of negative 12 volts. Pure sine wave is the smoothest way of delivery AC current to your AC appliances. Modified sine wave graph is more jagged kind of almost stair-stepping way of delivery the energy so it's not quite as smooth. Sensitive electronics can be damaged by those variations.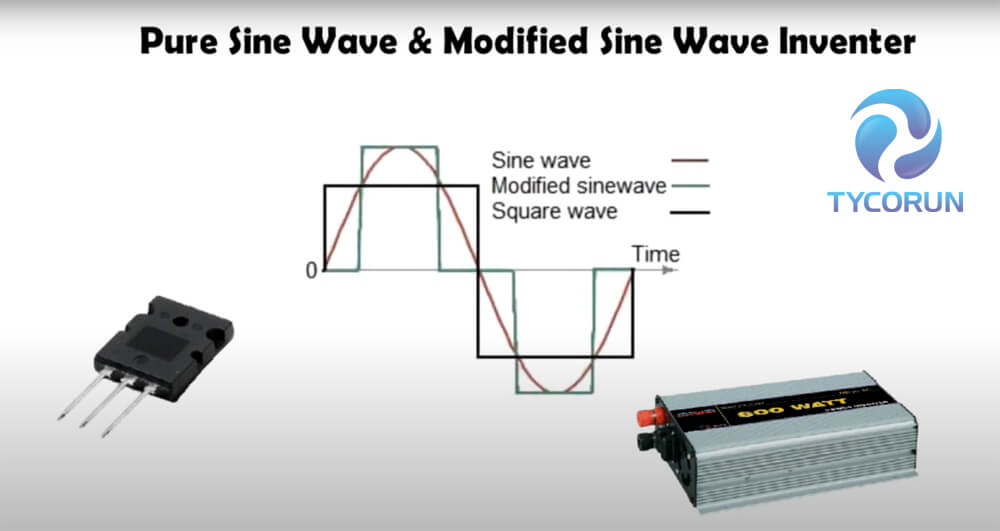 (All you need to know about Solar inverters)
https://www.youtube.com/watch?v=75NMRgom-6w&list=PLcUuWq_XtMrDxm8j4zACJ7SKSb6_Iv14D&index=2
What is a Solar Power System for RV?
A complete solar power system for RV can be broadly classified into 3 steps & 7 stages. The three steps are: power generation, power storage, and power consumption; the seven stages include: power generation, transmission, charging, storage, inversion, distribution & consumption. And these are accomplished by 5 main components of a system: Solar panels, Batteries, charge controllers, inverters and cables.
The sunlights absorted by solar panels on the RV roof are converted to solar energy and stored in a lithium RV battery bank though charge controllers, then got transformed by inverters into electricity output to run the electrical loads.
What is Needed for Solar Power System for RV?
First of all, most RV users intend to choose monocrystalline silicon solar panels as its conversion rate is the highest (monocrystalline is higher than polycrstalline, polycrystalline is higher than amorphous sillicon). Remember these solar panels are not installed once for all. You might want to clean up the surface of those panels once in a while, especially when you tend to live or drive in a dusty area, in order to prevent collection of dust that would affect the conversion efficiency for energy generation.
Secondly, MPPT is a device designed in the controller that can carry out intelligent calculation and implement tracking at any time, monitoring the real-time power generation voltage of solar panels and track the highest voltage current value. The system can charge the battery with the highest efficiency. Therefore, it is highly recommended to choose a MPPT controller when installing your solar system.
Most importantly, you're going to need a lithium RV battery at the heart of the system. To normal lead-acid batteries, two or three over-discharge are enough to entirely kill the batteries. It is always wise to use a quality lithium iron phosphate battery with good performance as your lithium RV battery.
At last, A solar inverter must be suitable for the real demands of all electrical loads on RVs. With all kind of electrical appliances, the effect power of a inverter should be above 2000 watts. But any power above 3000W can be a real waste in a camper van.
What is the Best RV Solar Power System for a Camper?
How the panels are mounted in regards to the angle of the Sun?
A solar panel is most efficient when the panel is angled at 45°.
A panel is most efficient when panel oriented perpendicular to the Sun's rays.
But on a van, it's easily to mount the panels flat. Flat is great during the middle of the day in the summer when the sum is high in the sky. But for the majority of the time, this isn't the optimal angle when it isn't the middle of the day and in the other seasons other than summer when the angle of the sun is a lot lower. The panels will still work and collect power just not as efficiently as first hoped. So in much of the time, the panels are not bringing in as high of a wattage of power as their rated.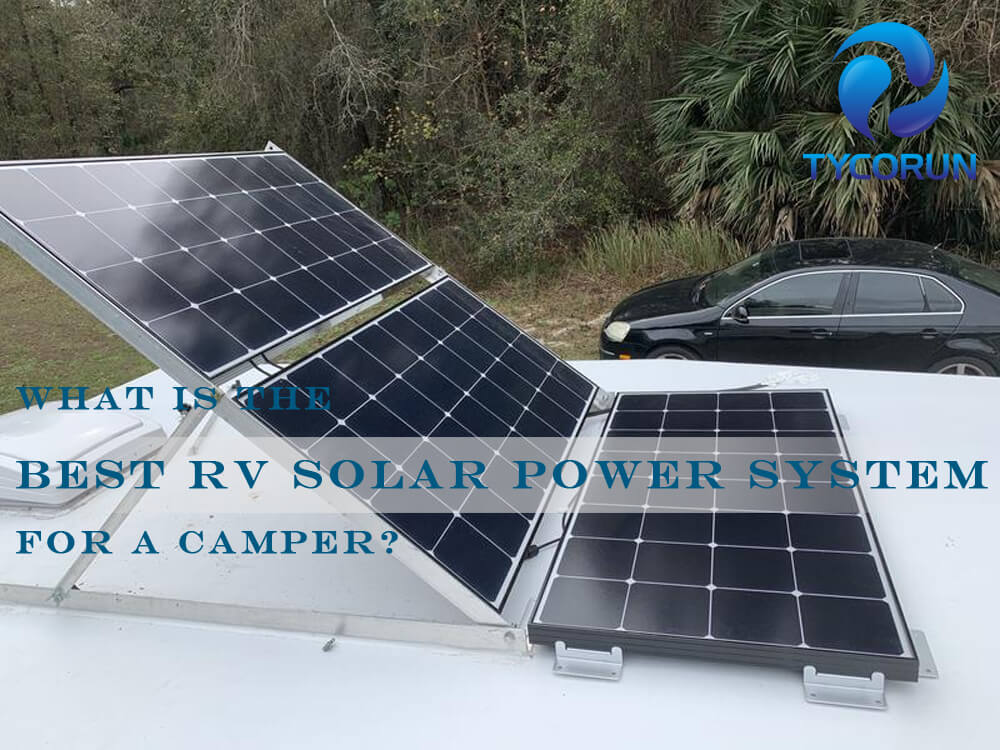 Should I connect RV solar panels in series or parallel?"
To answer that question, you need to start asking what lithium RV battery bank to use, 12V or 24V? When you charge a 24-volt lithium RV battery bank with two 100w panels, those panels need to be connected in series to achieve the necessary charging voltage.
Considering some constant shading that you may have throughout the day, it is recommended to connect the panels in parallel. The amperage of the panels is added together but the voltage is kept the same.
If you set up the panels too far from the charge controller more than 20 to 25 feet, we would recommend to hook up the panels in series. Apparently there will be a voltage drop caused from a distance. The fact of higher voltage enables the amperage delivered to the controller more efficiently.
What connectors do solar panels use?
There are a lot of manufacturers are making solar panel connectors out there. The most common ones are MC4 solar connectors from Multi-Contact and H4 connectors from Amphenol.
There are a couple of key points to be noted when you have the cables coming off the back to the solar panels.
①Never disconnect a solar connector when the panels are in the Sun. A dangerous arc could occur. Cover the panels before disconnecting or disconnect it when the Sun is down.
②The male and female connectors look opposite from what they are, as it is based on the metal pin inside, not the plastic connector outside.
③National Electric Code requires a key for disconnecting them.
Why do I charge 12V lithium RV battery from a 17V solar panel?
In order to make the system work properly, the terminal voltage of solar panels must be at least 3 to 5V higher than the voltage of lithium RV battery. For example, a nominal 12V solar panel is about 22V in VOC (Open-Circuit Voltage) and 17V in VMP (Voltage at Maximum Power). And the input voltage range of a 12V battery is from 12.8 to 14.6V. This is how the lithium RV battery can be stored to full charge state by the normal charge.
Installing more solar panels than what your solar inverter is rated at?
When that happens to you, saying "I've got a quote for solar, they've offered me a 3 kilowatts inverter, and 3.9 kilowatts of panels, what's going on?", "Am I going to blow up my interver?", "Am I gonna lose energy?"
People may worry about this mismatch. But this is called inverter oversizing and it's a really smart design move.
In terms of energy production, that 3.9 kilowatts of solar panels will very rarely give you 3.9 kilowatts because the losses in the system.
In terms of operation, it's totally safe and you're not going to overload the inverter.
Because of the way the solar rebates works, it is strongly recommended oversize your solar inveter with extra panels. If your installer offers you a smaller inverter than the size of your panel array, it's a really good and cost effective design.
If you're buying an inverter that doesn't have monitoring of the solar power and monitoring your home consumption, which is how much energy you use. Obviously this is not good enough.
It is highly recommended to have solar monitoring and consumption monitoring on your inverter. It will give you an insight into how much solar you're generating and how much energy you're using.
What is the Historical Development and Perspectives of Solar Power System for RV?
As early as 1910, motoring enthusiasts and nature lovers started ordering custom vehicles, equipped with sleeping bunk, storage cabinets and decorated with various imaginative household appliances and even a water tank to meet the basic demands of everyday life.
Due to historic reason, low voltage (12-volt) lead-acid batteries were mainly used in RVs at the early stage. So all the electrical appliances equipping RVs used to be running on 12-volt systems. However, more recently, people have started to take lithium RV battery as their energy storage because of the smaller manageable size, lighter weight, longer life cycle, more stable and reliable. And high voltage 48-volt lithium RV battery is becoming more and more used in solar power system for RV. 48 volts allow you to use smaller diameter wires that will eventually carry lower current for the same wattage in comparison with 12 volts, because higher current may increase the risk of fire in the tight space. Besides, a smaller difference in voltage between input and output equipments will help reduce the power loss in the transmission of electricity.
The RV culture has become very popular in the USA, Canada, Japan, Australia, New Zealand, Norway and Iceland about decades ago. The biggest group of RV owners are around 35 to 54 years old and there is a trend that younger generations have joined this ranks of camping life. To most of them, the RV camping is the best way to go on vacation and enjoy the outdoor activities with their family, children & friends. Taking the USA alone, there are more and more Americans tend to spend much time in their RVs and about one million Americans have chose to live full-time in RVs as this lifestyle of this group of people are looking for freedom with a lower living cost.
How to Calculate the Size of your Solar Power System for RV?
The size of your solar array namely the number of solar panels that you need solely depends on how much energy you use on a daily basis.
The size of your lithium RV battery bank depends on how many days you want your energy storage to last you through cloudy days.
The charge controller that needs to properly manage the energy between your solar panels and your lithium RV battery banks.
The inverters you need depend on what appliances you want to run off your solar power system for RV.
The sizes of wires and fuses depends on how much energy is going to be flowing through them. Normally fuse sizes cannot be more than one and a half times the total load on the system. Or we can do the fuse 25% bigger than the load.
(How to Design a Camper Van Electrical System/Charge Sources for Off-Grid Camping)
https://www.youtube.com/watch?v=8ZTkxaZFBbU&list=PLcUuWq_XtMrDQcrVH_FqeOPeGhj9IOGGW&index=6
How Much Solar Power Do I Need for My Camper?
How much power solar you need is based on how much power you plan to use every single day.
There are two separate power systems in RVs. One is running on 120-volt AC and the other is running on 12-volt DC. DC power can be directly used to power all the lights, fans and water pumps. Also, DC power can be turned through a converter into AC power which runs TV, refridgerator and air conditioning.
The first thing you need to do is to finish a rv solar power system worksheet, in this worksheet you should list out every appliance that you intend to run off your solar power system for RV. This may sound tedious but you need to go around to every appliance and find what's called the power consumption rating label. This is a label that could either be imprinted on the device or charger itself or it's printed on a label that is stuck to the device or charger. The purpose of this rv solar power system worksheet is to find out what is the output rating for the device. It can either be listed as watts or volts or volts and amps or miliamps to show the wattage of the device.
If for some reason you can't locate the power consumption rating label, try to find the model number of your device and either Google search it or just find something that's similar to it.
Not all electrical appliances are the same:
①AC Components
②DC Components
③DC components disguised as AC components.
– AC components are the items you plug into your normal household outlet, like coffee maker, electric pressure cooker, blender, miter saw, etc.
– DC components can be connected directly to your DC distribution fuse block, like 12-volt LED lights.
– There are also some items are actually DC appliances but plug into a normal household AC power socket. These items are like computers that will typically have a power supply AC/DC adapter that converts AC power to DC power.
Single charge items are like phones, camera batteries, drone batteries. Basically anything you charge up and unplug to use.
– Full day / per day use items are the items you're going to let run all day, like a refrigerator, a hot water heater, etc.
Once you finish the rv solar power system worksheet and list out every appliance that you intend to use with your solar power system for RV along with the corresponding wattage, that comes to be a question of how many hours you are going to use it each day.
Here below is a brief list of what you may plan to equip with in your camper van and the total power consumption of each electrical appliance.
1)1P air conditioner 735w, 6 hours a day, total 4410 watt-hours
2)90L refrigerator, all day run, total 500 watt-hours
3)4L rice cooker 800w, twice 0.5 hours a day, total 400 watt-hours
4)4L water heater 800w, three time in 0.25 hours a day, total 200 watt-hours
5)Toaster 750w, three time in 0.20 hours a day, total 150 watt-hours
6)Ventilation fan 60w, 5 hours a day, total 300 watt-hours
7)60w Laptop, 5 hours a day, total 300 watt-hours
8)10w LED light, three pcs in 5 hours a day, total 150 watt-hours
9)600w hairdryer, 0.1 hours a day, total 60 watt-hours
| | |
| --- | --- |
| ① | 90L Refrigerator, 4L Rice Cooker, 4L Water Heater, Toaster, Fans, Laptop, LED Lights, Hairdryer, Air Conditioner≤0 hours |
| Estimated Peak Power | ≤ 1000w |
| Estimated Power Consumption | 2000-3000wh |
| Recommended Inverter Power | 1000w |
| Recommended Battery Storage | 12V 300Ah |
| Charge Controller | MPPT-45A |
| Solar PV | 100w*6 |
|   |   |
| | |
| --- | --- |
| ② | 90L Refrigerator, 4L Rice Cooker, 4L Water Heater, Toaster, Fans, Laptop, LED Lights, Hairdryer, Air Conditioner≤3 hours |
| Estimated Peak Power | ≥ 2000w |
| Estimated Power Consumption | 5000wh |
| Recommended Inverter Power | 2000w |
| Recommended Battery Storage | 24V 200Ah |
| Charge Controller | MPPT-45A |
| Solar PV | 150w*6 |
|   |   |
| | |
| --- | --- |
| ③ | 90L Refrigerator, 4L Rice Cooker, 4L Water Heater, Toaster, Fans, Laptop, LED Lights, Hairdryer, Air Conditioner≤6 hours |
| Estimated Peak Power | ≥ 3000w |
| Estimated Power Consumption | 7000-9000wh |
| Recommended Inverter Power | 3000w |
| Recommended Battery Storage | 24V 200Ah*2 |
| Charge Controller | MPPT-45A |
| Solar PV | 200w*8 |
|   |   |
Which of the Brands of Lithium RV Battery Available in the Market Should You Trust ?
TAKOMA is the leading lithium ion batteries manufacturers and lithium iron phosphate batteries in China. Our LiFePO4 batteries are lightweight and versatile and are the best choice as lithium RV battery. We provide all types of products of lithium RV battery for both RV solar system and residential solar system. Please take a visit at our website at https://www.takomabattery.com/ and find more premium energy storage products.
There are dozens of brands available on the markets for the solar inverters. Some are more budge inverters and some are more premium inverters. The standard warranty with a solar inverter is only five years. But there are plenty of brands that now offer 10 year warranties. You may have to pay a couple of hundred dollars more for a 10 year warranty, but it's absolutely worthy it in the long run.
Because the component of you solar power system for RV that is mostly like to fail in the first 10 to 15 years is the inverter. For that reason, it is highly recommended to have a premium inverter over a really premium panel if you have limited funds.
There are three reason:
A, Quality not likely to fail;
B, If it does fail, you're going to get good service;
C, You're going to be assured over its warranty.
Here below is a brief list of the top 8 solar inverter vendors in 2021. Any you may click the following link and get more information about the inverters.
https://www.cleanenergyreviews.info/blog/best-grid-connect-solar-inverters-sma-fronius-solaredge-abb
What does It Cost for a complete Solar system for RV?
The cost to buy a solar power system for RV will be depending on your daily electricity consumption, the brands of equipment chosen, and the way of how it's being installed. Here below are a few ready-solutions for your reference.
– 1KW Solar Power System for RV
– 3KW Solar Power System for RV
– 5KW Solar Power System for RV
If you're considering solar and don't know who to trust, my website www.TakomaBattery.com  makes it really easy to get up to three free quotes from installers that I have personally recommended and trust. Just visit takomabattery.com and fill in the form and I'll take it from there. It's our hope to be able to share information and help other people out so that they can enjoy RVing.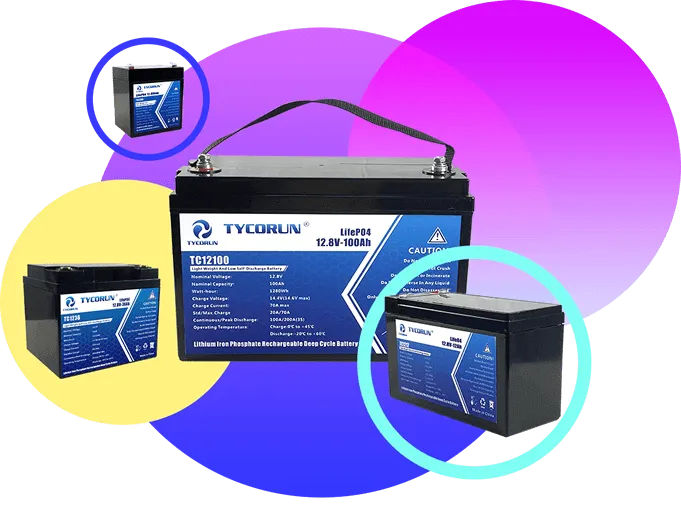 About RV lithium ion battery manufacturers
TYCORUN ENERGY  has more than 14 years of experience in the lithium battery industry and is a Chinese high-tech enterprise that develops, produces and sells various new energy battery products.
12V lithium ion battery for deep cycle rv battery accounts for a lot of sales of our lithium battery manufacturing products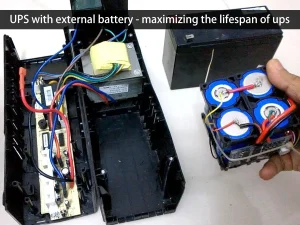 This article will discuss the crucial factors to consider when choosing an external battery for UPS. We'll give insights into the features and advantages of UPS with external battery alternatives on the market.