China Leading lithium ion battery manufacturers and suppliers
You can get the best cost-effective lithium ion battery products,
with our most professional lithium battery PACK technology
Tycorun Lithium ion battery manufacturer
TYCORUN ENERGY ODM lithium ion battery pack manufacturer has an expert group with much experience in lithium battery design as well as R&D. our lithium ion battery factory has two manufacturing plants covering an area of 30,000 square meters, with multiple sets of automated assembly devices, laser welding equipments, Automatic chip mounters, automatic welding equipments, defense board screening equipment, completed product aging devices, etc., high-grade and high-efficiency manufacturing guarantees monthly manufacturing capacity of over 50,000 sets.
Our group of trained battery experts will respond timely to any type of inquiries you have.
TYCORUN ENERGY is a Chinese high-tech lithium ion battery manufacturing company that provides reliable and safe customized solutions for special lithium battery systems and lithium battery products for global users. We only adoption the A grade battery cells. Existing customized solutions and products for lithium batteries are widely used in industrial energy storage, household energy storage, power communications, medical electronics, security communications, transportation,  logistics, surveying , mapping, new energy power and other fields.
Our lithium battery factory Providing OEM & ODM Lithium battery Service From Our Clients Through Ongoing & Innovation.
lithium ion battery suppliers focuses on lithium-ion batteries, providing one-stop lithium battery products and customized services from battery, BMS, and structural design. As ODM lithium ion battery pack manufacturer, while improving the lithium ion battery products, as a top lithium battery company, years of experience in the lithium battery industry allows us to provide in-depth material sourcing, financing and supply chain expertise every step of the way.
ODM lithium ion battery pack manufacturer TYCORUN Energy Lithium Battery Factory Video
If you have any questions about the lithium ion Battery pack please do not hesitate to contact Us. As ODM lithium ion battery pack manufacture, our group of trained battery experts will respond timely to any type of inquiries you have.
Top ODM lithium ion battery pack manufactuers
Lithium Ion replace Lead acid battery
Lithium ion replace lead acid battery , as ODM lithium ion battery pack manufacturer we can series or parallel the 12v battery pack and any v & ah you want to design. Used more 12v 50ah,12v 100ah,12v 200ah.
Power Wall Lithium battery
The solar battery home storage system can put on the wall to save the space, safe and eco-friendly. We provide 48v lithium ion battery,50Ah, 100Ah, 150Ah, 200Ah for home storage.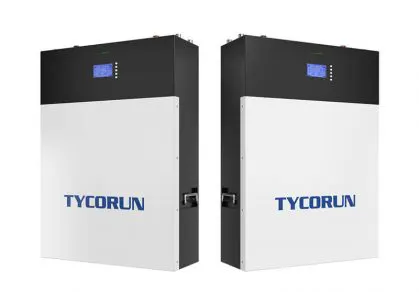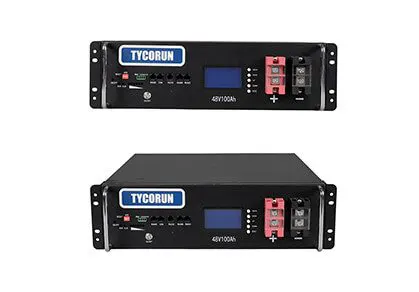 Rack-Mounted Lithium Ion Battery
Rack-mounted is easy to series,and parallel the Voltage to 192V or 384V Lithium Ion battery.
A trustworthy lithium ion battery manufacturers
Our lithium Battery have mature solutions in the fields of energy storage systems, home energy storage, UPS systems, industrial equipment, communications & power supplies. We provide lithium battery OEM for several Amazon best-selling brands
Today, ODM lithium ion battery pack manufacturer TYCORUN ENERGY is one of the most important lithium iron phosphate battery suppliers in the Latin America, North America and Europe. Our sales offices and warehouses include lithium battery pack industry experience enables us to provide in-depth material procurement and supply chain expertise at every step of the production process.
"Appears it just does what we bought it for. Because of this transportation late 1 weeks later on, however no problem at all.
Really best packaging. Great Service.Hope lithium battery lasts all the 5 years of warranty."

John Doe
Energia Systems Founder
"Henry always offers terrific 12v 100ah lifepo4 batteries and also offers fantastic prices. Delivering to us is additionally extremely fast! Terrific customer support and also educated actions to our questions."

Benjamin Reed
CEO
"Top quality lithium battery, specifically the package was boosted massively to aid to stay clear of any damages. battery top quality is good, capacity test confirmed , Is a trustworthy lithium battery manufacturer"

Rachel Johnson
Eco Systems Founder
Professional China Lithium Battery Companies
As a professional China lithium battery companies, TYCORUN ENERGY Adopt AAA Lithium ion battery cells design and production, provides upstream suppliers consultant for your lithium ion battery pack solutions.
Safety lithium battery pack high cost-effective, up to 10% – 25% cost savings.
FAQ About Buying Lithium Batteries
Most common applications for lithium battery
Lithium battery is widely used in many industries, ranging from powering the vehicles, scooters, bicycles to energy storage in home use, commercial use and outdoor power supply, etc. Generally speaking, lithium ion battery manufacturers make 2 kinds of lithium batteries: ternary lithium battery is applied for powering to move because of its high energy density and discharge rate, while LFP lithium battery is more popular with energy storage for its stable chemistry components and longer cycles. Some of the most popular application of lithium battery cover EV, RV, golf cart, forklift, camping power supply, kayak, scooter, solar power system, home Energy storage system, UPS Data center, telecom and IT backup, Industrial Equipment, etc.
What Factores should you Consider When Buying lithium ion battery?
Professionals from lithium ion battery manufacturers advise you that you need to provide the following information when buying lithium batteries. you need to provide the following information:
Rated voltage(V)
Operating voltage range(V)
Capacity(Ah)
Charging current (A)(Rated current/ Maximum continuous current/Peak current)
Discharge current (A)(Rated current/Maximum continuous current/Peak current)
whether it needs to be in series or parallel, and if so, how many in series or parallel.
Our lithium ion battery factory engineers will recommend the most suitable and cost-effective lithium ion battery packs
What certifications are required for lithium batteries?
Commonly used certifications for lithium batteries are dedicated for transportation and certification of product quality. Not too many lithium ion battery manufacturers will apply for those certifications because of the high cost. Fortunately we have some of them and in the future we will apply all of them for our worldwide market. The certifications as per below:
Transportation unique qualification: generally MSDS, UN38.3, report for sea as well as air transportation of goods

MSDS is a chemical safety and security technical spec, a file utilized by chemical producers and importers to clarify the physical as well as chemical residential properties of chemicals as well as the possible damage to the health of users.

The UN38.3 is specifically created by the United Nations for the transport of lithium battery by sea or by air.
Identification and classification report for sea and air transport of goods: It is a report that needs to be provided when batteries and products with batteries are transported by air or by sea.
Product quality certification: Different countries have different product quality certifications. Commonly are:
European Union: CE, ROHS
North America: FCC, UL
India: BIS certification
How to ship the lithium ion batteries?
For purchases from China lithium ion battery factory, We have three shipment way to ship out the goods,

Option 1: SEA WAY, we can ship out the lithium battery to every country via sea way. And We have UN38.3 & MSDS certification. Here's the range time for the shipment date.

USA: 30-40 days

Europe: 30-40 days.

Australia: 35-45 days.

Option 2: AIR WAY, If the single parcel less than 68KG, that we can use the air way.

USA: 12-15 days

Europe: 12-15 days.

Australia:15-18 days.

Opyion 3: TRAIN WAY, We can ship out the lithium battery to Europe via Train way.

USA: 30-40 days

Europe: 30-40 days.

Australia: 35-45 days.


Because the lithium battery material is dangerous material. Our lithium ion battery suppliers have passed UN38.3 & MSDS & Dangerous packing certificate, As a lithium ion battery manufacturer, TYCORUN® can ship out the lithium battery!
Receive an accurate quote within 3-5 days when you fill out this form. Or, give us a call: +1(405) 283-8396
Recent Lithium Batteries News & Articles
This article will discuss the crucial factors to consider when choosing an external battery for UPS. We'll give insights into the features and advantages of UPS with external battery alternatives on the market.
In this article I will differentiate between UPS vs inverter in various aspects, as well as analyze which is the right choice between UPS vs inverter.
Insights into lithium-ion battery capacity measurement and its practical implications are provided in this guide for your benefit. You'll learn to make an informed choice when purchasing a device with a lithium-ion battery. Also, read till the end if you're a professional interested in learning more about battery technology.
TYCORUN ENERGY Video Gallery