What you need to know about lawn mower battery
12 volt lawn mower battery manufacturers
14-year professional 12 volt lawn mower battery manufacturers, 10-year warranty on lawn mower battery packs, using the best BMS protection board, protecting the lithium battery pack from overcharge, overdischarge, overcurrent, short circuit, etc, with excellent self-discharge rate. Configurable Bluetooth, can be connected in series and parallel. The heating function and other special functions can also be customized. Enough stock for the 10 series of 12v lithium ion battery. Can be shipped within 3 days.
What you need to know about lawn mower battery
Introduction
Like all other automobiles, lawn mowers are no different in where they get their power from. And while the obvious answer is an engine, which it technically is! The engine is useless without a battery.
Which makes batteries a key component in the operations of lawn mowers.
Lawn mowers as is the case with other battery-powered machines need properly charged batteries to run. These machines are powered by combustion engines. The engines vary in size and capacity and therefore determine the type, size, and capacity of the batteries used per lawn mower.
Riding lawn mowers globally are around the same size. They may however differ by inches in their overall dimensions. Ideally, your battery should fit in the compartment mostly placed under the seat. It is however possible to ride with it outside as long as the mower connectors reach the battery. Such a scenario would allow you to use different size batteries.
In this article, we will analyze the type of battery to use for your lawn mower. We will also look at the aspects you should look out for when you are purchasing your battery, the considerations you should make, and why you should make them. We will also advise on the best practices to ensure your battery has a healthier and longer lifespan.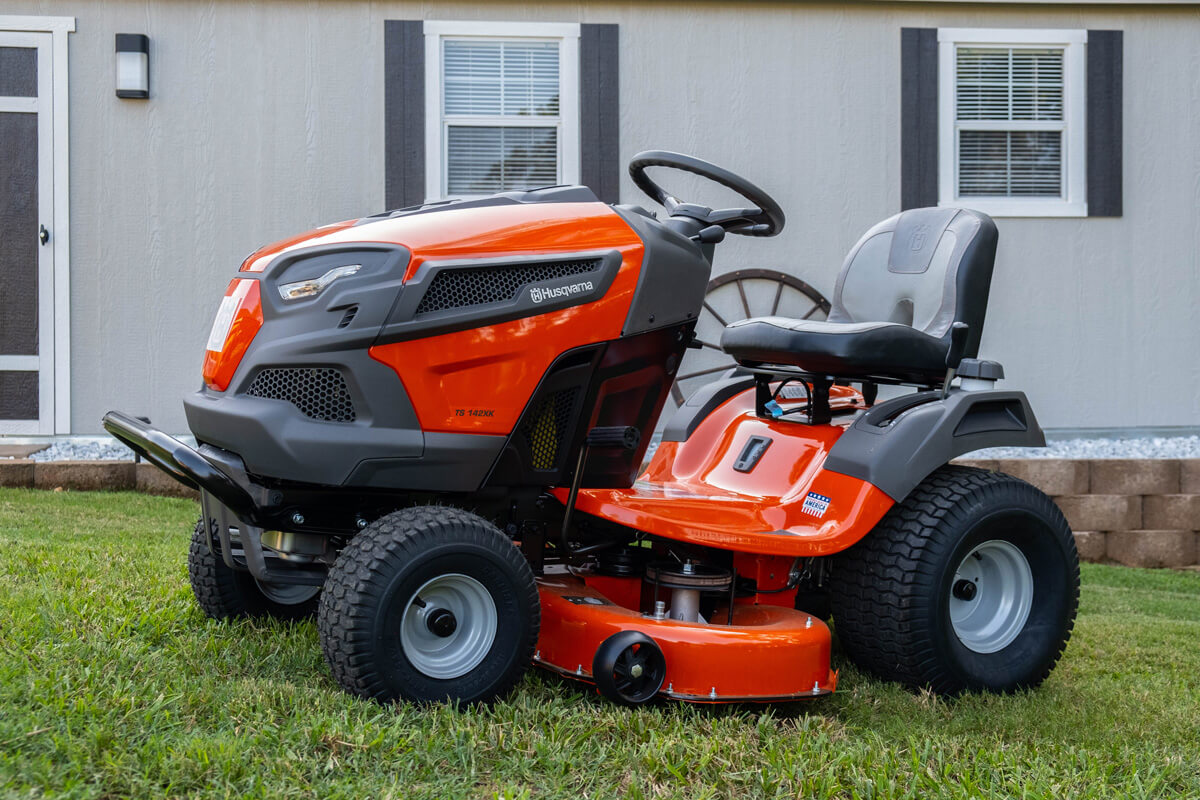 What battery should I use for my lawn mower?
A key component to consider when purchasing a lawn mower battery is its size. On average, most riding mowers use 12V batteries. However, some smaller models use 6V batteries.
There are two types of batteries used in lawn mowers:
•Lithium batteries.
•Lead-acid batteries are heavier.
Due to the 12V lithium batteries being the most common, we are going to focus on those in this article.
Do lawn mowers only use lithium batteries?
Not necessarily!
Lithium batteries are however the most common due to reasons we will discuss below. Some lawn mowers, especially older make use of lead-acid batteries.
Lithium batteries
Lithium batteries in lawn mowers are preferred for several reasons. Amongst them are:
• Safety. They have a BMS (Battery management systems) feature that protects the battery against overcharging, short-circuiting, instances of over-current and over-temperature as well as over-discharge.
• Versatility in charging. Lithium batteries offer the ability to be charged in several ways. It is however advisable to use chargers and instructions provided by the manufacturer to maintain the battery's integrity. When charging these batteries, it is important to take note of voltage so that you do not exceed the recommended amount.
An example of charging is the use of onboard mower alternators.
•Weight. In the mower 'world', lithium batteries are significantly lighter in comparison to their lead-acid batteries. This, plus the above-mentioned qualities make them a popular choice among consumers. Their weight difference does however not play a determining factor in the price variance between the two types of batteries.
Lead-acid batteries
Lead-acid batteries are less common nowadays than they were earlier. This coincides with the rise in the popularity of lithium batteries. Compared to lithium batteries, lead-acid batteries are heavier, do not support many charging/discharging cycles. They also encounter problems when being discharged with strong currents.
That said, however, these batteries have their advantages. They are relatively cheap compared to lithium batteries. As starting batteries, they are reliable, can withstand different charging conditions, and are robust.
What is the ideal size of a lawnmower battery?
The size of the battery to use on your lawnmower depend mainly on the size of the combustion engine. There are however two main factors to consider when purchasing the battery, these are:
• Voltage
Voltage determines the amount of current that the battery can transmit at a time. Almost all riding lawn mowers use 12V batteries. This 12V battery is a standard even in automobiles. However, other types of mowers use higher or lower voltage in batteries. Electric walk-behind mowers used specialized batteries of between 36V and 40V.
• Size and Terminal position
Battery sizes worldwide are standardized by a body known as Battery Council International. They are grouped according to their physical size and given a group number.
The most common riding lawn mower battery is a U1 battery and it is approximately 8.3*5.1*7.25 inches in size. There are 2 types of U1 batteries. The difference is in the position of the positive terminal. For the U1 battery, the positive terminal is on the left whereas the position of the positive terminal of the U1R is to the right.
It is important to know the terminal positions of your battery as this can affect if this battery will work for your lawn mower. If the positive terminal is on the wrong side, your mower's battery cables may not allow it to fit.
• Cold-cranking Amps
This is a powerful feature to explore! Especially if your area experiences extremely cold temperatures or winter. The CCA (cold-cranking Amps) details the amount of current a fully-charged battery will supply in cold conditions. This specifically shows the current achieved in 30 seconds at 0°F. You use this feature to determine the reliability of your lawn mower battery.
What is the lifespan of a lawn mower battery?
Lithium-ion batteries work by transfer of charges between positive and negative electrodes and vice-versa during charging and discharging. On average, these batteries last between three to five years, or about 2500 charging cycles.
If the lawn mower battery is used consecutively, its 2500 charging cycle will last a little over 3 years.
There are however a few factors that determine how long the battery will last. One overlooked factor by most buyers that plays an integral role in the battery's life span is its material. A high-quality material enables the battery to have properties like fast-charging capabilities, greater energy-saving ability, etc. Which helps in the quality of life of a battery.
Your battery's charging cycle
On the issue of charging and discharging your battery, there are conflicting reports on what one should do. For this reason, we recommend going by the guidelines given by the manufacturer as they have tried and tested their batteries.
A common and advised practice however is not to let the battery completely drain out before recharging. It is also important to unplug your lithium battery immediately it charges to 100%. These two practices help prolong its lifespan. Lithium batteries should not be overcharged or over-discharged.
As the battery gets older, you may notice that it takes longer to be fully charged. It may take about 30 minutes longer to get fully charged compared to when it was new. This is common after 3 years and should not be a cause of concern.
Battery life of a fully charged lawn mower
On average, lithium batteries output 4Volts per cell. This is enough output to enable the mower to work efficiently. This output is however not standard to all lithium-ion batteries and is thus used to determine the life of a fully charged battery.
Battery Management
There have been several adjustments made in recent years to improve the battery life of a lawn mower. Amongst the most significant is the use of brushless motors that determine the force exerted during tasks.
Brushless motors enable good power management in lawn mowers by enabling the mower to determine instances to use more force and when to reduce. The effect of this is that it helps improve power consumption which then adds time taken to complete the 2500 charging cycles. This greatly improves the battery's lifespan.
During winter
Lithium batteries need special care during winter. In winter, the amount of power a battery uses is greatly affected, and often, it ends up using more power to drive a lawn mower. Because of this, it is important to extra attention to your battery.
Cold temperatures can completely drain your battery, to the point of possibly 'killing' them. At temperatures of 32°F, your lawn mower battery loses roughly 35% of its strength. This gets worse when it's colder. At 0°F, the battery loses about 60%. Therefore, when storing the lawn mower or battery, place them indoors, preferably in spaces with room temperature (70–72 °F).
Taking care of your lawn mower battery during winter
Get the battery checked before winter
With your lawn mower battery, just like any other battery, it is better to be on the cautious side. You do not want to plan a whole day's activities only to be let down by a battery.
Before winter comes by and movement gets a lot harder, have a trusted battery dealer take a look at the battery and conduct some tests to make sure it's in top shape. The aim is to identify any areas of weakness or potential harm and deal with them.
Park indoors
The aim of parking indoors is so that your battery is not exposed to cold temperatures. Cold temperatures have adverse negative effects on batteries.
Ride it for at least 10 minutes each day
This is one of the most effective ways of keeping your battery from dying.
As you ride your lawnmower, power is generated keeping the battery warm and also helping it maintain charge. Drive it for about 15 minutes each day to prolong its battery life.
Invest in both a battery charger and a blanket
In this regard, you invest in your lawn mower's battery just like you invest in your family during winter. Just as you would buy warm clothes and blankets for your family, buy a battery blanket for your mower.
Battery blankets can be found in major auto shops and are less expensive than buying a new battery. These blankets do not suffer from corrosion and therefore are safe for use.
Another viable option would be to cover your battery with a thick and dry heavy piece of clothing. This however should be done after riding it to help retain engine heat. With this, you should be cautious to remove it before driving again o else you will damage your battery.
Can I use a car battery on my lawn mower?
Technically you can, but there are several factors to be considered. For the battery to work, ensure that the mower system is compatible with the voltage capacity of the battery. For example, for riding mowers, ensure the mower system and the battery both use 12V.
Also, make sure that the terminals are connected correctly.
Can I charge a lawnmower battery with a car charger?
Yes, you can!
Ensure your mower battery is in a condition to accept a charge. If it is, you can use your car charger to charge it. The best method to use is jump-starting the mower. Once you jump-start, it is advisable to leave the mower running so that the alternator can take over. Leaving the battery hooked on the car can have irreversible effects brought about by overheating. It could also lead to an explosion.
Guidelines to follow when jumpstarting your lawn mower with a car
I.Park your car and the lawn mower close to each other. This is to allow the jumper cables to reach the two batteries. Most lawn mower batteries are under their seat while car batteries are in their hood.
You are better placed if you park the car behind the lawnmower.
II.The next step is still in preparation.
Turn off the car you will use to recharge and open its hood. On your mower, move the seat and open the battery section. Remove any objects that may hinder the connection of the two batteries. Take off battery covers of both vehicles.
III.Now you connect the cables. Connect the positive terminal of the car battery to that of the mower and the negative of the car to that of the lawnmower in this specific order. Use the red lead for the positives and the black lead for the negatives. During this step, the car should be off.
IV.Start the lawn mower. Ensure the car is not turned on when you do this. If by any chance the lawn mower doesn't start, give it a few minutes, about 3 for the battery to recharge then try again. Once the mower starts, disconnect the cables starting with the negatives.
Is it possible for a lawn mower to start as its battery is charging?
Although it is not advisable, yes, it is possible to do this. When a lawn mower is turned on, it helps maintain battery power. Although this would not technically be called charging, it is kind of is. When a lawn mower is running, alternators power the engine which transfers power back to the system. This keeps the battery charged.
How to identify a bad lawn mower battery?
Your lawn mower's battery will lose charge when not used for a long time. During winter, if this battery is not given special attention and care by proper storage and charging, it will die. Recharging a battery takes about 100 minutes as discussed previously. However, there are instances where the battery may refuse to charge and you can use a multimeter to check its health.
To use the multimeter:
I.Check to determine if the battery is dead. To do this, board the mower, press on the clutch, and start the mower by turning the key. Observe any odd behavior from the engine such as a clicking noise, cranking slowly, or not cranking at all.
II.Turn off the mower and check under your seat for the battery. Check whether the cables are tight, if they are not, tighten them by use of a tool such as a wrench.
III.Now comes the use of the multimeter. It is used to test the voltage running through the battery. First set it to DC. Connect the red pole to the positive terminal and the black one to the negative. Do this simultaneously.
If the voltage reading is above 12.7V, the battery is in good health. If the voltage is lower than that but above 11.5V, it could use a bit of charging to perform optimally. If the reading is below 11.5V, it is an indication that there is a bigger issue with the battery and it could need to be replaced.
IV.For the battery that needs charging, connect it to a charger correctly with all terminals connected with the appropriate cables. Positives go together and so do negatives. Ensure that the charger is 12V before you begin charging.
If after 8 hours your battery is not fully charged, it means your battery is bad and you need to replace it.
This could be a risky procedure and we recommend that you employ the services of a trusted mechanic or technician.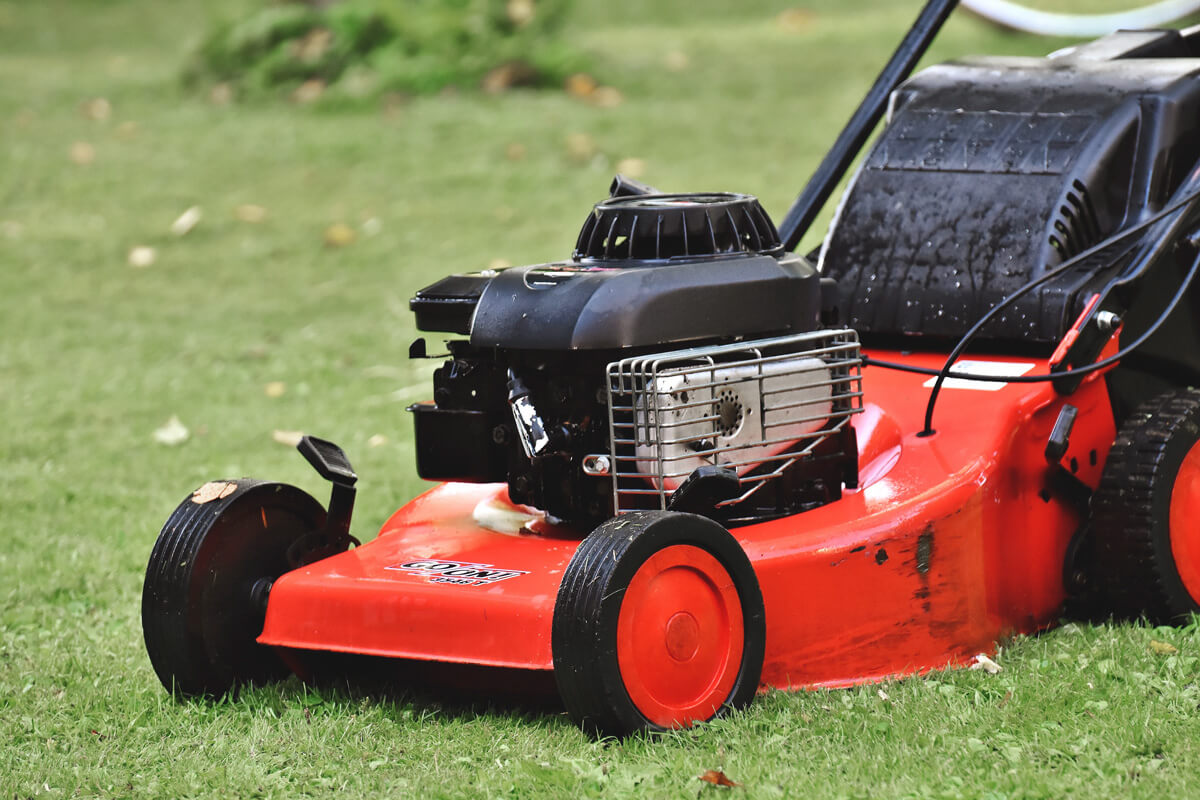 How do I prolong the lifespan of my lawn mower battery?
On average, the lifespan of a riding lawn mower battery is three to five years. For it to get to five years, however, there are useful tricks that you can employ. These are:
•Charge your battery. The batteries are either lead-acid or lithium. For both these batteries, ensure that you maintain a regular charge cycle.
Make sure that lead-acid batteries do not get completely drained as they may not charge back to 100%. When charging, it is important to let it charge to the full 100%, do not take out the charger before it charges completely. A good tool to have is a maintenance charger which comes in handy when the battery is in storage.
•Ensure your lead-acid battery is clean. Foreign objects such as dust on your battery terminal prevent it from fully discharging its duties. Another example of dirt is corrosion on your terminals which also hamper the battery's efficiency. You can use a terminal cleaner to get rid of the corrosion.
As a preventive measure against corrosion, you can use anti-corrosion gel to seal the terminals.
•Lead-acid batteries require water. Thus, it's important to regularly check water levels in these batteries and refill them when necessary. Use distilled water.
•Make sure that you use the right battery for your lawn mower. If your mower system is 12V, ensure that the battery you place is 12V. Also, ensure that you get the right size considering your battery's compartment.
•Loose connections in your battery come off as a faulty battery. If you are not conversant with your battery and its connection, this could make you think you need a new battery.
Check the connections around the terminals to make sure they are tight enough. Loose connections do not only lead to unreliable connectivity, they can also be a cause for terminal and wire corrosion.
When changing your battery, it is advisable to also change battery cable fasteners.
However, the above maintenance steps are all required for lead-acid batteries, lithium batteries do not need maintenance, a major reason why they are popular. They do not need cleaning to be effective and neither do they suffer memory loss.
Are lawn mower batteries categorized as deep cycle batteries?
Both types of batteries used in lawn mowers i.e. lithium-ion and lead-acid are considered to be deep cycle batteries. The reason for this is that when they are in use, they can be highly discharged and use a large portion of their capacity.
It is important to take note of your battery information before replacing it. And if you have questions, consult a trusted mower dealer.
Conclusion
Due to the usefulness of lawn mowers, there is a lot of thought that goes into the type of lawn mower to buy. For homeowners, riding mowers are the way to go. The same amount of thought and precaution should be employed when purchasing or replacing your mower battery.
Ensure that it uses the same voltage as the mower system (usually 12V), also check to see that the terminals will connect easily. Simply, do your research in this area and should you have any questions, reach out to trusted lawn mower dealers or battery experts.Understand what your lawn mower needs, when it's most effective and when it's not.
Research before buying its battery, consult with trusted lawn mower battery manufacturers, and then use this information to make the right choice!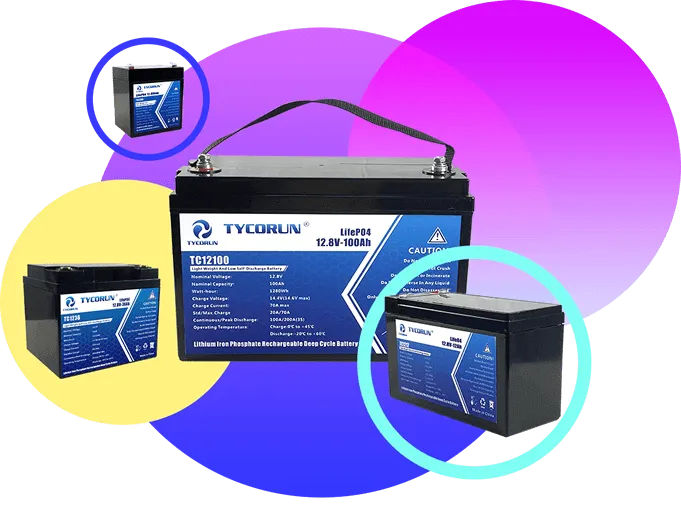 About lithium ion battery manufacturers
TYCORUN® has more than 14 years of experience in the lithium battery industry and is a Chinese high-tech enterprise that develops, produces and sells various new energy battery products.
12V lithium ion battery production capacity accounts for 80% of our lithium battery manufacturing products
This article talks about the main stream technologies of extinguishing lithium ion battery fires, and introduces the related research on fluor-based rapid fire extinguishing and passivation cooling methods to prevent reignition.