Advantages and development prospects of hydrogen energy storage
It is particularly critical to build a new power system with new energy as the main body and to speed up the large-scale deployment of new energy storage. Studies have shown that hydrogen energy storage is expected to become an important form of energy storage and complement each other with electrochemical energy storage.

The hydrogen energy storage is ideal solution
According to the data, hydrogen energy storage is generally divided into three situations. The first is to produce hydrogen by electrolysis of water with renewable energy; the second is to use hydrogen to generate electricity after electrolysis of hydrogen, including the application of fuel cell power generation to the Internet and hydrogen fuel cell vehicles in the transportation field like motorcycle battery;
In addition, hydrogen and carbon dioxide produced by electrolysis of water are synthesized into methanol for storage, transportation and application. That is to say, electrolytic hydrogen production is the source of the hydrogen energy storage industry chain.
In the future, hydrogen energy and renewable energy will be further integrated, and the application of hydrogen energy storage will become an important application scenario.
Wind and photovoltaic power generation has intermittent and fluctuating characteristics. If wind and solar power generation is directly supplied to end users, it will cause frequent power outages or burn out electrical appliances due to excessive voltage.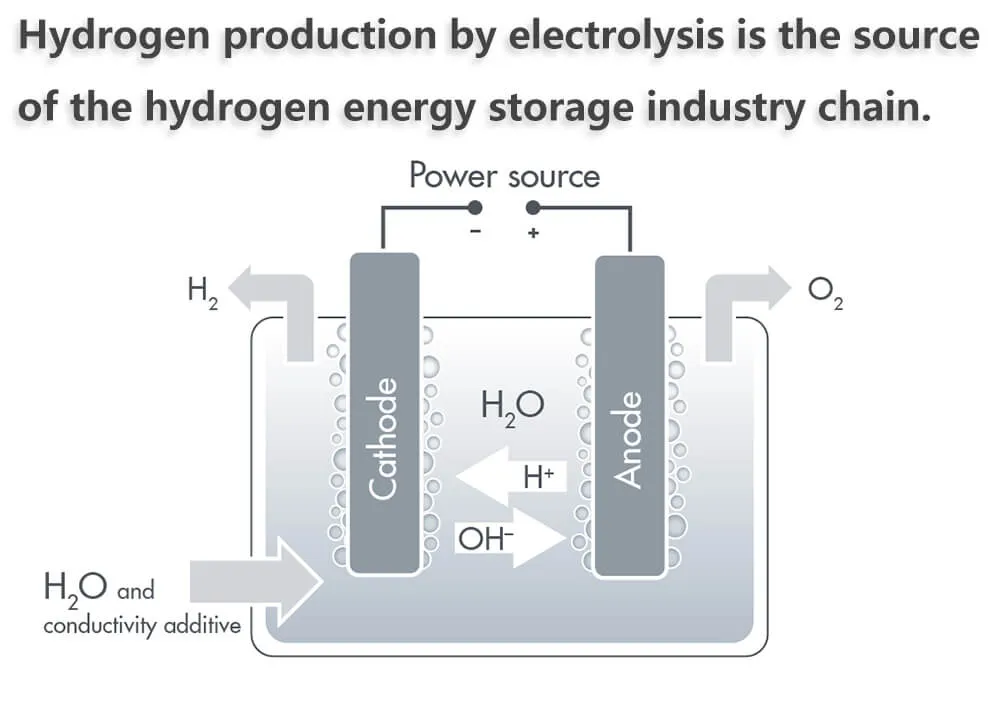 In order to solve the above problems, the power generation end uses a large number of battery packs to store electric energy, which can supplement power generation when the wind is weak, or choose to directly connect to the national grid, and use the smart grid to consume unstable power in time-sharing. However, industry experts pointed out that both cases have disadvantages such as high cost and technical difficulty.
Hydrogen energy storage is an ideal solution for unstable energy generation such as wind and photovoltaics. Hydrogen production by electrolysis of water can adjust the hydrogen production at any time according to the needs of the power system, and effectively utilize the power that cannot be connected to the Internet and of poor quality in the process of wind and solar power generation. This technical path has been verified by many projects and has been proved to be reasonable and effective.
By building a special hydrogen production station and using wind and solar power generation to form a micro-grid for hydrogen production, the cost of hydrogen production will be reduced accordingly due to the low electricity cost of abandoning wind and electricity. At present, the wind and photovoltaic power of many power plants are wasted in vain. Once they are used, it will be of great benefit.
In terms of efficiency, the efficiency of hydrogen energy storage is not the highest among all energy storage methods, but its future development potential is huge. In the entire industrial chain, if renewable energy is combined with hydrogen energy storage, hydrogen energy storage will play an important role if the renewable energy is used to produce hydrogen through electrolysis and storage and transportation applications. They can be used as an alternative for emergency or UPS battery on the user side, industrial forklift batteries, portable energy power like flashlight battery, etc. Compared with lithium batteries, the advantages in terms of price and performance are not obvious, so there is very little demand for portable fuel cells.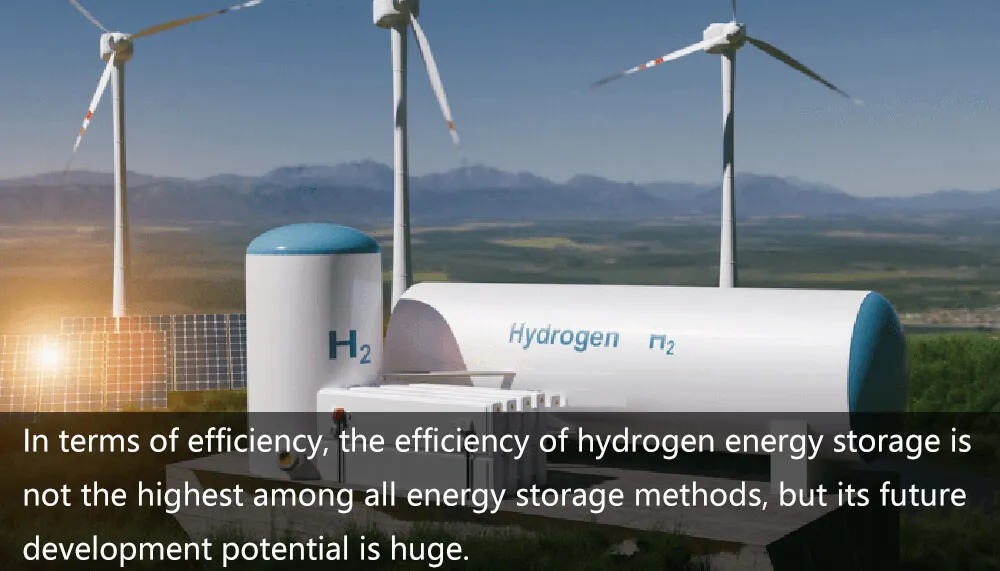 The advantages of hydrogen energy storage are significant
At present, only 4% of the world's hydrogen comes from electrolysis of water to produce hydrogen, and the rest comes from coal, natural gas and petrochemical fields. Under China's energy structure rich in coal, lean in oil, and low in gas, the proportion of hydrogen production from coal in China exceeds 60%, and the proportion of hydrogen production from electrolysis of water is less than 2%. The future development of hydrogen production from renewable energy is huge.
Compared with hydrogen production from fossil energy, the quality of hydrogen produced by electrolysis is very high, which is more in line with the requirements of fuel cell applications. Although the price of hydrogen produced by traditional methods such as coal-to-hydrogen is cheaper, it is not sustainable in the context of carbon peaking and carbon neutrality.
Hydrogen energy storage is very different from other energy storage methods. First of all, as a secondary energy source, hydrogen can be directly stored, and electrochemical energy storage, at present, the energy density of direct storage is not high enough, and there should be certain restrictions on the future;
Secondly, the electrochemical energy storage efficiency is low, and it also faces the problems of high safety and unit energy cost, while the weight power density of the fuel cell can reach 400 watts/kg, the volume power density can reach 4000 watts/kg, and it is expected to reach 2000 watts/kg in the future. Kilogram, higher than the lithium battery's 150W/kg-200W/kg, and its open system energy storage method makes the cruising range longer.
Hydrogen can be stored and transported to achieve long-term, cross-season energy storage, and has a wide range of application scenarios in transportation, industry, and renewable energy.
At this stage, hydrogen energy storage needs to be further optimized and improved in some technical nodes. For example, in the construction of electrolyzed water hydrogen production plants, considering the large fluctuations in power generation and voltage, efforts should be made to improve the technology of electrolysis equipment to cope with large fluctuations in power grid power. and control strategy levels.
Seek common development
Although some power generation companies are interested in Chin a hydrogen energy storage industry, there are many concerns about how to deploy, whether to pay back the cost, and whether there are enough end users. These worries are unnecessary.
At present, the price of hydrogen in the country is 60-80RMB/kg. If the wind and solar power is used rationally and the electricity price is guaranteed to be cheap, the hydrogen price will be more competitive, and the cost price can reach 15-18RMB/kg. With the large-scale application of hydrogen energy storage, the cost will drop very fast, and the cost of green hydrogen will soon be equal to that of coal-to-hydrogen.
Except for the hydrogen production at the source, the industrialization degree of all aspects of hydrogen energy storage is relatively low at present, and it will take time for large-scale development. In the process of hydrogen production, the current cost of hydrogen production by electrolysis of water is significantly higher than that of traditional fossil energy, and there is a large room for reduction in electricity cost and equipment investment in the future.
In terms of storage and transportation, the hydrogen storage and transportation system is still immature at this stage, and infrastructure such as hydrogen transportation pipeline network and hydrogen refueling station still needs a lot of investment. In terms of application, green hydrogen may be the first to be promoted in some traditional industrial fields, while hydrogen fuel cells are in their infancy.
At the same time, the initial equipment investment for deploying hydrogen energy storage is huge. In addition to offshore wind power generation equipment and point-dissociation hydrogen production equipment, the produced hydrogen also needs to be stored, boosted, and transported.
In the short term, the development speed of hydrogen energy storage will be slower than that of electrochemical energy storage. The subsequent industrial process requires the joint progress of all links, improving infrastructure and reducing costs.