The history, present situation and future of global lithium battery market
Lithium batteries, portable and powerful rechargeable batteries, have changed people's lives, creating a new rechargeable world and making it possible to build a society free of fossil fuels. This artice will give you a detailed introduction about the history, present situation and future of global lithium battery market.
Development history of lithium battery no.1 in the world
In 1991, SONY and Asahi Kasei jointly launched the world's first commercial lithium-ion battery, and successfully achieved mass production. Thanks to its technological and industrial advantage, Japan led the world in lithium-ion batteries in early phase. Today, China has become the world's number one in this industry. What kind of journey China he go through?
China is not late in lithium ion battery research, almost in step with the world. As early as 1995, the Institute of Physics of the Chinese Academy of Sciences developed China's first lithium ion battery.
Academician Chen Liquan has successfully industrialized the research on lithium battery materials, a once-marginalized and neglected subject, in just ten years, he solved the scientific, technical and engineering problems of large-scale production of lithium ion batteries in China.
At the same time, thanks to the rise of consumer electronics in the 1990s, China's lithium-ion batteries rose in tandem with the emergence of the four giant, namely Lishen, BYD, Bak and ATL. Since 2005, China and South Korea have been catching up with Japan. In 2014, China's lithium battery technology reached the world's advanced level, surpassing Japan and South Korea in output and ranking first in the world until today.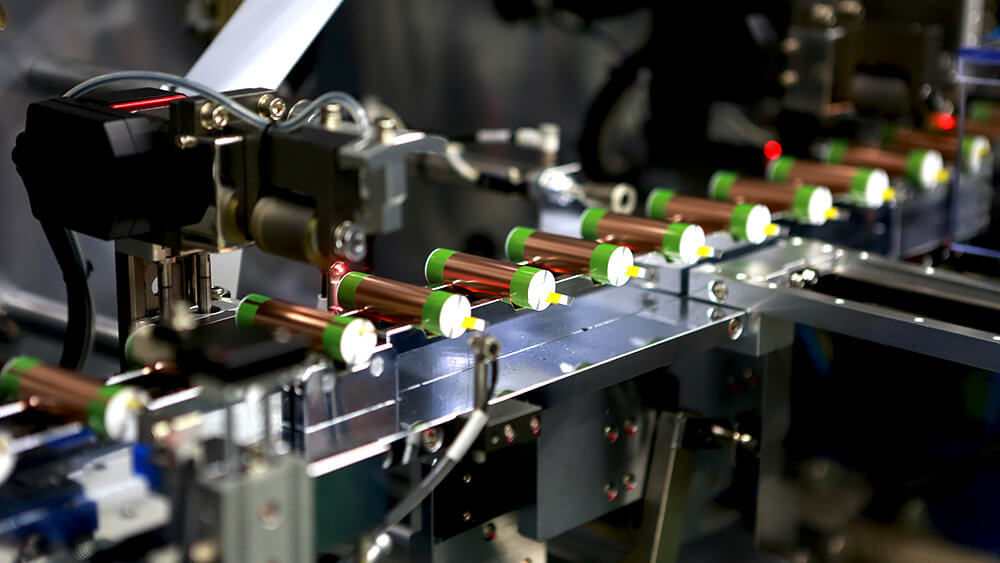 The "electric China" initiative, based on lithium-ion batteries, is helping the country wean itself off fossil fuels. In addition, at present, the raw materials used in China's lithium battery market are basically from China, and the amount of imports is quite small. At the same time, most of the production equipment is also made in China, and the technology is also independently cultivated.
The importance of lithium battery market
In fact, lithium ion batteries have changed the world, the biggest change is to bring a lot of convenience to our daily life. From consumer electronics such as smartphones and laptops to electric cars and large energy storage devices such as wind and solar power, lithium batteries have become an indispensable energy source for our lives.
Lithium-ion batteries are now used every year in billions of mobile phones, laptops and other electronics, millions of new-energy vehicles and every portable device on earth that needs to be recharged.
In addition, as the new energy vehicle revolution is coming and more mobile devices are created, the lithium battery market will have a promising future. For example, the annual output value of lithium cell alone has reached 200 billion, and the future can be broken into a trillion.
On the other hand, lithium-ion batteries are closely related to energy issues. Compared with traditional fuels, lithium batteries are green, clean and pollution-free, and can be reused, which can help us build a zero-fossil fuel society in the future and help many countries get rid of their dependence on fossil fuels.
If there is no new technology in the future, the lithium-ion battery market will continue to thrive for decades. It can be said that whoever has the core technology of lithium battery will have the advantage in the future development.
The present situation of global lithium battery market
Global lithium battery market segmentation
Power and energy storage lithium battery market share is expected to increase. The lithium battery market segments are mainly power lithium batteries, energy storage lithium batteries and consumer lithium batteries.
Among them, the downstream application fields of power batteries are mainly new energy vehicles, the downstream application fields of energy storage batteries are mainly power systems, and the downstream application fields of consumer batteries are mainly mobile phones and other consumer electronics.
From the perspective of output of global lithium battery market, power lithium battery occupies the main production share, reaching 70.8%, followed by consumer lithium battery, the market share of consumer lithium battery output is 22.2%, and the market share of energy storage battery is the smallest, at 7%.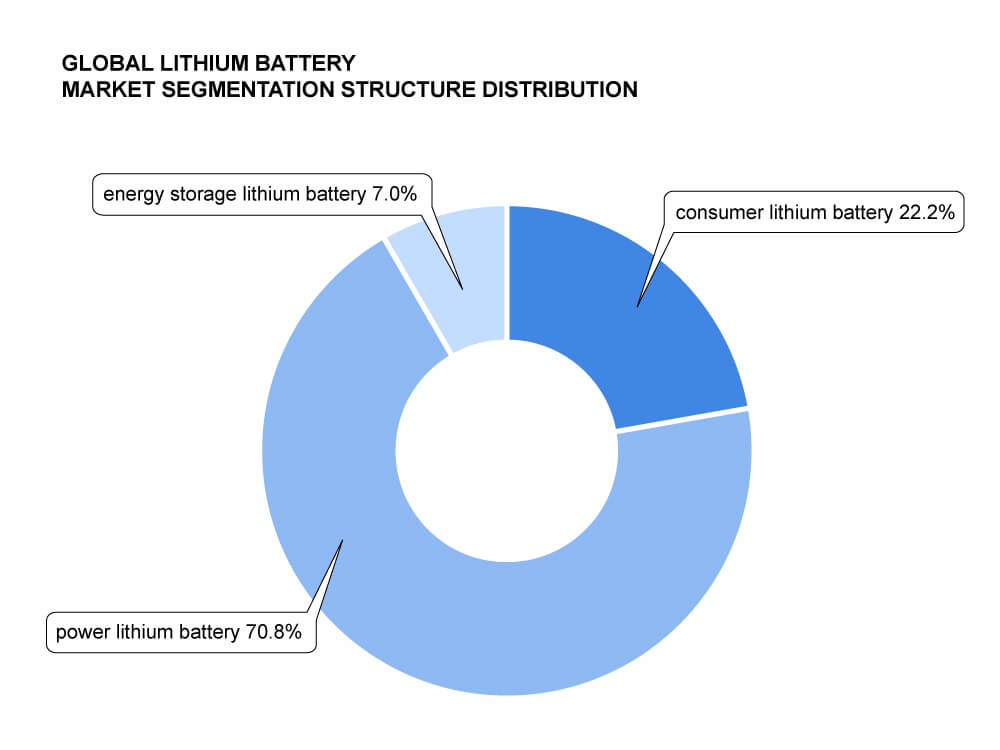 With the proposal of "carbon peak" strategy in all countries around the world, global enterprises have deployed power battery and energy storage battery production line, the booming development of new energy vehicles and energy storage market is expected to promote the market share of power lithium battery and energy storage lithium battery to further improve.
Regional distribution of the global lithium battery market
China accounts for 77%, and the expansion is accelerating in Europe. In terms of capacity, China dominated the global lithium ion battery manufacturing market in 2020, accounting for about 77 percent of the world's lithium-ion battery capacity, followed by the United States at about 9 percent, according to public data.
While China is expected to continue to be the leading country in lithium battery market in manufacturing in 2025, Europe is expected to become the world's second largest producer of lithium batteries in 2025, accounting for about 25% of global capacity, as planned investments in manufacturing facilities will significantly expand its capacity.
Competition pattern of enterprises in the global lithium battery market
LG Chem, Panasonic and CATL occupy 70% market share.From January to August 2020, LG Chem became the world's leading lithium-ion battery manufacturer with a market share of 26.5%. CATL ranked second with a market share of about 25.8 percent, followed by Panasonic with a market share of about 20.6 percent.
Among the top five global lithium-ion battery manufacturers, two of them are Chinese companies, CATL and BYD, ranked second and fourth in the global lithium battery market, with a combined market share of 32 percent.
Supply situation of global lithium battery market
The number of battery factories grows rapidly.In 2020, there were 181 lithium ion plants in various stages of planning and construction worldwide. Despite the COVID-19 pandemic, the global expansion of lithium ion plants in 2020 still increased by more than 50% compared to the previous year.
Of the 181 plants being built or planned in 2020, 136 are in China, most of them the largest lithium-ion plants in global lithium battery market. If you are interested, you can get to know the top 100 lithium ion battery manufacturers in China.
Global lithium battery market demand
The market size will double in 2025.According to Research and Markets, the global lithium ion battery market is worth about $40.5 billion in 2020, and is expected to grow by 14.6% in 2026 to reach nearly $92 billion, more than doubling the size of the market in 2020.
The current problems faced by lithium battery market
There are two problems faced by lithium battery market, one is safety and one is mileage.The mileage problem is that the current energy density of lithium-ion batteries is not high enough, and the mileage is about 100 or 200 kilometers on a single charge.
After decades of development, the energy density of lithium ion battery has slowed down and gradually approached the theoretical limit. At the same time, the rapid development of new storage and power generation systems such as solid state batteries, sodium ion batteries, lithium sulfur batteries, and fuel cells has begun to provide more options for a variety of application scenarios.
There are four main types of cathode materials for lithium ion battery in lithium battery market: lithium cobaltate (LiCoO2), ternary materials (Li(NiCoMn)O2), lithium iron phosphate (LiFePO4) and lithium manganese oxide (LiMn2O4).
The actual energy density of lithium iron phosphate and lithium manganese oxide is close to the theoretical limit, while lithium cobalt oxide and ternary materials still have room for development.
The theoretical capacity limit of lithium cobalate and ternary materials is 274 mAh/g, and the highest level has been reached at 205 mAh/g and 210 mAh/g respectively. Through optimization, such as the development of ternary materials with high nickel, low cobalt or no cobalt, can further improve performance and reduce costs.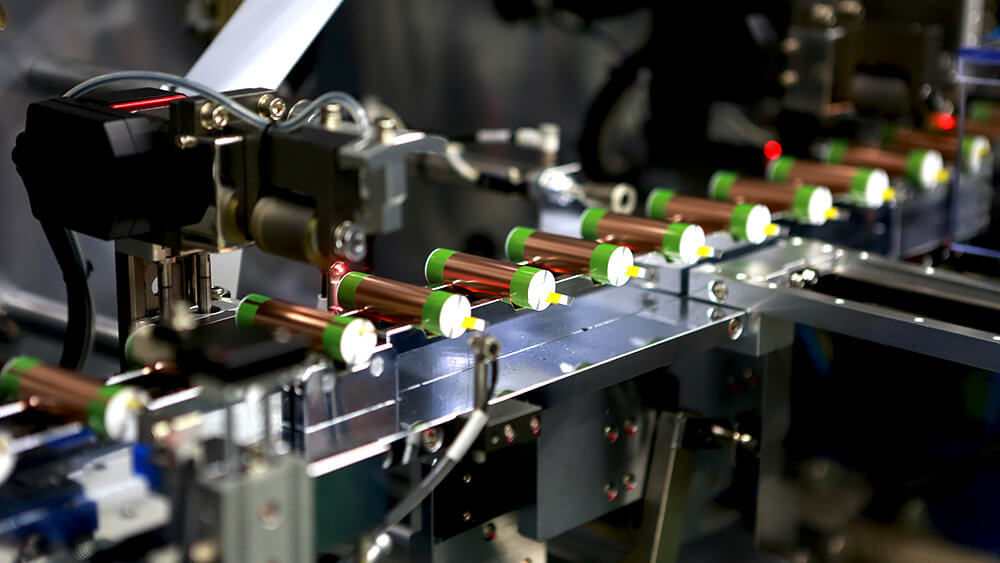 The anode materials also have room to grow. Graphite anode is commonly used at present, in addition to silicon anode, nano silicon carbon anode. It is well known that the theoretical capacity of silicon anode is very high, which can reach 4200 mAh/g, but it has a major problem,  that it has large volume expansion.
If the volume expansion can be properly controlled, the silicon anode will be further developed and gain more practical applications.
In addition, if the development of lithium containing anode, then the cathode can not contain lithium, the choice of cathode materials will be wider, and can create a new space for development.
Future direction of lithium battery market
At present, lithium ion battery is facing many practical challenges, safety accidents occur from time to time, the endurance capacity is limited, and the energy density has reached the upper limit.
What is the future direction of lithium battery market? In the face of solid-state battery, sodium ion battery, hydrogen and oxygen fuel cell and other new forces, who is the ultimate battery in the future?
At present, the main development direction of lithium ion battery is to improve the capacity of anode and cathode materials and improve the comprehensive performance of the battery. Among them, the high-capacity cathode, which determines the battery capacity and other performance is the core, and the matching anode, electrolyte and battery preparation technology is the key.
Further development can be carried out at three levels: first, continuous improvement of existing materials; Second, constantly discover new materials; Third, new systems can be developed, moving from traditional liquid batteries to semi-solid, solid and even other battery systems.
Specifically, the following five problems need to be solved. First, the expansion of silicon – based anode. The expansion of the silicon anode during the cycle will lead to the increasing preload of the module during the battery life cycle.
If the preload eventually exceeds the design strength of the module, it will bring disastrous consequences to the product, which is not expected by ev manufacturers and battery manufacturers.
The second is the safety of high nickel ternary system. High nickel materials have high energy density and comprehensive properties, but they are not as stable as lithium iron phosphate or low nickel ternary materials, and their safety is a major challenge that needs to be solved urgently.
But in essence, the safety problem is caused by the chemical reaction between liquid electrolyte and anode materials, which leads to thermal runaway. Therefore, to solve the safe problem, the key lies in the upgrading of electrolyte, gradually develop to the solid electrolyte.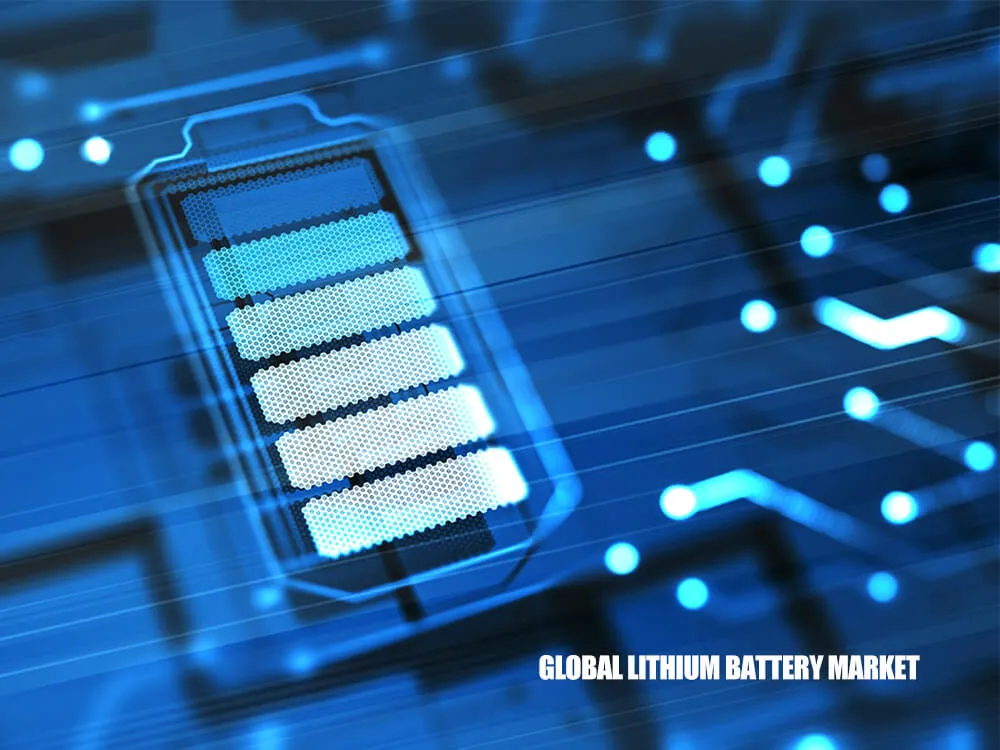 Third, it is the further breakthrough of lithium iron phosphate technology. In the past, many people think that the performance of lithium iron phosphate is not high enough, but as a cobalt-free cathode material, lithium iron phosphate has the advantages of low cost, high safety and long life, and its development has not reached the limit, so recently it has regained the attention of the whole lithium battery market.
China's Guoxuan High-tech has also laid out lithium iron phosphate since its establishment in 2006. At present, it has broken through the technical level of 200 Wh/kg lithium iron single cell, and is still exploring further improvement.
Fourth, the wide temperature layer electrolyte can make a breakthrough. In practice, some batteries need to be able to be used in a wide range of areas, which requires excellent performance in the range of -40℃ to 80℃, rather than only suitable for low temperatures. There is still a lot of room for improvement from electrolyte to solvent systems.
Finally, the auxiliary materials of the battery need to be optimized. In addition to the cathode, cathode, electrolyte, diaphragm four main materials, fluid collection, conductive agent, binder and other auxiliary materials technology is also very important to the breakthrough of the overall performance of the battery.