What is cylindrical lithium ion battery
What is Cylindrical lithium ion battery demand has increased over a decade and is used in almost every industry and departments e.g. communication sector, medical sector and different equipment's.
As from its name it is clear that the li-ion battery which is cylindrical is known as a cylindrical lithium ion battery. These types of batteries have different sizes and shapes and are known from their numbers 18650, 21700, 32700, 26650 etc. Their demand has increased over a decade and is used in almost every industry and departments e.g. communication sector, medical sector and different equipment's.
Cylindrical lithium ion battery structure
Cylindrical lithium ion battery has a very organized structure that can be separated into three different classes. First is its jellyroll design, the second one is its current connectors and the third one is its safety parts.
Jellyroll
A cylindrical container with two electrodes with diaphragm and two separators is made using a jellyroll. A negative electrode layer is placed down first, then a separator sheet and a positive electrode. Next, the sandwich is put within an electrochemical cell. The following sections elaborate on each layer:
1.Positive electrode
The positive electrode, or cathode, is a composite material that is covered with aluminum foil.
2.Negative electrode
The anode, or the negative electrode, is a copper foil coated with carbon compounds. Carbon materials are most often used to make graphite.
Separators
Insulation between electrodes is provided by a thin plastic layer. The divider prevents electrons from passing through. The electrolyte is poured into the separator's pores. This is the typical thickness of a separator. A separator may be composed of either polyethylene (PE) or polypropylene (PP).
Electrons go from one device to another through current connections made of a variety of materials. Each cylindrical lithium-ion battery cell has four current connectors.
•Positive terminal lead
•Negative terminal lead
•Positive terminal
•Negative terminal
Safety devices
Safety equipment is required while dealing with any lithium-ion battery due to the electrolyte's flammability and the lithium ion's enormous energy. Lithium-ion batteries are safeguarded by a variety of built-in safety features.
•Case
•Insulation plate
•Gasket
•Positive temperature Coefficient
•Anti-explosive
•Exhaust gas
Prismatic or cylindrical lithium ion battery
In automated processes, cylindrical lithium ion batteries can resist high pressures without distortion. In comparison to prismatic cells, they can be made in much less time and at a cheaper cost with far greater efficiency. These cells have better temperature regulation than prismatic ones. Their main issue is that they need a lot of space.
Prismatic cells save space by being lighter and thinner. Creating a 12-volt battery pack is as simple as connecting four of these cells. Thinner layers and rectangular forms provide the product designer additional options, despite the higher expense. They aren't without flaws, of course. Batteries may lose power if only one prismatic cell breaks.
Although prismatic cells are good if you don't want to occupy a lot of space, most manufacturers choose cylindrical cells owing to cost. A growing need for smaller batteries is promoting prismatic cell development.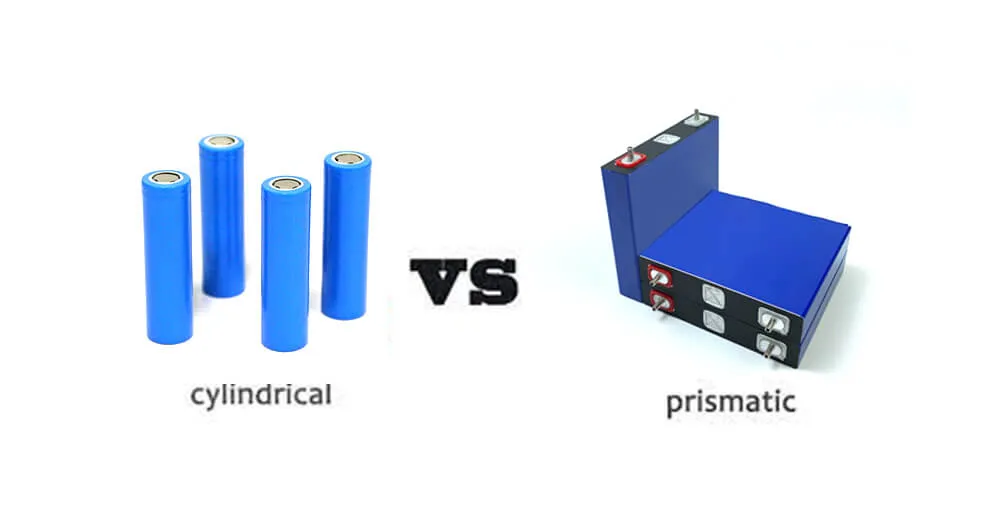 Reasons why 21700 lithium ion battery is better than 18650
There are many reasons which make 21700 cylindrical lithium ion battery superior against 18650; some of the main ones are discussed below in the light of Tesla Company:
Capacity
By upgrading Tesla's battery from a 18650 to a 21700 battery, the capacity of the battery cell may be increased to 3 to 4.8 Ah which is a 35% raise.
Energy
Tesla revealed that the early 18650 battery system had an energy density of about 250Wh/kg. Later, it built a 21700 battery system with a 300Wh/kg energy density. The 21700 battery has a greater volumetric energy density than the 18650 which is nearly 20%.
Price
Based on an analysis of Tesla's price data, it seems that the 21700 battery system costs $170/Wh, while the 18650 battery system costs $185/Wh. By switching to 21700 batteries, you may save around 9% on the Model 3's battery system.
Weight
A 10% weight reduction is predicted for the system. More power can be stored in a 21700 battery than in a 18650 cell. If battery cells are decreased by about a third, system administration will be simplified, and the number of batteries will be reduced. The bag's use of metal structural components and electrical hookups further minimizes the battery's weight.
Benefits of cylindrical lithium ion battery
Cylindrical lithium ion battery offers the best standardization, maturity, and production any of lithium battery type. The performance of a cylindrical lithium ion battery is up to or even better than the requirements of every international standard.
The good news is that their technology is advanced enough that they can produce them whenever they're needed. The large surface area of the cylindrical lithium ion battery allows it to dissipate heat effectively. Batteries in the cylindrical form are should be all sealed. When in use, there is no need for maintenance. Cylindrical batteries, unlike prismatic or pouch cells, do not expand due to their high-pressure resistance.
Protection of cylindrical lithium ion battery
Storage
Avoid storing batteries near combustibles. Batteries in their original packaging should be kept between 41°F and 68°F (5°C and 20°C). It is vital to differentiate between non-depleted and depleted cells (or keep a log). Batteries should be stored in a cool dry place. There should be routine inspection of the battery storage area. Recharge your battery's storage capacity every six months.
Usage
Handling batteries or battery-powered devices should be done with caution. In addition, batteries should not be subjected to strong oxidizers or acids in any form.  Check batteries for damage before using them in the sun or on warm surfaces. Batteries that are damaged or bloated must be discarded.
Prevent the usage of combustibles in the workplace. Allowing a battery to cool down before charging or using it prevents overheating.
Disposal
When the battery is dead, it should be disposed according to the guide provided or call near battery disposal assistance facility. Keep away from the children and should be handled professionally.
Check your batteries' voltage after an hour of charging to see how they're performing. 4.2 volts indicate the excellent condition for the batteries (V). Online Chemical Waste Collection Request forms should be used for batteries under five pounds.
Tesla satisfaction towards cylindrical lithium ion battery
There are several reasons behinds tesla's using cylindrical lithium ion cells. One of the obvious reasons is that these cylindrical batteries are more dependable resulting in high efficiency. It means that it uses less energy and provides higher output. Durability is also a significant factor of cylindrical lithium ion battery which impresses tesla.
As all we know that Elon Musk CEO of tesla company is a strong believer in geo-economic and eco-friendly products, so he highly recommends cylindrical lithium ion battery because other batteries such as pouch have a high possibility of thermal runaway and can be hazardous.