Detailed explanation of lifepo4 power station
The lifepo4 power station is a new type of energy storage product that uses lithium-ion batteries to store energy for portability purposes. It makes them a more reliable and sustainable energy solution than traditional power stations. Moreover, it is more efficient and has a longer lifespan than other power stations.

What is the difference between portable power stations and power banks?
Portable power stations are larger than power banks and typically provide more power. They are perfect for outdoor activities like camping and tailgating when you need a steady supply of energy. Plus, they're great for emergencies when the power goes out. If you want to know more about portable power station, please read the article top 100 portable power station companies in China in our website.
Unlike a power bank, portable power stations can be plugged into an outlet or generator to recharge. They have a greater capacity and provide many additional functions.
For example, it can charge laptops, phones, and other small devices multiple times, while also providing emergency lighting.
Why choose the lifepo4 power station?
All portable power stations on the market have built-in lithium-ion batteries. The most common are ternary portable power station and lifepo4 portable power station. Compared with the ternary portable power station, the lifepo4 portable power station is safer, has better stability at high temperatures, and has twice the cycle life of the ternary portable power station.
The lifepo4 power station is a reliable and sustainable energy storage solution. It is a clean, sustainable energy source that doesn't emit any pollutants or emissions. It is also very efficient, with a capacity of up to 80% efficiency.
Advantages and disadvantages of lifepo4 power station
Advantages of lifepo4 power station
The lifepo4 power station offers several advantages:
● Long cycle life
One of the most intriguing aspects of a lifepo4 is its long cycle life. The cycle life up to 4000 times. With proper care, it can last up to 10 years, significantly longer than other portable power stations.
● Lightweight & Compact Size
The power station is small and light enough to take with you wherever you go, making it an ideal solution for many outdoor application scenarios. Plus, it is simple to store and move due to its small size.
● High Efficiency
It is a highly effective energy solution that is ideal for residential and business applications. This portable power station is one of the most efficient ones on the market right now.
● Suitable for various applications
Lifepo4 power station is a reliable and convenient portable energy storage option suitable for various applications. It is an adaptable system that can be tailored to fit the particular requirements of your products and business.
Lifepo4 power station can be used for mobile office, medical backup, portable air conditioning, field construction, earthquake relief, RV, outdoor tents and lighting, garden machinery, etc.
● High security
Good high temperature resistance performance, high safety.
Disadvantages of lifepo4 power station
While a lifepo4 power station has many advantages, there are also some potential disadvantages to consider:
One of the main disadvantages of them is their low nominal voltage. In some cases, it is difficult to use them in applications where a higher voltage is required. This is a relatively low voltage as compared to the ternary portable power station.
Comparison of lifepo4 portable power station and traditional power station
In comparison to traditional power stations, the lifepo4 power station is a portable, safe and efficient energy solution that can be used in a variety of settings.
It is a safer alternative to traditional power stations, as it uses a non-toxic and non-flammable electrolyte. Additionally, it is more efficient than traditional power stations, as it can be charged and discharged more times.
What is the best lifepo4 power station?
There are a few different types of lifepo4 power stations on the market, but which one is the best? There are many factors to consider when choosing a power station, such as reliability, cycle life, safety, price, and size. Depending on your priorities, you may value one factor over another.
Outdoor mobile portable energy storage power supply is especially suitable for mobile communication and emergency equipment power supply and charging. If you need to travel outdoors, you need to consider the light weight, small size, energetic and efficient lifepo4 power station. No matter what your needs are, there's a lifepo4 power station out there that's perfect for you.
Why is lifepo4 power station so popular?
Lifepo4 power station is a large capacity, high power energy solution that has been gaining popularity in recent years for several reasons.
The technology uses lithium ion batteries, which are more efficient and have a longer lifespan than traditional lead-acid batteries. If you want to learn detailed information about lithium ion batteries, you can read the article top 10 lithium ion battery manufacturers in China in our website.
What are the application scenarios?
The power stations can be used in a variety of applications, from powering small electronics to providing backup power for home use.  Our company is a Chinese lithium battery manufacturer with 15 years of experience. The most popular portable power station product of our company is T200.
The T200 is a portable power station that uses lithium iron phosphate batteries. This power station is the ideal backup power solution for residential and light commercial applications because it doesn't require fuel.
This unit is ideal for outside activities like tailgating, camping, and powering home in an emergency. The T200 can charge phones, laptops, small appliances, and more. With a built-in solar panel, this power station is also eco-friendly.
How to use and maintain a lifepo4 power station?
Here is a guide on how to use and maintain your new power station:
● Before using a power station, read all instructions and manuals thoroughly. It will help you get the most out of your device and avoid potential hazards.
● To charge your power station, plug it into any standard outlet using the included adapter. Once plugged in, the charging indicator light will turn on, letting you know if it is working.
● When not using, unplug your power station from the outlet and store it in a cool, dry place. You should also keep it away from heat sources or other objects that may cause damage.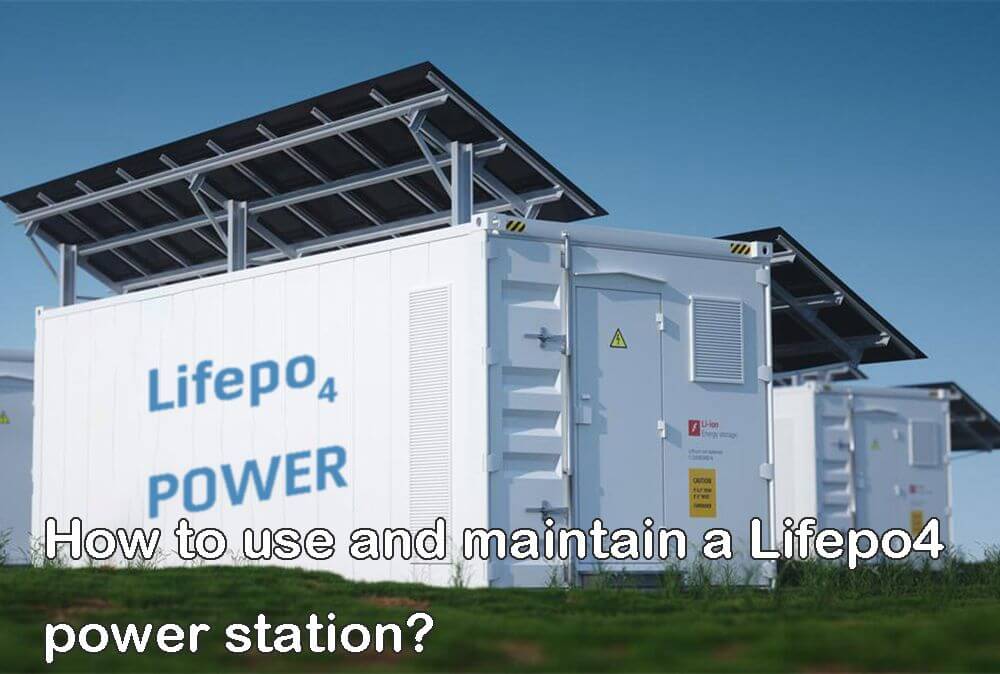 How to choose a lifepo4 power station?
There are a few things to consider when choosing a lifepo4 power station.
● First, you want to make sure you're getting a quality product. There are a lot of imitations on the market, so do your research and buy from a reputable battery manufacturer.
● Second, customization is significant. You want a power station designed specifically for your product needs.
● And finally, one-stop production is key. Make sure you're working with a company that can handle everything from manufacturing to delivery.
With these factors in mind, you're sure to find the perfect lifepo4 power station for your needs.