Tesla: Chinese lithium iron phosphate batteries will be available for customers
Tesla will promote the lithium iron phosphate battery route in the US market, with ATL and BYD as potential suppliers. In the US, pre-orders for the standard enhancement Model 3 were recently notified that they would be able to pick up their car early if they chose lithium iron phosphate batteries from China. The lithium iron phosphate battery model also appears in Tesla's lineup, with a endurance range of 253 miles from 263 and the price unchanged at $39,990.
Tesla prefers lithium iron phosphate
Recently someone asked Tesla CEO Elon Musk on social media what the difference was between the two models. Musk responded that he prefers lithium iron phosphate batteries because they can charge up to 100%, while ternary batteries are recommended to charge up to 90%. This further confirms Tesla's lithium iron phosphate technology route, which will be extended to the US market.
Currently, Tesla Model 3 and Model Y sold in China all use lithium iron phosphate batteries. Lithium iron phosphate batteries offer better safety and stability than ternary batteries which are also used in cars, and lithium iron phosphate batteries are less costly, but they have disadvantage of low energy density. Model 3 and Model Y, which use lithium iron phosphate batteries to benefit from low cost, also have lower starting prices of 235,900 yuan and 276,000 yuan respectively in China.
The main supplier of Tesla lithium iron phosphate batteries is CATL (300750). According to the previous supply agreement, CATL will supply lithium iron phosphate batteries from July 1, 2020 to June 30, 2022. In June, the supply agreement was extended until 2025.
It is worth mentioning that CATL announced on August 18 that it would build a production base in Shanghai Lingang new area, where Tesla's Shanghai factory is also located. Therefore, the factory construction action is interpreted as CATL' move to guarantee Tesla's battery supply. BYD (002594) may also become a potential supplier of Tesla. There is talk that BYD is going to supply Tesla with lithium iron phosphate blade batteries starting in the second quarter of 2022, and said tesla models equipped with "blade batteries" have entered the C-model testing phase. BYD said it had "no comment" about it.
Lithium iron phosphate has its moment of brilliance
Compared with ternary lithium batteries, lithium iron phosphate batteries have always had the disadvantage of lower energy density, and ternary and lithium iron phosphate have long competed with each other in the cathode material market. However, with the government's financial subsidies for new energy vehicles began to gradually decrease, driven by the demand for new energy vehicle enterprises to reduce costs and increase sales, lithium iron phosphate with low cost, high safety, good cycle life advantages, has now counterattack the ternary battery, and is once again become the mainstream battery of new energy vehicles.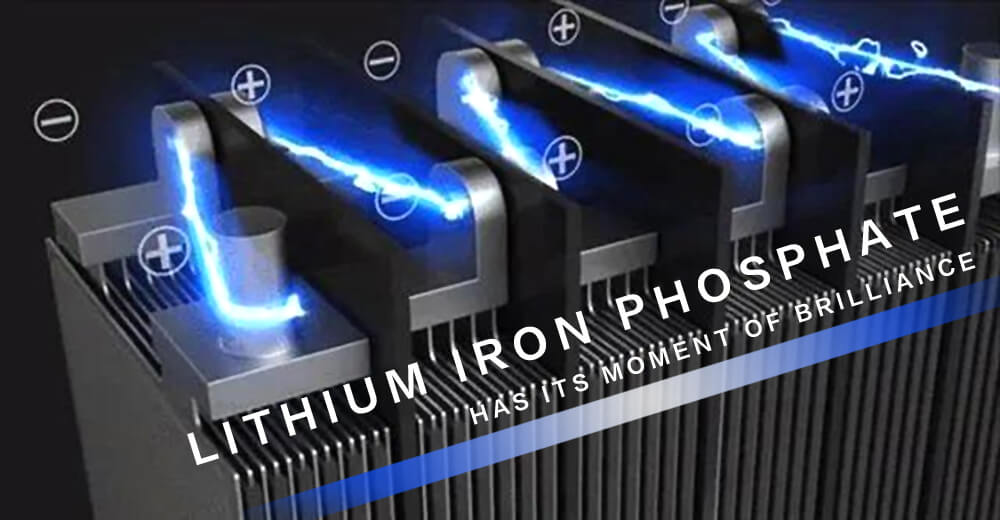 At the same time, blade batteries, CTP and other technologies improve the system integration efficiency and energy density of lithium iron phosphate, which can continue to meet the use of high-end electric vehicles. However, from the perspective of lithium iron phosphate material itself, it is not easy to break through the "ceiling" of energy density and other characteristic. But this year, Chinese battery giant guoxuan high-tech has announced the development of a lithium iron phosphate battery with an energy density of 210Wh/kg, it is the highest known level in the industry. By the end of 2021, guoxen will have mass-produced lithium iron phosphate batteries with an energy density of 210Wh/kg. The lithium iron phosphate battery is pouch cell, size is 354*102*11.8, 0.33C cell capacity is 55Ah, voltage platform is 3.2V, cell weight is 830g.
Under this trend, even LG New Energy, the world's second largest power battery manufacturer, which has only been producing ternary batteries, announced that it will build a pilot line of lithium iron phosphate batteries in 2022. LG New Energy will produce lithium iron phosphate batteries in a pouch package.
Other car companies are also starting to promote the lithium iron phosphate
Tesla is not the only car company that likes lithium iron phosphate. Xiaopeng Motors (9868.HK) also launched lithium iron phosphate battery versions of G3 and P7. In the financial Reporting meeting for second quarter, the founder He Xiaopeng said Xiaopeng Motors started selling and delivering lithium iron phosphate versions of G3 and P7 in the second quarter, and the deliveries have exceeded 20% of their respective models, expanding the price range and target customer base of existing models. With the continuous expansion of the supply of lithium iron phosphate batteries, we are confident to increase the proportion of product delivery in the future.
In addition, the new Hongqi E-QH5, BYD Yuanplus EV, SAIC-Audi Q5 E-TRON and other new models listed in the new energy vehicle catalog recently released by the Ministry of Industry and Information Technology will use lithium iron phosphate batteries.
According to China Automotive Power Battery Industry Innovation Alliance, the loading volume of power battery in July was 11.3GWh, among which the loading volume of ternary battery was 5.5GWh, up 67.5% year-on-year, down 8.2% from the previous month, accounting for 48.5%; The loading volume of lithium iron phosphate was 5.8GWh, with a year-on-year growth of 235.5% and a sequential growth of 13.4%, accounting for 51.5%. The loading volume of lithium iron phosphate was the first time exceed that of ternary battery in this year.
Expanding production, rising prices:think highly of investing in lithium iron phosphate
Since this year, the investment in the field of lithium iron phosphate battery and its materials is hot, the head enterprises have expanded production, listed companies compete to enter the field. Due to the relatively stable supply, lithium iron phosphate has become the most promising material in the cathode market, power and energy storage market will support the strong demand. Driven by strong demand, lithium iron phosphate prices soared.
According to the latest data, on September 22, superior power lithium iron phosphate quoted 63,000 yuan/ton, compared with July 2, China's superior power lithium iron phosphate average price of 50,000 yuan/ton, an increase of 26%. In addition, the production of lithium iron phosphate exceeded 190,000 tons from January to July this year from 151,000 tons in 2020, and is expected to exceed 400,000 tons this year.
From July to September 23, this year, in less than three months, including lithium iron phosphate battery, lithium iron phosphate cathode materials and iron phosphate raw materials, there have been 15 investment projects, the total investment amount has reached 43.383 billion yuan. Iron phosphate raw materials project presents investment fever.
In addition to the new energy vehicles, lithium iron phosphate in energy storage, electric ships etc also are in rapid development. Driven by the "double carbon" strategic target, on the one side the market share of lithium iron phosphate in the electric car is more and more high, and is the mainstream of energy storage in the future market on the other side, we believe there will be huge on the increment of the lithium iron phosphate.