Top 10 powerwall manufacturers for home energy storage in the world
Are you considering installing a powerwall for home energy storage? With the increasing demand for renewable energy solutions, there are numerous manufacturers around the world offering innovative and efficient powerwall options. In this blog, we will explore the top 10 powerwall manufacturers that you should consider for your home energy storage needs.
Global home energy storage capacity will reach 70GWh by 2025
Industry data show that global home energy storage shipments increased to 4.5GWh in 2020, with a compound annual growth of more than 50%, and the distribution of regional and home energy storage manufacturers are more concentrated. It is estimated that the installed capacity of battery energy storage equipment in household PV + energy storage capacity will reach 20.99GWh in 2025. It is estimated that the total home energy storage capacity will reach 70GWh by 2025.
In terms of regions, the home energy storage market is concentrated in the developed regions with better development of home photovoltaic and powerwall battery. Only Germany (1117MWh), the United States (1050MWh), Japan (794MWh) and Australia (359MWh) account for 3/4 of the newly installed home energy storage capacity in the world in 2020. In terms of industry players, the top 5 energy storage system providers are Tesla, Paneng Technology, Sonnen, LG Energy and Alpha ESS, accounting for more than half of the market share and high market concentration.
Top 10 powerwall home energy storage manufacturers in the world
As for related manufacturers, the top 10 power wall manufacturers for home energy storage are Tesla、Pylon Tech、Sonnen、LG Energy、Alpha ESS、BYD、Enphase Energy、E3/DV、Panasonic、Generac. Among them, the market share of the top five manufacturers has been more than half, and the market concentration is high.
1.Tesla

Founded in 2003, Tesla (TSLA.O, THE United States), relying on Japan's Panasonic terpolymer lithium battery technology, combined with its own experience in BMS and energy storage system integration, developed an home energy storage system (6.32%) for home, commercial and utility users in 2015 and formally entered the home energy storage industry.
Among them, the Tesla Solar Roof and Tesla powerwall(battery capacity 7 ~ 13.5kWh)are for home use, and the commercial part is mainly medium-sized energy storage battery Powerpack (industrial and commercial for small public; With a maximum power of 130kW and a storage capacity of 232kWh) and Megapack (large utility, energy generation).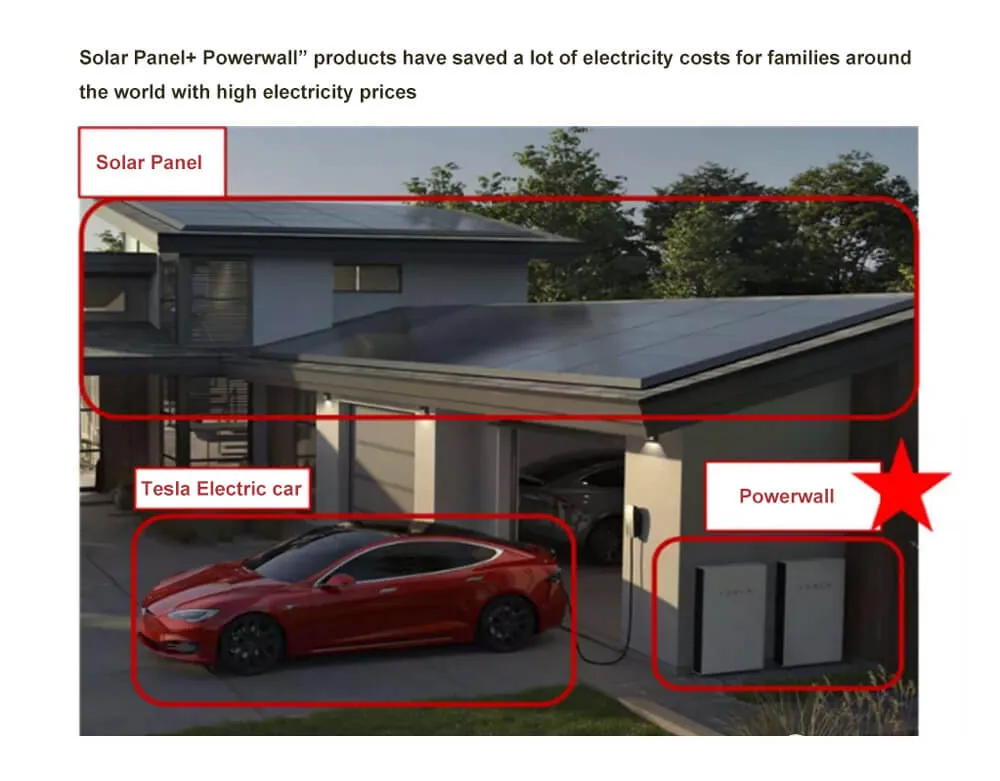 Tesla powerwall home energy storage has been in short supply, lithium battery supply has been in short supply. 100,000 tesla powerwall home energy storage (13.5KWh each) were installed in 2020, and Tesla raised the price from $6,500 to $7,000 and then to $7,500 last year. Mr Musk recently said there was a chance of selling 1m tesla powerwalls on an annualised basis next year, close to 20,000 a week.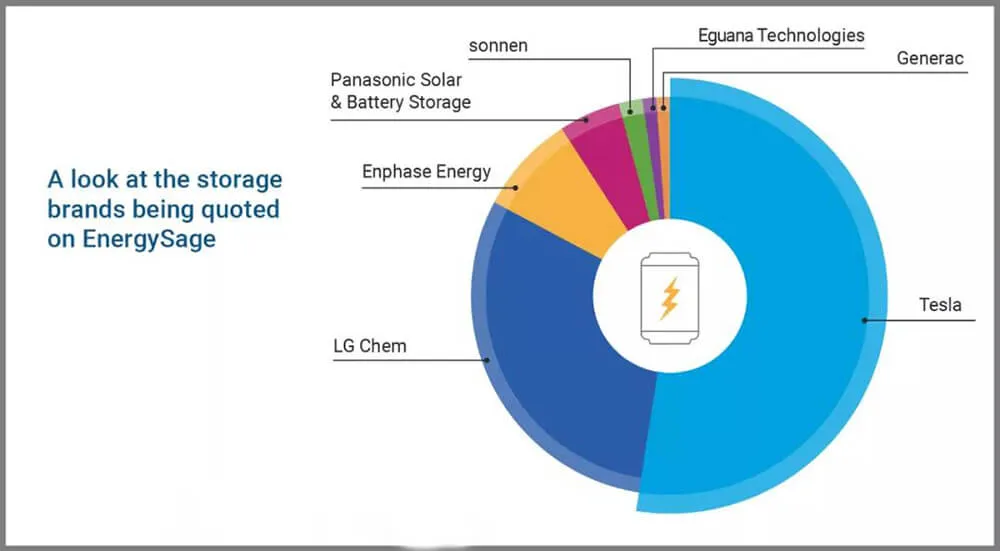 Tesla powerwall home energy storage has strong competitiveness in the Local market of the United States, almost occupying more than 50% of the market share in the United States. In 2021, Tesla, Enphase Energy and LG Energy respectively occupy 33%, 31% and 21% market shares in the US home energy storage market, and CR3 is up to 85%, indicating high industry concentration.
At tesla's general meeting of shareholders in 2020, Musk said he was very optimistic about the "photovoltaic + energy storage business", and said that as the supply of auto parts is in short supply this year, the powerwall odm company has allocated limited resources to cars, and the home energy storage business is expected to develop vigorously next year with the easing of supply.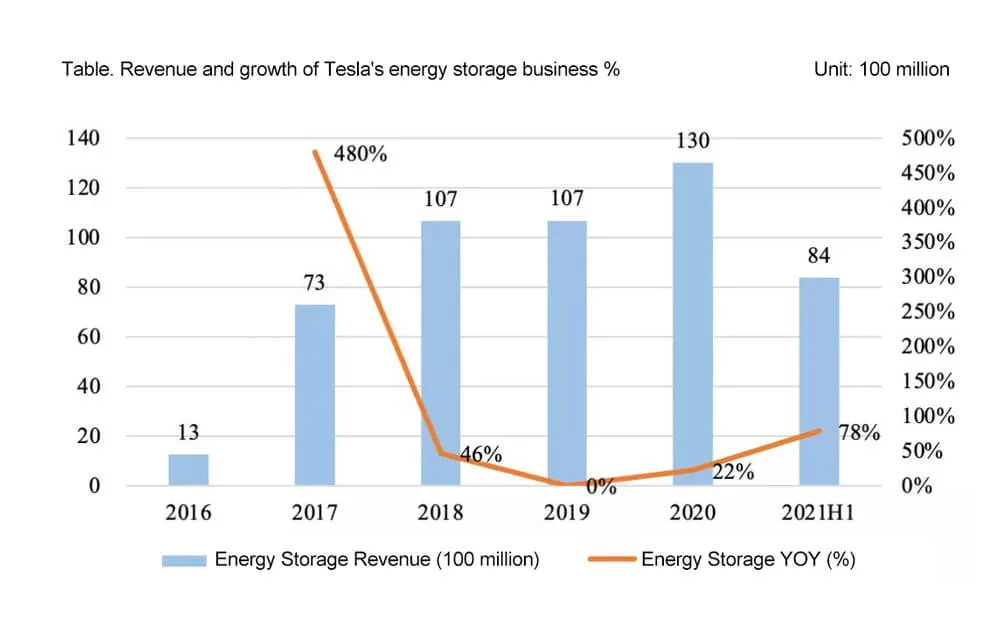 From the perspective of Tesla's energy storage installation, energy storage installation has a certain seasonality, and the third and fourth quarters usually show the peak season. In a single quarter, the second quarter of 2021 has a significant increase of 204% year-on-year to 1274MWh.
Company website:https://www.tesla.cn/powerwall
2.Pylon Tech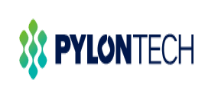 Founded in 2009, Pylon Tech has become one of the top 3 Chinese manufacturers in the global home energy storage market. It has been deeply engaged in the home energy storage industry for years and has a strong competitive strength in the global market of home energy storage. In recent years, the growth rate is fast. From the revenue level, the revenue CAGR from 2017 to 2020 is as high as 98.59%. From the profit level, the company deducted non-loss in 2017, and the non-net interest rate of deduction reached 24.11% in 2020, showing scale effect.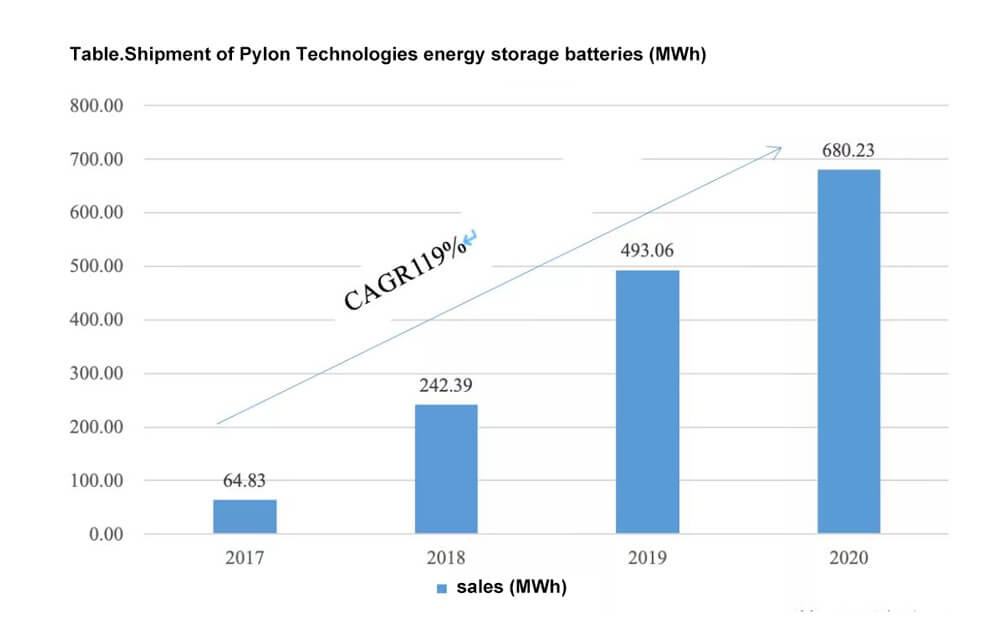 Pylon Tech is mainly engaged in the lithium iron phosphate batteries, module and storage battery system research and development, production and sales. In the field of lithium battery energy storage application for more than ten years, Pylon Tech has always focused on the field of lithium iron phosphate energy storage, and currently has mastered the core technology of the whole industry chain with intellectual property rights. The cycle test capacity retention rate of home energy storage products of Pylon Tech is higher than that of LG and Tesla energy storage products, leading in product quality and technology.
The main markets of Pylon Tech are Europe, Africa and North America. It has established long-term and stable cooperation with Sonnen, the largest Energy storage system integrator in Europe, Segen, the largest PHOTOVOLTAIC provider in The UK, Krannich, the leading optical storage system provider in Germany, and Energy, the leading Energy storage system provider in Italy. And actively expand North America, Japan and other home energy storage market.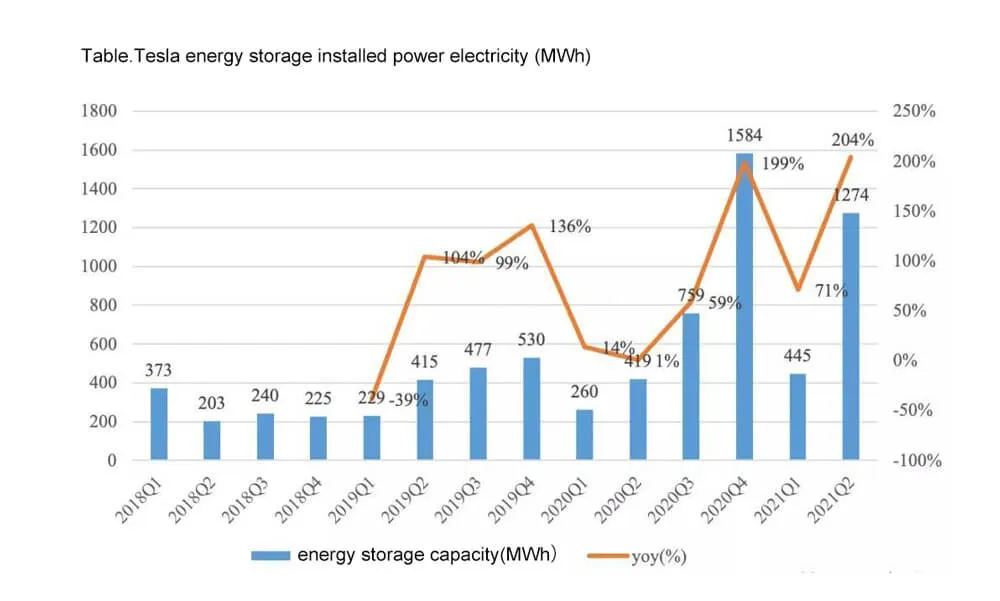 Company website:http://www.pylontech.com.cn/
3.Sonnen

Founded in 2010, Sonnen is a global leading manufacturer of home energy storage systems from Germany. Sonnen is the largest home energy storage supplier in Germany and was acquired 100% equity by Shell in 2019. The company owns more than 30,000 sets of home energy storage devices worldwide. Known as the "Facebook" of the energy industry. Sonnen not only sells energy storage systems to individual homes, but also builds a community of virtual power plants based on home energy storage, weaving distributed consumer energy storage systems into a network that responds to peak and frequency modulation needs to provide dispatching services to local grid odm companies.
This year, Sonnen released the results of its lithium iron phosphate (LFP) battery, which survived 28,000 charge cycles in laboratory tests. This Sonnen battery product has been used in Sonnen's Solar Power System.
The Sonnen ecoLinx residential Solar + Energy Storage system can be optimized and managed with a mobile application for backing up power, meeting power demand during peak periods, scheduling solar generation, and monitoring energy on demand. To provide users with a healthier, cleaner and unparalleled quality of life.
Company website:https://sonnengroup.com/
4.LG Energy

LG Chem (South Korea) was founded in 1947. Its business covers the fields of petrochemistry, batteries, cutting-edge materials and life sciences. The battery business includes small batteries, power batteries and energy storage batteries. LG Chem has been in the energy storage business since 2011 and currently provides energy storage solutions for power grid, home, industrial and commercial applications and UPS applications.
In 2020, LG New Energy accounted for about 9% of the global grid energy storage market, ranking among the top in the world. In 2018, the LG home energy storage business shipments reached 2.3GWh, and in 2020, shipments increased to 4.8GWh. According to SNE Research, LG Energy installed 39.7GWh of power batteries in the first eight months of 2021, ranking second in the world with a global market share of 24.5 percent, second only to China's CATL (49.1GWh, 30.3 percent).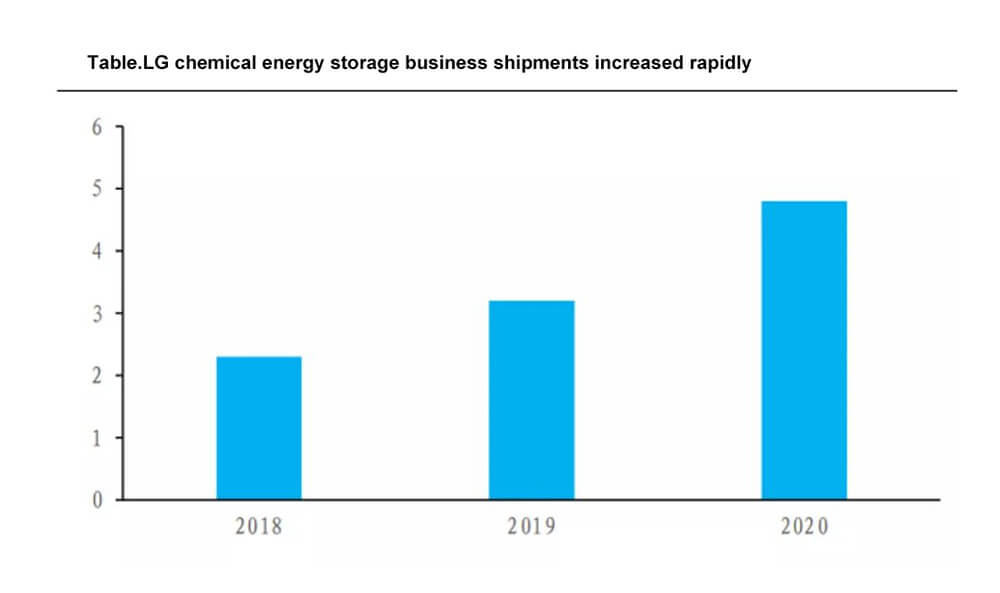 LG Energy Solution's operating income in 2020 reached $11 billion, with a year-on-year growth of 48.74%.
LG Energy has been separated from LG Chem and filed for an IPO on June 8, 2021. It is expected to be listed on the Korea Exchange in the second half of this year. The powerwall odm is currently valued at 100 trillion won ($90 billion) and is expected to raise between $10 billion and $12 billion, setting a new record for the largest IPO in South Korea.
Company website:https://www.lg.com/us
5.Alpha ESS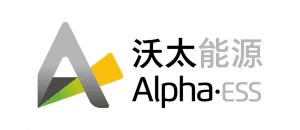 Founded in 2012, Alpha ESS is headquartered in Nantong, Jiangsu Province. Alpha ESS is an international high-tech enterprise focusing on providing advanced energy storage products and smart energy management solutions. It is also the first company in China to launch integrated photovoltaic lithium energy storage products for household use.
In the past 9 years, Alpha ESS has set up subsidiaries in Germany, Australia, The United Kingdom, Italy, South Korea, Singapore, the United States and many other countries to provide local quality products and local services, aiming to become the world's leading distributed green power manufacturer and service provider. At present, the company has expanded its business to more than 70 countries and regions around the world, and installed more than 60,000 sets of energy storage systems.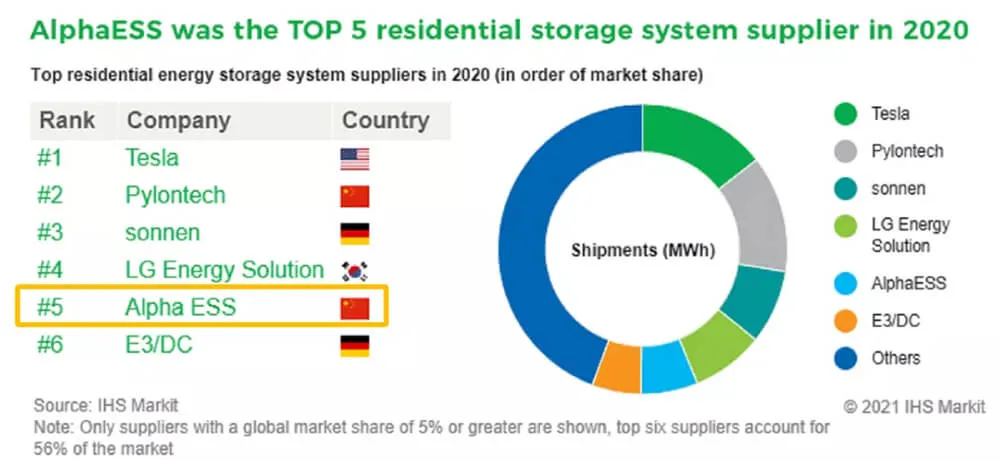 As the earliest enterprise focusing on home energy storage in China, Alpha ESS follows the development trend of the industry and independently develops full-power energy storage products, covering many application fields such as small, industrial and commercial, large, off-grid, micro-grid, power distribution, source side and so on. As an outstanding brand of global energy storage system, Alpha ESS chooses lithium iron phosphate power batteries with higher safety and longer life as raw materials.
BMS and EMS management systems independently developed provide users with a comprehensive and complete energy management solution, with the realization of monitoring battery management, spontaneous self-use, peak valley arbitrage and other functions. AlphaCloud, which can monitor the operation data of energy storage system online; Pv generation forecasting, load forecasting, maximizing user revenue; Online diagnosis, remote scheduling, cluster control, incremental distribution network, power transaction, regional energy system and other functions.
Company website:https://cn.alpha-ess.com/
6.BYD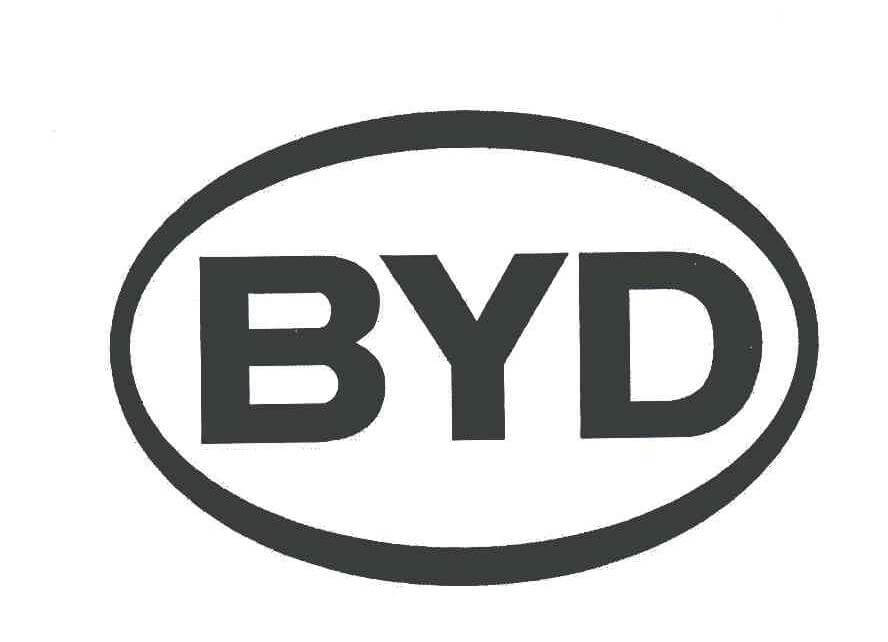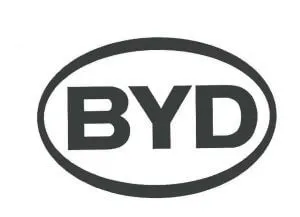 Founded in 1995, BYD is mainly engaged in automobile business including new energy vehicles and traditional fuel vehicles, mobile phone parts and assembly business, rechargeable batteries and photovoltaic business, and has actively expanded into urban rail transit business.
BYD began to lay out electrochemical energy storage in 2014, and established the Energy Storage Business Division in 2016, committed to the construction of energy storage power station system (centralized). Products are exported to the United States, Germany, Australia, South Africa and other countries.
Our main customers include State Grid Corporation of China, Chevron Corporation of America, Fenecon of Germany, A-Style of Japan, etc., involving more than 100 cities in 23 countries. In 2020, the battery odm company shipped 438.5MW of energy storage batteries , ranking first in global exports. In 2019, the company ranked second in the market share of home energy storage in the European market, second only to Sonnen.
Company website:https://www.byd.com/en/index.html
7.Enphase Energy
Enphase Energy, headquartered in Fremont, California, is a nasdaQ-listed Energy technology company founded in 2006 and one of the world's leading suppliers of solar + Energy storage systems based on micro inverters. Enphase designs and manufactures software-driven home energy solutions covering solar power generation, home energy storage, and web-based monitoring and control.
Enphase Energy highlights its semiconductor-based microinverters that convert Energy at the level of a single solar module and combine with its proprietary network and software technology to provide Energy monitoring and control services. The company primarily sells solutions to distributors who resell them to solar installers, or directly to large installers, OEM strategic partners, and homeowners. To date, ENPH has delivered more than 30 million microinverters and has deployed approximately 1.3 million Enphase residential and commercial systems in more than 130 countries. Enphase was the first company to successfully commercialize microinverters on a large scale and remains the market leader in their production.
Today, It announced the launch of its Encharge home battery storage system in Germany, marking the first time the product has been available outside the US.
The Encharge home battery storage system offers configurations from 3.5kwh to 42kWh, with the option to upgrade and expand throughout the life of the system. Bringing battery storage to Enphase Germany's existing micro inverter business will help meet the needs of installers and owners for a safe and reliable all-in-one solution. Homeowners can also use the EnphaseEnlighten® mobile app to intelligently manage their solar energy, minimizing their use of electricity from the grid in self-consumption mode and saving on their electricity bills. Encharge uses lithium iron phosphate batteries, designed to be safer, and in-phase micro inverters provide better reliability without high-power DC voltages, putting product safety at the forefront. Passive cooling systems provide better performance with fewer moving parts.
Company website:https://enphase.com/
8.E3/DV

E3/DC GmbH was founded in Osnabruck in 2010 and is currently the leader in grid-connected power sources in the German market using local and emergency solar power sources. Its three-phase energy storage and charging system, developed specifically for electric vehicles, is self-sustaining and can save resources in high power ranges for residential and commercial buildings.
The powerwall odm manufactures lithium ion storage systems, wall-mounted charging stations, inverters and other system components in Germany. E3/DC has achieved good market penetration in Germany, Austria and Switzerland with a network of over 1000 certified installers.
In terms of market share of home energy storage batteries in Germany in 2020, E3/DC ranked third, accounting for 17% of the market share.
Company website:https://www.e3dc.com/en/#Intro
9.Panasonic


Panasonic, founded in 1918, is a world-renowned battery manufacturer and one of the largest manufacturers of energy storage products in the world. The battery factory operated by Panasonic has a capacity of 23GWh.
Panasonic introduced the EverVolt home energy storage system in recent years. The system has an AC and DC coupling unit that can easily expand storage capacity up to 34kWh and, when combined with solar power modules, can provide long-term power to home users in the event of power outages.
Panasonic's EverVolt home energy storage is available in ac – and dc – coupled versions, which can be equipped with one, two or three 5.7kWh units (actually made up of two 2.85kwh units) and can hold more than 17kWh of storage per system. And its inverters can easily be coupled to another home energy storage system, bringing the total capacity up to 34kWh, which is higher than the average U.S. home user's daily consumption of about 30kWh. In addition, if combined to achieve a capacity of more than 100kWh, combined with electricity from residential solar facilities, home users can obtain long-term power supply in the event of power outages.
Company website:https://www.panasonic.com/global/home.html
10.Generac
Founded in 1959, Generac was the first company to design affordable back-up generators for homes. Generac manufactures the widest range of power products on the market, including portable, residential, commercial and industrial generators. Generac, already a leader in home backup power, recently entered the home energy storage market with the acquisition of Enbala, a developer of distributed resource software controls.
And launched its PWRcell home energy storage product in early 2020. Its modular battery storage system unit has a storage capacity of 8.6kWh and can be connected to up to four modules, which can be expanded to 34.2kWh. Generac's net sales rose to a new high of $2.5 billion last year as industry gross margins remained strong, driven by surging demand for home generators and the rapid growth of the U.S. home energy storage industry.
Company website:https://www.generac.com/
Powerwall production information
Are powerwalls worth it?
Powerwall is the new eco-friendly backup Home Battery storage system. It can store your house's solar and wind power, so you can avoid abandoning power and use the stored clean energy regardless of the weather. It can also adjust the use of electricity, and can realize the storage of electricity during peak and use it during off-peak, thus saving electricity costs.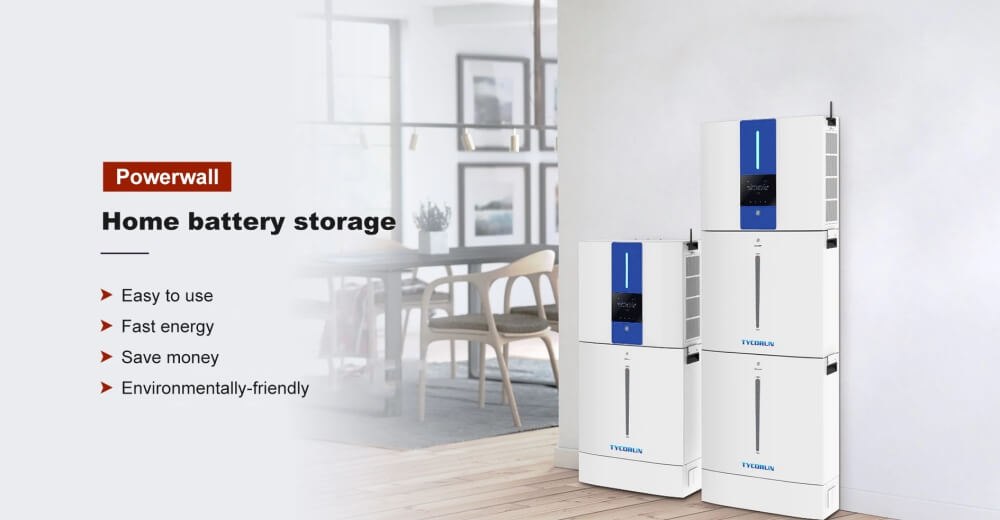 How many kWh does a powerwall hold?
The most commonly used Powerwall for Home Battery storage are 51.2V 100AH (5KW)Powerwall lithium ion solar battery, 51.2V 200AH (10KW)Powerwall lithium ion battery solar batteries, and 51.2V 300AH (15KW)Powerwall lithium ion solar battery bank.
(Video:Lithium battery pack factory explains the specifications of 51.2V 200Ah power wall lithium ion battery in detail)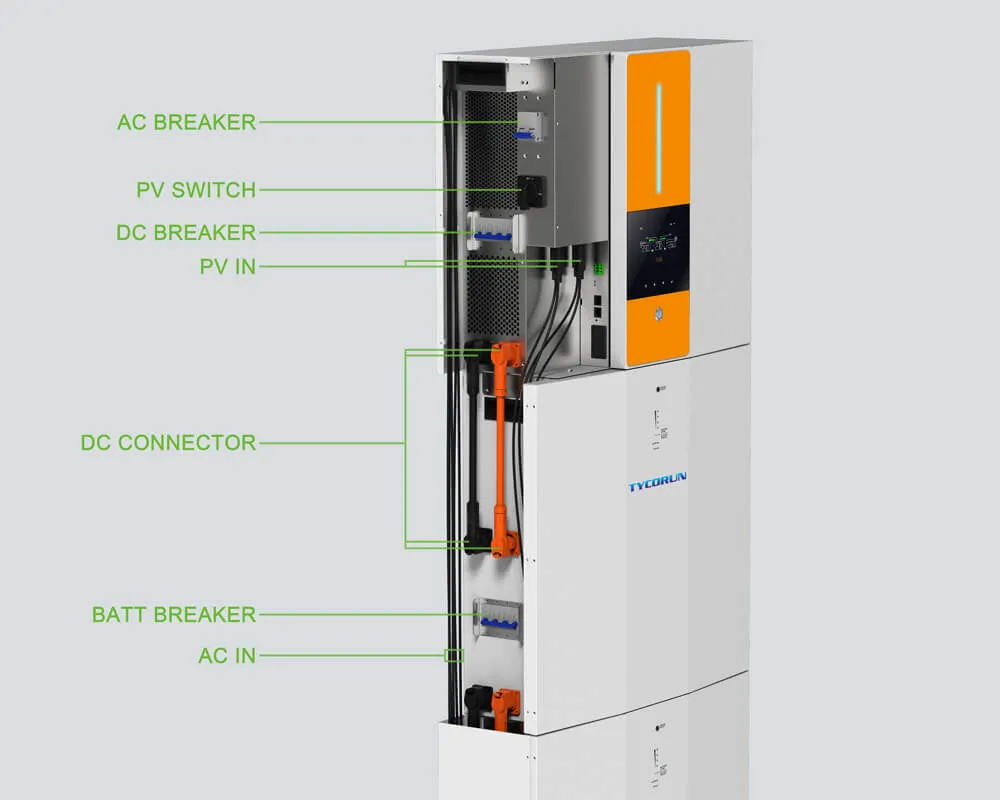 For the US market, 51.2V 200AH (10KW) Powerwall is the mainstream product. In practical applications, two 51.2V 200AH Powerwalls can be connected in parallel, which will only consume 20 KWH of electricity in an hour.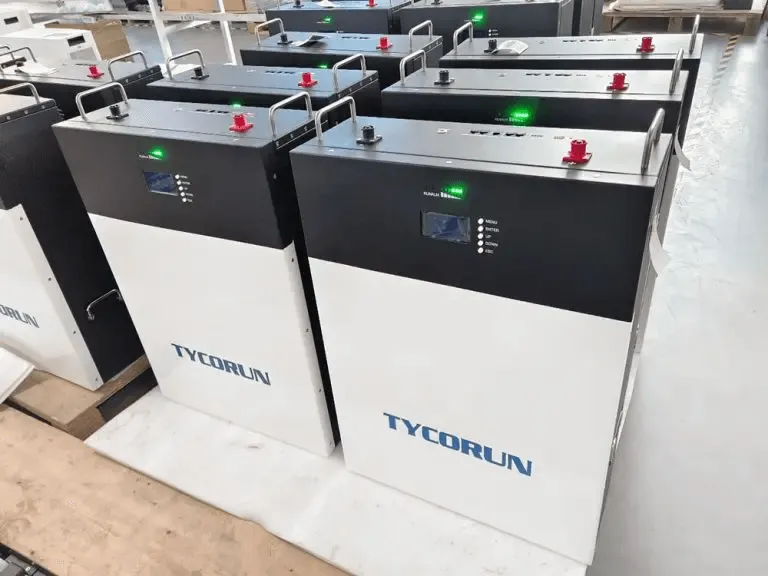 Choose your best powerwall
When you find that the PowerWall is really worth it, you need to choose a quality Powerwall. The high performance PowerWall is environmentally friendly and economical, while providing you with a powerful power storage backup. So you need to buy the best Powerwall from the top Powerwall manufacturers in the world. Tycorun Energy is a professional manufacturer of lithium ion battery energy storage with 14 years of experience in the lithium ion battery and battery energy storage industry.
Tycorun Energy's Powerwall uses the Brand New Grade A LifePO4 battery cell, which can reach more than 6000 times deep cycle and realize 90% DOD. It comes with an LCD screen, a Bluetooth display that can be manipulated freely on a smartphone, and most importantly, a high-performance BMS that prevents overcharge, overheat, overcurrent.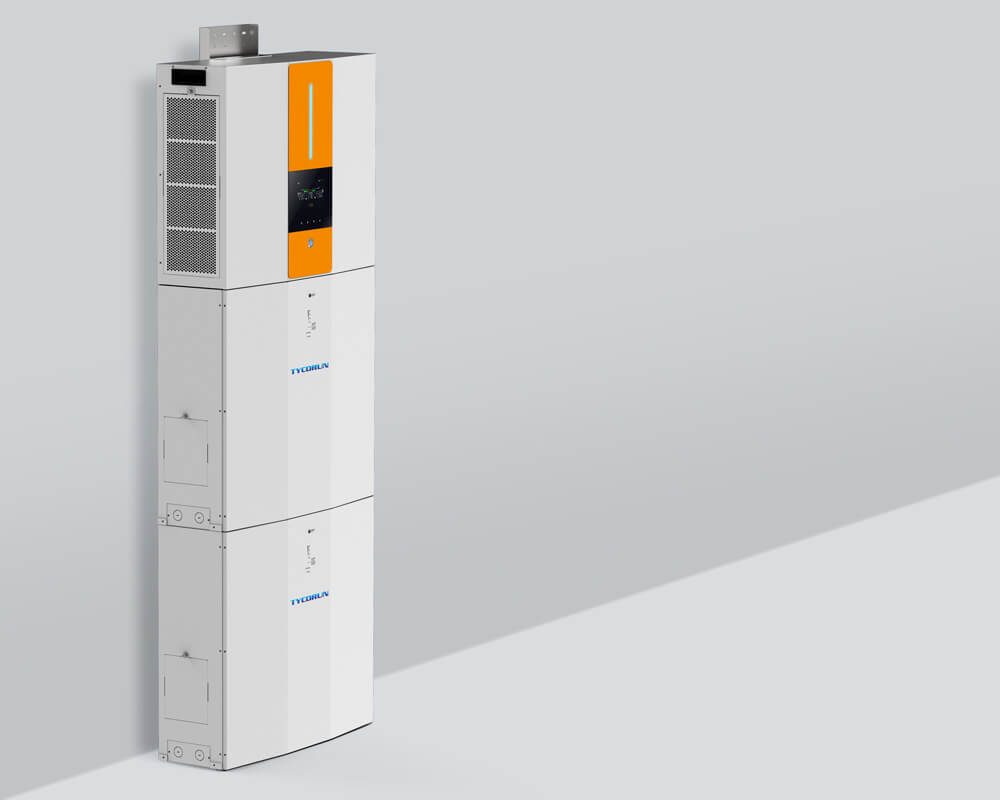 In addition to home battery storage, it can also be applied to outdoor camping, irrigation, pasture,greenhouse lighting,fishing boats and other scenes.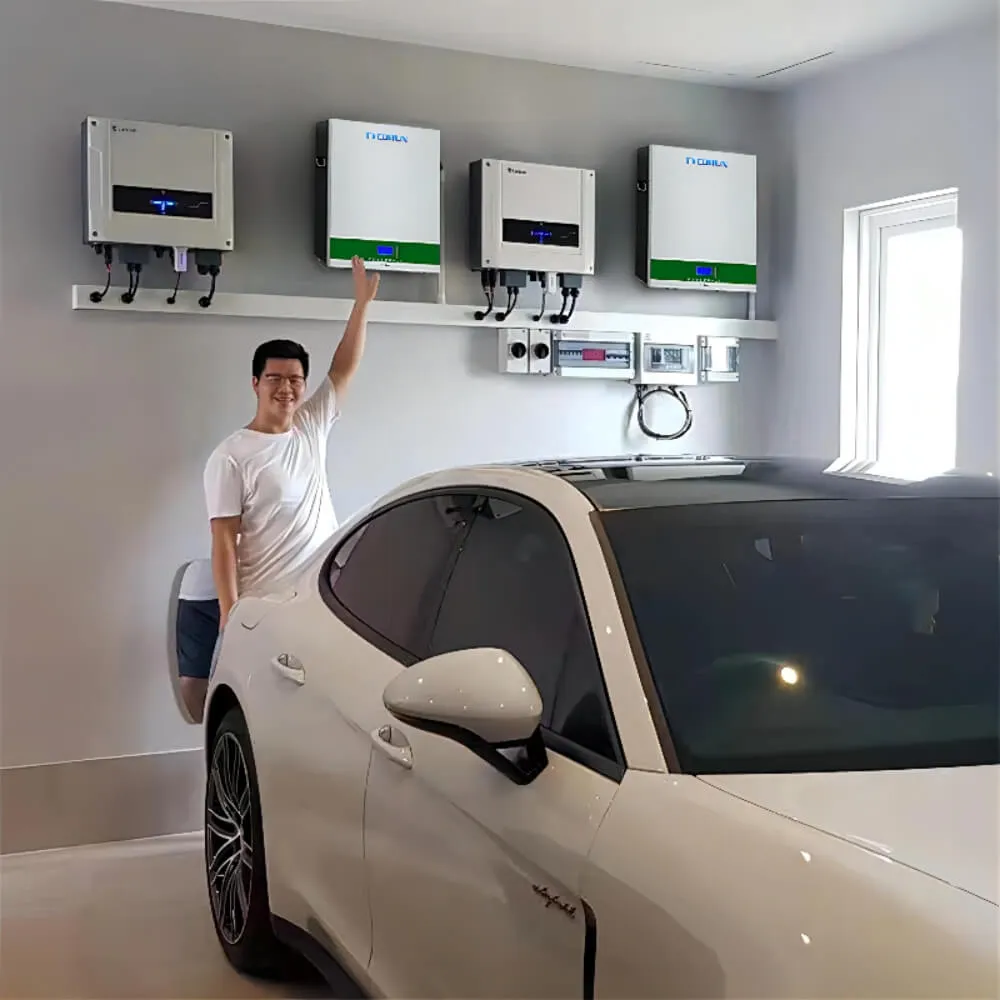 If you want to know more , you can click this 51.2V 200Ah lithium ion battery solar batteries product information to get more details.