Two leading lithium battery companies in China cooperate to layout lithium materials project
In the era of "Lithium is King", in order to lock in the scarce high-quality lithium resources upstream, leading battery companies began to choose cooperation. It is worth noting that this cooperation is also the first time that two battery companies, EVE and SVOLT, have joined forces.
Two major enterprises join hands with Chuaneng Power
This time, the two power battery giants, SVOLT and EVE, joined hands with Chuanneng Power to deploy upstream lithium resources, which is a relatively rare situation in the industry. This is also enough to show that downstream battery companies are fiercely competing for lithium resources.
This tripartite cooperation plans to build a total of 30,000 tons of lithium salt projects. EVE and SVOLT will obtain priority purchasing rights according to their shareholding ratios, and the purchase price will not be higher than the price the joint venture company sells to any other third party during the same period.
This means that in addition to further ensuring the security of their own supply chains, EVE and SVOLT will also be able to stabilize cost fluctuations in the form of investment income and improve the cost competitiveness of enterprises.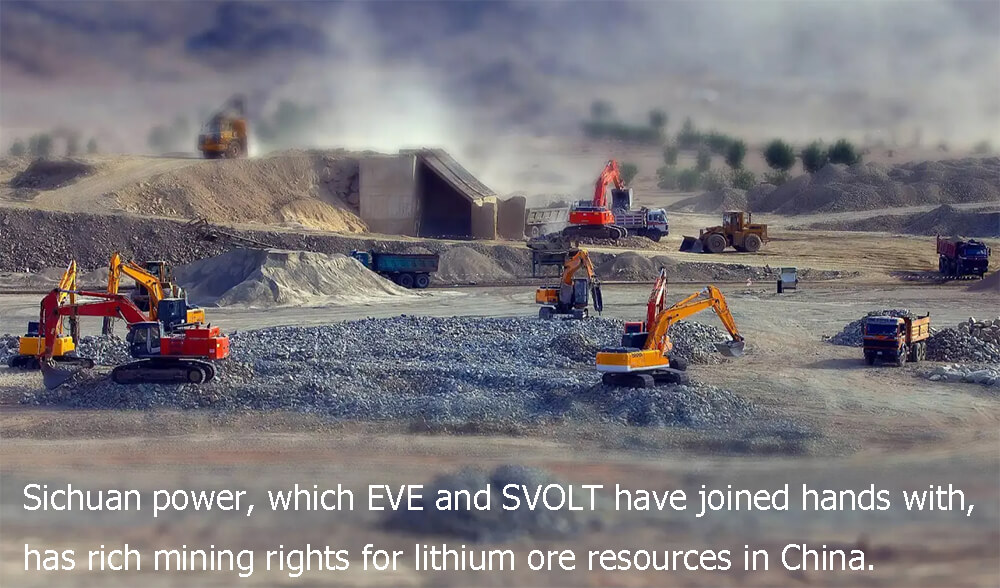 Sichuan power, which EVE and SVOLT have joined hands with, has rich mining rights for lithium ore resources in China. It is reported that in January 2021, Chuanneng Power completed the acquisition of 62.75% equity of Nengtou Lithium. According to the data, Energy Investment Lithium has the mining rights of Lijiagou Lithium Mine in Sichuan, China, the largest single spodumene mine in Asia. According to the survey, Lijiagou Spodumene Mine has ore reserves of 3881.2×104 tons and Li2O reserves of 502,200 tons.
In addition, after Chuanneng Power successfully acquired a 46.5% stake in Dingsheng Lithium and a 43.74% stake in Sichuan Guoli Lithium Materials Co., Ltd., the Lijiagou spodumene mine, which is superimposed, is expected to be completed and put into operation by the end of 2022. The company will form Lithium resource industry chain integrating upstream and downstream.
EVE lithium resources layout
Although it is a second-tier power battery company, Yiwei Lithium Energy has made a lot of layouts in lithium resources in recent years.Including the acquisition of a 28.125% stake in Jin Kunlun and its joint venture to build a lithium salt project with an annual output of 30,000 tons;
Signed a 15-year strategic cooperation agreement with Lanxiao Technology, and jointly built a 10,000-ton lithium hydroxide project; acquired 49% of Xinghua Lithium Salt to deploy Dachaidan Salt Lake brine resources;
Acquired a 5% stake in Dahua Chemical to overweight the salt lake lithium extraction project. Coupled with the completion of the 30,000-ton/year capacity construction, EVE's material supply will add another layer of assurance.
SVOLT lithium resources layout
In terms of SVOLT, in 2017, it invested in Pilbara, an Australian lithium mining company, through an affiliated company, and directly invested in Guangxi Tianyuan and Yongshan Lithium in China. At the same time, SVOLT also invested in Kuntian New Energy and Jiangxi Copper Yates, which improved the important layout of the upstream links of the company's battery industry chain such as lithium battery copper foil and anode materials. Here are related companies about Top 10 anode material manufacturers.
Recently, SVOLT also officially signed in Chengdu with representatives of the Dazhou Municipal People's Government and the Dazhou High-tech Industrial Park Management Committee.
According to the agreement, SVOLT will lead the industry chain enterprises to invest in the construction of Honeycomb Dazhou Lithium Battery Industrial Park, with a total investment of 17 billion RMB.
The planned construction includes lithium iron phosphate and cobalt-free cathode material production lines, lithium iron phosphate precursor and electrolyte production lines, battery recycling and dismantling production lines and related supporting facilities to further improve the layout of the industrial chain.
Chinese lithium resources are highly dependent on imports
The price of lithium carbonate has been rising all the way, which is supported by the strong growth in demand for new energy vehicles and power batteries. Data show that from January to May this year, China's new energy vehicle production and sales completed 2.071 million and 2.003 million respectively, a year-on-year increase of more than 1.1 times. In terms of power batteries, the output from January to May this year was 165.1GWh, a year-on-year increase of 177.5%.
With the effective control of the epidemic and the promotion of new energy vehicles going to the countryside for consumption, the industry generally warms up to the second half of the year. New energy vehicles, The power battery and energy storage market will maintain a high growth trend, and the demand for lithium salt will remain high.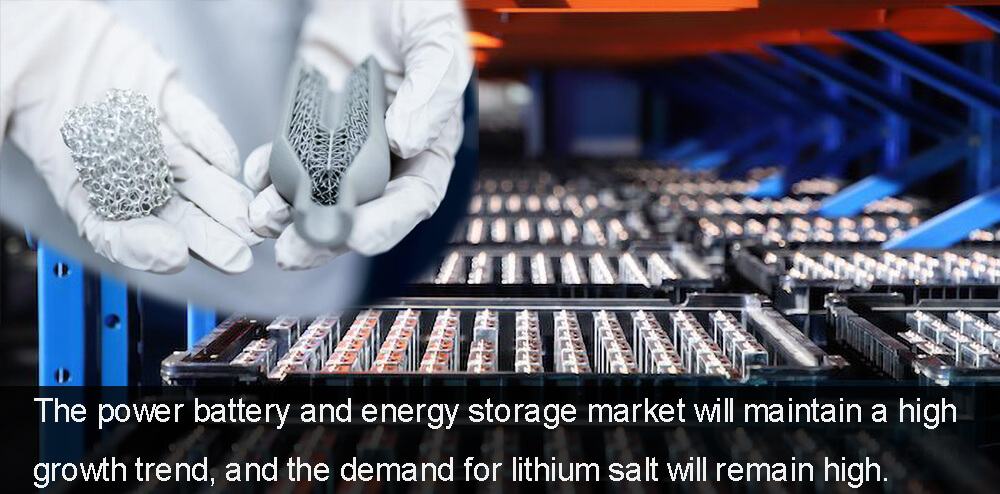 Due to the limited increase in global lithium resources, it is difficult to support the growth of downstream demand, and more than 60% of the raw materials in China's lithium salt production come from lithium concentrates imported from Australia, which are easily affected by the stagnation of logistics and transportation caused by geopolitics and the epidemic, and there is great uncertainty , it is expected that the price of lithium salt in the market outlook may show a steady upward trend.
At present, China's lithium resources are highly dependent on foreign countries, and the proportion of lithium ore that depends on imports is as high as 70%.Chinese power battery manufacturers prefer overseas lithium resources in the layout of lithium resources. Among them are CATL and Ganfeng Lithium to snatch Millennium Lithium, Tianqi Lithium Quinana Lithium Hydroxide Processing Plant and so on.
Although the quality of imported lithium ore resources is good and the stock is large, there are still many problems between Chinese power battery companies and imported lithium ore resources. First of all, other countries have higher labor costs and imperfect infrastructure, coupled with greater transportation distances and transportation difficulties.
As a result, the pressure on the mining cost and transportation cost of the enterprise increases, causing problems to the operation of the enterprise. Secondly, the current international situation is complicated, some countries have stepped up their control of resources, and they are involved in issues such as tariffs, so the supply of lithium resource products cannot be stably guaranteed.
If certain policies are promulgated, all imported manufacturers will face a fatal problem of material shortages, and regulations that will take effect once promulgated will not give companies a buffer period.
Considering these, many battery manufacturers have spent huge sums of money to increase resources such as lithium mines, lithium salt lakes, and lepidolite in China since last year to ensure a stable supply of materials.
In May of this year, Guoxuan Hi-Tech won the general survey and exploration right of the porcelain clay (lithium-containing) mine in the Shuinan mining area of ​​the Kuishili mining area in Yifeng County, Jiangxi Province at a price of 460 million RMB. The mine has an associated lithium oxide resource of 18.175 tons.
The reason why EVE and SVOLT join hands with Chuaneng Power to deploy lithium salt project this time is because Chuaneng Power holds the mining rights of Lijiagou, Jinchuan County. It is reported that the Lijiagou spodumene mine will soon have a production capacity of 1.05 million tons/year.
EVE midstream and upstream industry layout
EVE in Top 10 power battery companies in the world, with a market share of 2.41% and a year-on-year increase of 188.46% in installed capacity.
Supported by performance and installed capacity, EVE has planned to exceed 200GWh in terms of battery production capacity. The expansion projects are mainly located in Jingmen, Hubei, Huizhou, Guangdong, Chengdu, Sichuan, and the newly added Yuxi base in Yunnan. It includes power batteries, energy storage batteries and 46 series large cylindrical batteries that are on the rise in the market.
However, as we all know, a large amount of capital investment is required in the early stage of the construction of the power battery production line. For enterprises, the company's own funds cannot meet the huge initial investment at all. Therefore, only constant fixed increase can meet the company's long-term operation and expansion ambitions .
On June 8, EVE disclosed the fixed increase plan. It is planned to raise 9 billion RMB for "passenger car lithium-ion power battery project", "HBF16GWh passenger car lithium-ion power battery project" and supplementary working capital.
Among them, the passenger car lithium battery project plans to invest a total of 4.37 billion RMB to build 46 series of automatic production lines for power storage lithium batteries in Jingmen Base, Hubei, with a construction period of 3 years.
After completion, it will form an annual production capacity of 20GWh46 series of power storage lithium batteries. The other project mainly builds a square lithium iron phosphate battery production line, which will add 16GWh of square lithium iron phosphate battery capacity after reaching production.
With the subscription of investors, the project start of EVE has been put on the agenda, and the speed of capacity expansion has also been accelerated. According to the capacity planning date previously announced by EVE, EVE's battery capacity is expected to grow rapidly in the next three years.
Summarize
In the current lithium battery industry chain, the competition between power battery companies is particularly fierce. A little backwardness will affect everything, such as material supply difficulties, which affect production capacity release, shipments, and downstream order delivery. question. Therefore, the integrated layout, extending to the middle and upper reaches, is an important means of prevention for power battery companies, and it has gradually become a common phenomenon. For information on LiFePO4 battery materials, please refer to Top 5 lithium iron phosphate cathode material companies in China.