BYD external battery supply acceleration - BYD vs CATL
BYD to supply batteries to Tesla
On June 8, the executive vice president of BYD Group said that BYD respects Tesla and is also a good friend with Musk; BYD will provide Tesla with battery products, and Tesla is also an example to follow.
In fact, it was reported as early as early August 2021 that BYD would start supplying lithium iron phosphate blade batteries to Tesla in the second quarter of 2022, and said that Tesla models equipped with "blade batteries" have already entered the market. C-like testing phase.

In October 2021, it was reported that BYD had won an order for Tesla's 10GWh power battery.
In January 2022, some media reported that the Tesla Model 2 is expected to be officially released in 2022 or 2023, and the market starting price is expected to be 25,000 US dollars (about 160,000 RMB).
The report further pointed out that with regard to the naming of Tesla's new car, it may also be Model C or Model Q, which is the benchmark for Volkswagen ID.3 and other models. "Model 2 will be equipped with a new battery that is more powerful, safer and cheaper, namely BYD's blade battery."
Of course, there is also news that Tesla's first model equipped with blade batteries is the current mature model Model Y. Regardless of the size of the order, it doesn't matter whether Tesla's first model with blade batteries is the Model 2 or Model Y.
BYD VS CATL
At present, Tesla is an important customer of CATL. The CATL financial report shows that in 2021, the sales to Tesla, the largest customer, will be 13.04 billion RMB, accounting for 10% of the total annual sales and about 14% of its power battery system revenue.
Once BYD officially supplies batteries to Tesla, BYD's market share of power batteries will continue to increase and squeeze the share of CATL. In April this year, BYD's power battery installed capacity market share has been significantly close to CATL, and in terms of TOP 10 lithium iron phosphate power battery manufacturers, it surpassed CATL and ranked first in the world!
From a cost point of view, there are rumors that CATL and Tesla's price increase was less than expected.
The BYD blade battery has a huge cost advantage. Taking BYD Han as an example, the equipped blade battery can reduce the cost of the battery pack by 30% under the same cruising range, and the gross profit of the bicycle can be increased by 17,000 RMB.
Judging from the reaction of the capital market, CATL in the secondary market rebounded from the lowest point of 353.00rmb on May 5 to the highest price of 469.01rmb on June 6. The largest rebound in this round is 32.86%.
BYD started to rise from the lowest price of 209.43rmb on March 15th to the highest price of 328.06rmb on June 9th. The largest increase in this round was 56.64%, far exceeding CATL.
BYDs external battery supply accelerates
Supplying batteries for Tesla is one of BYD's external power battery suppliers. In fact, BYD's cooperative car companies are rapidly expanding their capacity.
In late May, it was reported that Huawei was cooperating with BYD to launch a high-end pure electric SUV. The high-end brands jointly created by the two companies may be released in August this year. They will be benchmarked against the Mercedes-Benz G-Class. They will adopt a non-load-bearing body and position themselves as high-end off-road SUVs. . Another argument is that this high-end brand is priced at 500,000 RMB to 1.5 million RMB.
In late March, it was reported that BYD's Fudi Battery Company was actively expanding the new car market, targeting NIO and Xiaomi.
According to reports, the fixed-point cooperation between Weilai and Fudi battery has been finalized a few years ago, and BYD's lithium iron phosphate battery will be used; Xiaomi Auto has also signed a fixed-point cooperation agreement with Fudi battery.
On February 20, it was reported that Ford Motor visited the BYD Xi'an Fudi XAB plant. The accompanying visitors included the chairman of BYD, the vice president of BYD Group and the CEO of Fudi Battery. The objects of the visit included blade batteries.
On January 17, according to news, BYD Fudi Battery may add two new customers. These are two unspecified projects, one customer is suspected to be "Pan Asia PHEV", and the other customer is not aware of it.
In fact, in addition to the constant news of new customers, BYD is currently equipped with Ford Mustang Mach-E (NCM811), FAW Hongqi E-QM5 series, a pure electric model from Changan, and two models from Jinkang and BAIC.
At the same time, the mass production of Toyota's pure electric SUV BZ4X is expected to use BYD's blade battery, and the BZ series may be entirely manufactured by BYD. BYD is still in contact with many international car companies such as Volkswagen, Daimler, and Hyundai…
Conclusion
Tesla and BYD are both the world's leading new energy vehicle companies, but BYD is also the world's Top 10 power battery companies leading companies in terms of power battery installed capacity.
Therefore, while the two are competitors in the field of new energy vehicles, they are also expected to form a complementary relationship in the field of power batteries. BYD needs Tesla's large orders to further increase the proportion of its own power batteries. Similarly, Tesla also needs BYD's high-quality lithium iron phosphate batteries to meet its high-growth demand.
In the future, among the installed capacity of power batteries in China, lithium iron phosphate batteries and ternary lithium battery may maintain a ratio of 7:3 for a long time. Therefore, BYD, which has developed high-quality lithium iron phosphate batteries such as blade batteries, will cooperate with Tesla in the field of lithium iron phosphate batteries.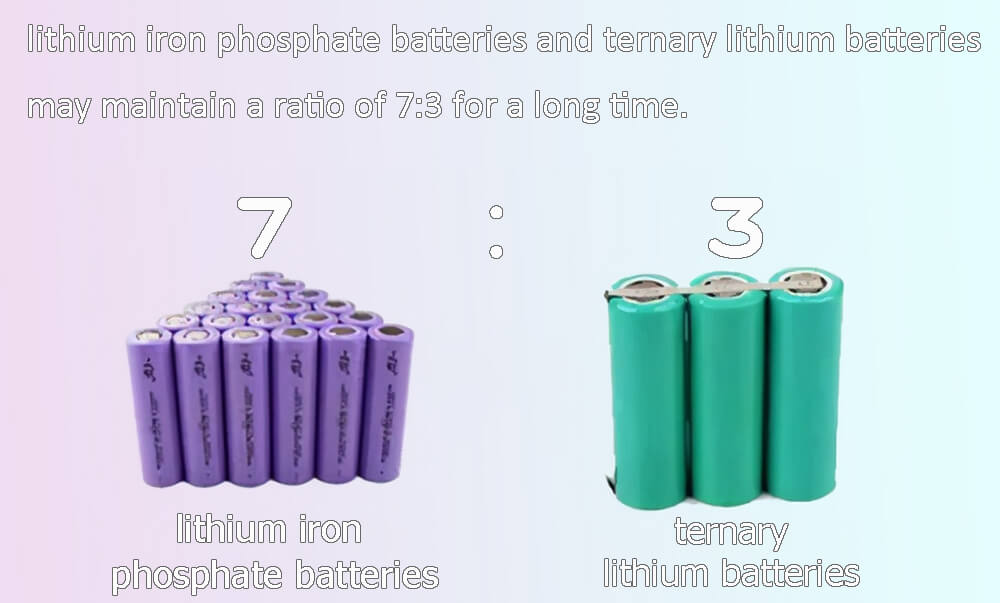 Successfully entered the power battery supply system of Tesla, a leading new energy vehicle company. For BYD, the biggest advantage of successfully entering the power battery supply system of Tesla, a leading new energy vehicle company, is that the spun-off Fudi battery will further increase the level of external supply, expand the supply of batteries to other new energy vehicle OEMs.