Guide to electric scooter swappable battery - benefits and usage
Electric scooters can use a battery swapping (or switching) station instead of plugging into a charging station to swap out a battery pack that is drained for one that is full charged, this is the most efficiency way to get a full charged battery. The swapping battery station is a popular trend in the electric scooter industry.
It allows users to swap out their low batteries which with battery power station protocol and get more life out of them. Electric scooters with swappable batteries can help one save money on gas and travel further than ever before. This guide will introduce the benefits of electric scooter swappable battery, talk about how it is convenient for us and how to find the best swappable battery station supplier.
What is electric scooter swappable battery
Generally, the electric scooter is integrated with the battery, and the charging is to connect the battery to the garage or charging pile for safe charging. The electric scooter swappable battery is to allow users to easily remove and replace the battery pack, so as to check the battery condition, or take the battery out to charge, and replace the battery in the battery swap station.
There are many different types of electric scooter swappable batteries out there today; some may have larger capacity than others but all share similar features: they're lightweight, compact in size (usually about 20 pounds), easy to carry around when not in use, and can often be found at any hardware store or online retailer.
Main types of electric scooter swappable battery
The commonly used electric scooter swappable battery is mainly divided into lifepo4, ternary lithium battery and lead acid battery according to the material. These all share the different chemistry and differ in size and weight, while lead-acid ones tend to be large enough to require additional weight from the vehicle's frame.
However, due to the weight and volume of lead-acid batteries and their short lifespan, lithium battery replacement lead acid is basically used now. Lithium electric scooter swappable battery have high density, small size, light weight, and three times the lifespan of lead-acid batteries.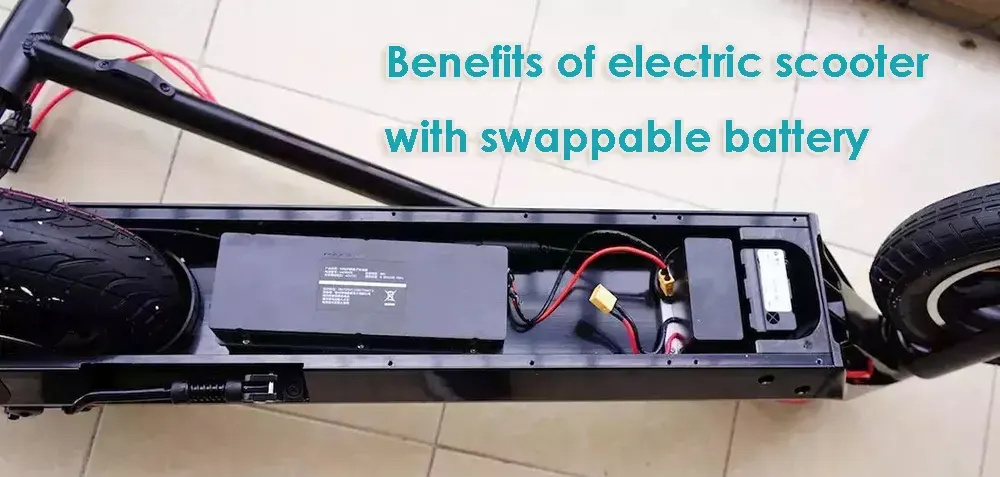 Benefits of electric scooter swappable battery
Swappable battery is a good solution for the capacity problem of electric scooter swappable battery life. The requirement of the scooter battery is light, so the battery capacity will be limited, which also limits the driving distance.
When one rides the electric scooter, it will be easy to use but when one needs to charge it, it takes some time. Instead use electric scooter with swappable battery, if the battery is broken or dead and can be replaced at any time. There is also the ability to use the swap battery station, which directly saves 3-5 hours of charging time for the battery by changing the battery, and can continue to use the electric scooter in only 5 minutes.
Most batteries come in packs that contain multiple cells all together; however these packs are not interchangeable between different models so if one needs the replacement, battery must be of a specification that matches the scooter. Usually, a power exchange cabinet will have 2-3 specifications, so it can provide more users with battery replacement assistance.
Which country has a high demand for swappable battery scooter
● China: The Chinese market has a high demand for swappable battery scooter. With their high population, most people use TYCORUN company based electric scooter swappable batteries due to their best value prices.
● Japan: The Japanese market also has a high demand for swappable battery scooter.
● Netherlands: The Netherlands enjoys the highest sales rate of swappable battery scooters in Europe.
● France: Electric scooters are an essential means of transportation for daily travel in France.
● Germany: Germany is another country that loves its electric vehicles and uses them frequently on their roads.
Not only the above countries, but also Sweden and Norway etc. have some of the highest sales rates in Europe as well;
Who are the users of swappable battery scooter
Swappable battery scooter is for everyone, It is a more convenient and faster means of transportation than a bicycle. Many office workers, the elderly, and students who need to travel frequently like to choose electric scooters.
The operation is simple, compared with the car, it is easier to find the parking position, the size is small, and it can easily shuttle in the streets and alleys. It is convenient to use, and the battery can be charged at home. The swappable battery scooter also has a long service life.
The size of electric scooter swappable battery
The voltage is 12v-54v, and the capacity ranges from 8ah-20ah. Generally, lithium ion 18650 battery pack is used. It is important to note that the battery itself may not be what one are looking for, but rather the size of it. The batteries themselves can vary in size and weight. The size of a battery depends on the motor, motor controller, and other components that are used. According to different specifications, different manufacturers of electric scooters have different shapes and sizes of batteries.
How to use electric scooter battery swapping stations
From electric car battery swapping to motorcycle battery swapping, in short, it is to replace the battery at a specific station, so as to directly obtain a fully charged battery. Replacing an electric scooter swappable battery is the same as replacing a lithium ion motorcycle battery, which can be done by the user himself, and it is even more convenient and quicker than electric vehicle swap station. The user only needs to go to the nearest battery swapping station by positioning, log in, and then perform the replacement operation.
Is there an electric scooter swapping battery station now
There are a number of electric scooter batteries swapping stations now. The number of batteries in each station is increasing and so is the usage. The growth of the e-scooter industry is expected to continue for the next two years. Electric scooter swapping battery station will also be like electric motorcycle swapping station, the usage rate is getting higher and higher. The whole model will be more and more perfect.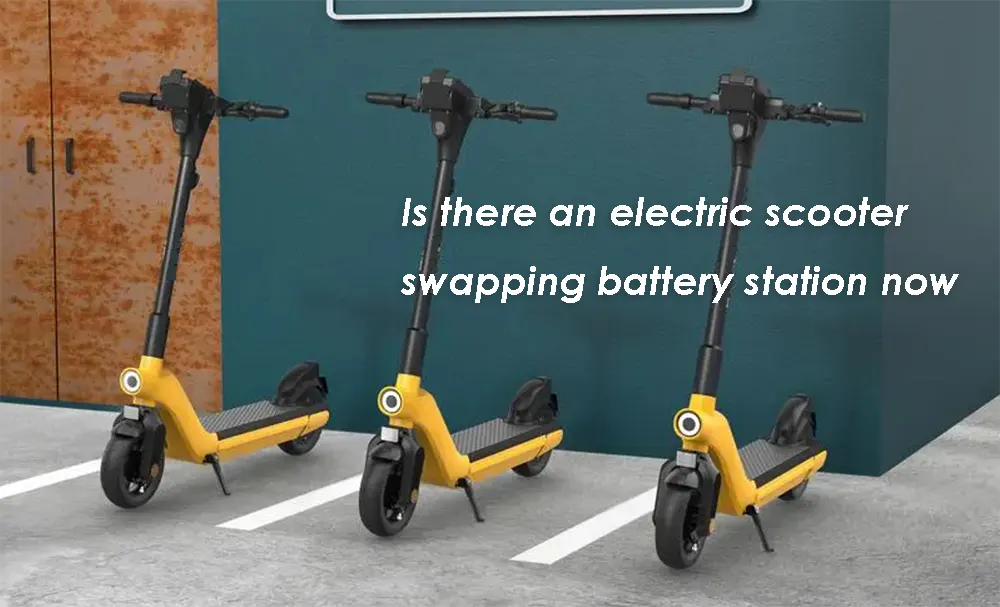 Why battery swap station is so popular
Battery swap station is the trend of the future. Swappable battery station is the most convenient way to charge the electronic devices. Battery swap station can be applied in any place where there are a lot of people, such as airports, malls, restaurants and other public places. It's easy for one to find a swappable battery station if one needs one.
Battery recycling is an important step toward environmental protection. Recycling batteries allows us to save resources and reduce pollution caused by improper disposal or recycling behavior. Users don't need to buy new batteries themselves, and charging batteries at swappable battery stations is safer than charging them at home.
There is a background management battery, which will monitor the battery condition in real time and replace the bad battery in time, so that the user can use a good battery every time.
How to find a battery swapping station supplier
If one want to find a battery swapping station supplier, it's best to start with Google. There are many different types of suppliers out there, so it's important that one know what kind of expertise they have before contacting them.
Here are some questions to ask one: Does this company have experience in the field? Do they have products from reputable manufacturers such as Bosch or Panasonic? When were they founded? Is their website easy-to-navigate and informative about their product line, services offered by the company itself, etc.?
Does the website include testimonials from previous clients who were happy with their experience working with this particular brand/company at hand;  TYCORUN ENERGY ODM lithium ion battery pack manufacturer based in China, is the best one for supplying battery swapping station due to their high efficiency and low prices.
Conclusion
In conclusion, the electric scooter swappable battery is a very good product. Especially combined with the use of the power exchange cabinet, it is very convenient and improves travel efficiency. It's a great alternative for those who want to reduce their carbon footprint or give up their car for transportation purposes. The best place to purchase electric scooter swappable batteries is TYCORUN Company based in china with the best values prices.