Top 10 solar battery manufacturers in China
Solar battery is the thin slice of optoelectronic semiconductors that generate electricity directly from sunlight. A thin slice of a solar cell can output voltage and current as long as it is illuminated. Solar batteries are characterized by long service life and strong mechanical resistance to pressure. Solar batteries are widely used in residential electricity, traffic lights, communication equipment, solar cars, electric vehicles and other fields. Here are the top 10 solar battery manufacturers in china.
Top 10 solar battery manufacturers in china
Trina Solar

Established:1997
Company profile:As a global leading provider for photovoltaic (PV) module and smart energy solutions, Trina Solar delivers PV products, applications and services to promote global sustainable development. Through constant innovation, Trina Solar continues to push the PV industry forward by creating greater grid parity of PV power and popularizing renewable energy.
As June 30 2021, Trina Solar delivered more than 77 GW of solar modules worldwide and ranked on the list of "Top 500 Private Enterprises. In Addition, Trina's downstream business includes solar PV project development, financing, design, construction, operations and management, And one-stop system integration solutions for customers. Trina Solar has connected over 5.5GW of Solar power plants to the grid worldwide.
Company website: https://www.trinasolar.com/cn
CSI

Established:2001
Company profile:CSI is one of the largest solar power generation companies in the world and a leading vertically integrated provider of solar products, services and system solutions with operations in North and South America, Europe, South Africa, the Middle East, Australia and Asia. The company designs, develops and manufactures solar wafers, cells and solar modules that convert sunlight into electricity for a variety of uses. Most of the company's production is in China.
The company's products include a line of solar modules manufactured to common specifications for a variety of residential, commercial and industrial solar power systems. The company also designs and produces special solar modules and products according to customer requirements. Specialty solar modules and products include custom solar modules that the company's customers integrate into their own products, such as building integrated photovoltaic modules, or BIPV modules, as well as complete specialty products such as portable solar home systems and solar car battery chargers.
Company website: https://cn.csisolar.com/
Yingli Solar
Established:1987
Company profile:Yingli Solar makes solar power possible for communities everywhere by using global manufacturing and logistics expertise to address unique local energy challenges. As one of the world's largest solar panel manufacturers, their teams of local experts are empowering communities around the world to go solar.
More than 24GW Yingli solar panels have been shipped to more than 100 countries, including Germany, Spain, Italy, Greece, France, South Korea, China, Japan, Brazil, Australia, South Africa, Mexico and the United States.
Company website: http://www.yinglisolar.com/us/
Jinko Solar
Established:2006
Company profile:Jinko Solar (NYSE: JKS) is one of the largest and most innovative solar module manufacturers in the world. JinkoSolar distributes its solar products and sells its solutions and services to a diversified international utility, commercial and residential customer base in China, the United States, Japan, Germany, the United Kingdom, Chile, South Africa, India, Mexico, Brazil, the United Arab Emirates, Italy, Spain, France, Belgium, and other countries and regions. JinkoSolar has built a vertically integrated solar product value chain, with an integrated annual capacity of 31 GW for mono wafers, 19 GW for solar cells, and 36 GW for solar module.
JinkoSolar has 9 productions facilities globally, 22 subsidiaries in Japan, South Korea, Vietnam, India, Turkey, Germany, Italy, Switzerland, United States, Mexico, Brazil, Chile, Australia, Portugal, Canada, Malaysia, UAE, Denmark, and global sales teams in China, United Kingdom, France, Spain, Bulgaria, Greece, Ukraine, Jordan, Saudi Arabia, Tunisia, Morocco, South Africa, Costa Rica, Colombia, Panama, Kazakhstan, Malaysia, Myanmar, Sri Lanka, Thailand, Vietnam, Poland and Argentina, as of September 30, 2021.
Company website: http://www.jinkosolar.com/en
Hanwha New Energy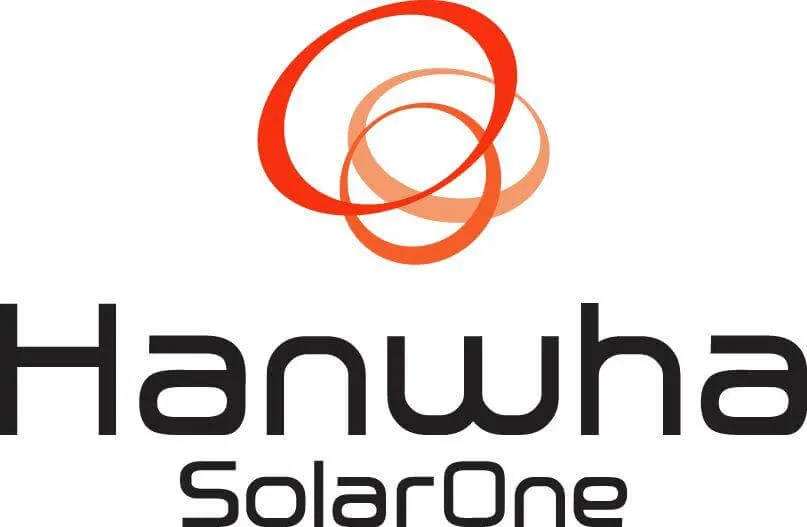 Established:2004
Company profile:Hanwha New Energy is a wholly-owned subsidiary of Hanwha Group, a fortune global 500 company. Hanwha New Energy is a leading global photovoltaic manufacturer, renowned for its high quality and high efficiency solar cells and modules in the industry. The company is headquartered in Seoul, Korea (global executive headquarters) and Tarheim, Germany (Technology R&D and innovation headquarters).
They are a global energy company providing vertical integrated solutions from crystalline silicon, silicon ingots, silicon wafers, solar cells and modules to project development and financing. Hanwha New Energy co., Ltd. also works with third-party distributors, OEM manufacturers and system integrators to provide solar installations for large utilities, commercial and residential/small commercial purposes. With a capacity of 8GW of solar cells and 8GW of solar modules, it is the world's largest battery manufacturer and one of the largest component manufacturers.
Company website: http://www.hanwha-solarone.com
Suntech

Established:2001
Company profile:Suntech, as a famous photovoltaic manufacturer in the world, is devoted to the R & D and the production of crystalline silicon solar cells and modules for 21 years. The company has its sales areas spread all over more than 100 countries and regions in the world, and the cumulative historical shipments exceeded 30 GW.
Company website: https://www.suntech-power.com/
JA Solar
Established:2005
Company profile:JA Solar is a manufacturer of high-performance photovoltaic products. With 12 manufacturing bases and more than 20 Branches around the world, the company's Business Covers Silicon Wafers, cells, modules and photovoltaic power stations. JA Solar products are available in 135 countries and regions and are used extensively in ground-mounted power plants, commercial & industrial rooftop PV systems and residential rooftop PV systems.
With its advantages of continuous technological innovation, sound financial performance, and well-established global sales and service networks. The company has been listed on Fortune China 500 and Global Top 500 New Energy Enterprises for several consecutive years.
Company website: https://www.jasolar.com/
Linuo
Established:2002
Company profile:Linuo Power Group,specializes in solar station development, investment, engineering, construction, operation and application in worldwide. Linuo sophisticated approach to successful construction execution and procuring the highest quality material makes us the high-value solution that the customers and financing partners want. So far Linuo have completed over than 1200MW solar station in China.
Linuo has been awarded National Torch Plan Jinan Solar Energy Special Industry Base and Shandong Provincial PV Technology center. The PV Power System, Portable Power System and Household Power System which are designed, researched and developed by Linuo have exported to Europe, America, Japan, Korea, Australia and South Asia.
Linuo have nice cooperation with suppliers such as SIEMENS, Schneider, Sungrow and TBEA. The high quality components make the high quality solar station, so all of our finished solar stations operate very well. All these achievements are impossible without the professional experts. Now in our design institute there are 38 engineers, all of whom have got professional certificate and rich experience in designing.
In order to improve the R&D capability, Linuo cooperate with famous universities such as Tsinghua University and Shandong University and well-known engineering institutes such as North China Power Engineering Corporation. Due to all these efforts, the system efficiency of our large solar station has reached 82%.
Company website: https://www.linuosp.com/
EGing PV
Established:2003
Company profile:EGing PV is a high-tech enterprise specializing in the development, manufacture and marketing of solar photovoltaic products. Through the development of high efficiency solar cells, modules and our focus on the harnessing and promoting renewable energy, EGing PV became the first A-share listed solar cell and module manufacturer to be listed on the Shanghai Stock Exchange.
As a market and industry leading vertically-integrated solar PV manufacturer with global recognition, EGing PV continues to grow, setting the standard for others to follow.
As an International Science & Technology Cooperation Base, EGing PV has established the Jiangsu (EGing) PV Engineering Research Academy, the Jiangsu Solar Energy Materials Engineering Research Center, the Jiangsu Corporate Technology Center, National Post-doctoral Research Base, as well as joint research centers with top universities. Strong R&D capabilities have enabled EGing PV to obtain over 190 patents and enviable achievements across the solar PV value chain.
To achieve total quality management and optimize the supply chain, EGing PV has developed a vertically integrated business model covering the entire PV production chain from ingots, wafers, cells and modules, through to system integration.
State-of-the-art silicon processing equipment ensures top quality wafers of various sizes producing high conversion rate cells.
Company website: https://www.egingpv.com/index.php
ReneSola
Established:2005
Company profile:ReneSola is one of the world class photovoltaic manufacturing and sales enterprises, the business includes primary polysilicon, monocrystalline silicon rod, polysilicon ingot, silicon wafer manufacturing and sales, cell, module manufacturing and sales, photovoltaic system solutions, etc.
ReneSola is a leader in the global photovoltaic industry, with high-quality scientific research, technical team and experienced management team, and is one of the few large groups with integrated operations in the global photovoltaic industry.
ReneSola was listed on the London Stock Exchange in 2006. Through continuous development, ReneSola has successfully created a complete photovoltaic industry chain from primary polysilicon to photovoltaic application system, casting the best quality photovoltaic brand in the industry, and becoming a world-class photovoltaic enterprise.
Company website: www.renesola.com
That's our list of top 10 solar battery manufacturers in china, and if you're interested in solar energy storage, you can also check out top 10 powerwall manufacturers for home energy storage and top 5 energy storage battery companies to get a better understanding of this industry.