electric motorcycle battery swap vs charging station in china
TYCORUN ENERGY is specialized in energy storage systems, power modules, BMS systems
It is a national high-tech enterprise that develops and manufactures high-tech products such as system. Under the jurisdiction of home storage, portable UPS, BMS research and development,
New energy overseas e-commerce platform, new energy overseas technical services, new energy industrial park development and other subsidiaries.
In January 2015, Dongguan Paineng New Energy Technology Co., Ltd. was jointly established with the entrepreneurial team, specializing in electric two-wheelers

Power module operation platform, to carry out the promotion and service of various operation modes such as professional battery module sales, rent-to-buy, and power exchange.
service.
In 2015, Paineng Technology pioneered the green energy power exchange mode. Independent technological innovation and high-quality manufacturing capacity are the hard powers of the Paidaren power exchange brand. The independently developed smart energy management platform empowers all scenarios of smart travel, and has obtained a number of invention patents. Our own battery manufacturing factory is the foundation of Paida's high-quality reputation and solid products, safe, stable, efficient and durable. "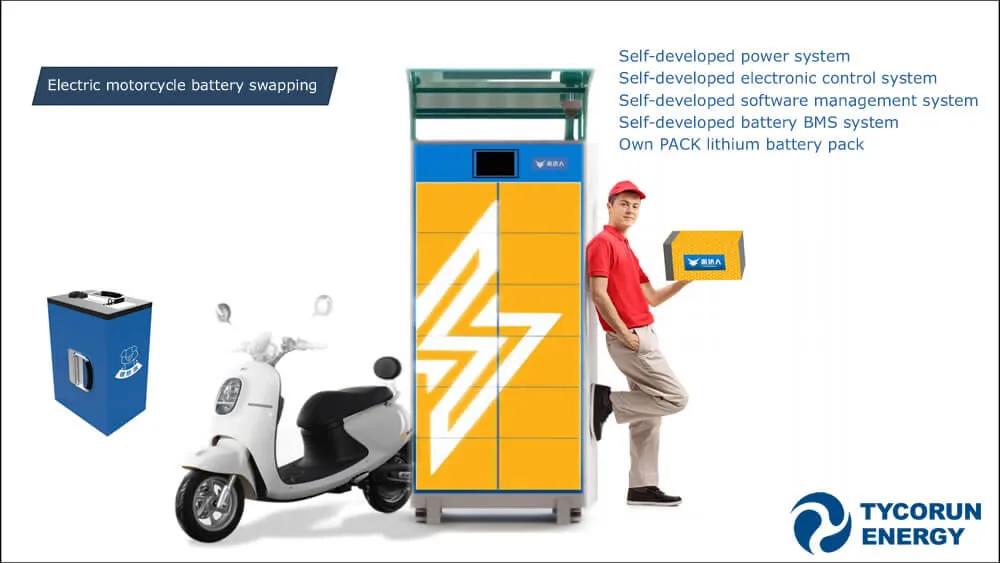 It is the core of Paida's super battery life battery that is popular in the market. After years of hard work, Paineng has The team has deployed new energy motorcycle power exchange systems in China, Indonesia, Europe and the United States, South Africa, Southeast Asia and other countries and regions at home and abroad, and has helped some countries develop electric motorcycle power exchange system factories and battery swapping station business model.
00:03Hi,Ladies and gentlemen,this is Maggie from Tycorun energy china ,in this video we are going to introduce you the battery swapping system .
There is a growing demand for charging station in the market, because it can quickly meet customers' power exchange requirements, this video will teach you how to use Tycorun battery swapping station
First of all,our charging station has 12 charging slots and is equipped with a smart touching screen. When we are swapping the battery, we only need to click the battery swapping button on the screen, and then the charging station door will automatically open, putting the dead battery into charge, the fully charged battery door will automatically open.
As our largest food delivery group in China, Meituan is also one of our largest customers in China. In the video, they put the battery into the motorcycle's warehouse, and then they can start the motorcycle.
No downtime, no waiting, no energy spikes, no swiping or PIN required. It only takes a few seconds to change
When customers often ask which motorcycle brands our batteries match with.in fact, our batteries almost match all brands of motorcycles, as long as our batteries can be put into the location of motorcycle storage dimension.
After taking out the battery from Station, we just need to put it in the motorcycle and plug in the motor plug , and then start the motorcycle.
Our client not only has high requirements Battery life, but also requires the battery quality of cabinets to be very good.
Today, we invited our Meituan delivery staff in guangzhou , and mainly mentioned several advantages of our battery and electric exchange cabinet.
1、 A 60V 50AH lithium battery life can reach 130km, and the battery swapping stations is sensitive
2. Good after-sales service of battery swapping stations
3. For the quality and price of the battery, the delivery staff care more about the quality
4. In The Chinese market, a battery cabinet with 12 charging ports is not enough. It is suggested to increase the number of battery swapping stations
That's the interview with the Meituan delivery staff. Thank you for watching.if you have any requirements, please contact us
Power battery Buyer's Guide