Top 10 pv inverter companies in the world in 2022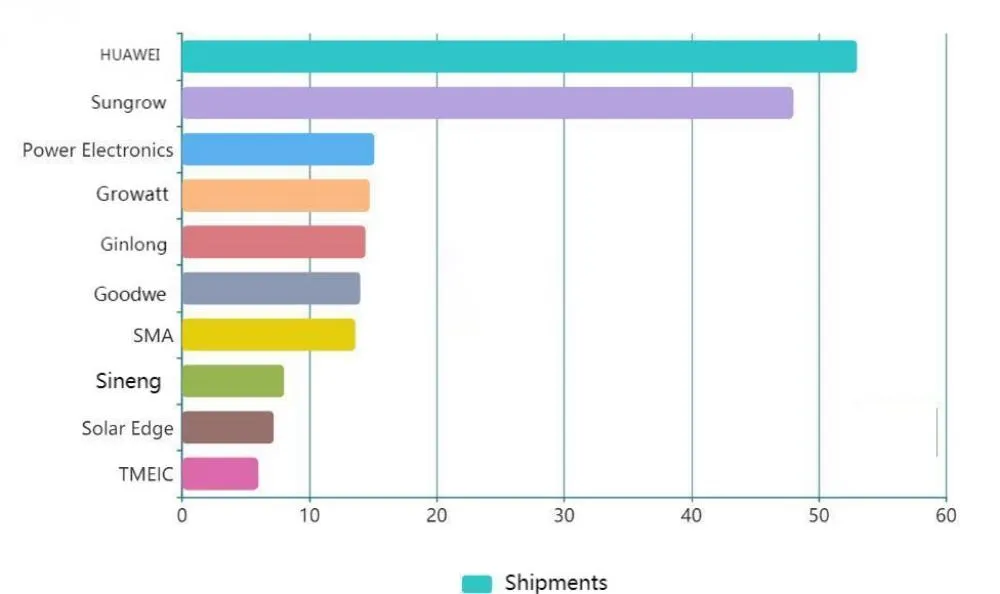 2021 Top Ten Global Inverter Shipment Ranking
2021 is an opportunity for great leaps in various photovoltaic markets in China and around the world, and most companies like Top 5 pv inverter manufacturers in China have achieved two-way galloping growth in performance and shipments.
In the fiercely competitive photovoltaic inverter market, there are outstanding and dedicated people who have worked hard and marched into every corner of the world at full speed. Through wisdom and sweat, they walked side by side with the company and achieved historic business breakthroughs. Here are the Top 10 pv inverter companies in the world in 2022.

Top 10 pv inverter companies in the world
HUAWEI
Company profile:
Founded in 1987, Huawei is one of the Top 10 pv inverter companies in the world and the world's leading provider of ICT (Information and Communication) infrastructure and smart terminals. At present, Huawei has about 195,000 employees, and its business covers more than 170 countries and regions, serving more than 3 billion people around the world.
Huawei is committed to bringing the digital world to everyone, every family, and every organization, and building a smart world where everything is connected: making ubiquitous connections an equal right for everyone, and the premise and foundation of a smart world.
Huawei's residential charging pile (FusionCharge AC AP07/22N-EU) made its global debut. This new product supports the use of solar energy to charge electric vehicles, which can be quickly installed indoors and outdoors, and can be quickly charged at any time.
AI energy management assistant – EMMA home green electricity all-around butler debuts, based on big data learning of weather and electricity consumption habits.
Accurately calculate and predict photovoltaic power generation and household power consumption, and automatically match the optimal mode to achieve "one key at hand, worry-free electricity consumption".
Registered capital: 40,441,131,820 RMB
Company website:http://www.huawei.com/cn
Sungrow

Company profile:
Founded on July 11, 2007, Sungrow is a national key high-tech enterprise focusing on the research and development, production, sales and service of new energy power equipment such as solar energy, wind energy, energy storage, hydrogen energy, and electric vehicles.
The main products are photovoltaic inverters, wind power converters, energy storage systems, water surface photovoltaic systems, new energy vehicle drive systems, charging equipment, renewable energy hydrogen production systems, smart energy operation and maintenance services, etc., and are committed to providing world-class services. clean energy full life cycle solutions. For wind-solar power storage and hydrogen storage, the five major tracks develop simultaneously.
The company's business mainly includes five tracks of photovoltaic inverters, wind power converters, energy storage systems, new energy vehicle drive systems, and hydrogen energy, all of which are high-prosperity development tracks.
As of 2021H1, in Top 10 pv inverter companies in the world Sungrow's cumulative shipments of inverters have reached 182GW, becoming the company's pillar business. In the future, the company will seize the opportunity of energy transformation under the background of carbon neutrality, strengthen business synergy such as wind power and energy storage, and develop the five major businesses simultaneously.
Maintain the leading position in the ground power station market and strengthen the expansion of distributed market channels. The company's inverter product market share ranks first in the world. It is expected that the company's photovoltaic inverter shipments will reach 47GW/66-70GW in 2021/2022, of which the distributed installed capacity will increase significantly. At the same time, quickly seize the newly added distributed installed capacity market.
"Cellless" energy storage system strategy, the energy storage business doubled. The energy storage system has the function of shaving peaks and filling valleys, which can effectively smooth the output curve of wind power and photovoltaics, reduce the abandonment of wind and solar energy, and ensure the stability of grid operation. New energy + energy storage will be an important way of energy supply in the future.
The company seized the opportunity of the rapid development of the energy storage industry, gave full play to the company's strengths in power electronic equipment, adopted the "battery-free" energy storage system strategy, developed household and industrial and commercial energy storage systems, and launched 5-10kW/9.6-102.4kWh Home energy storage systems and 50kW-1MW/2-5h distributed energy storage systems have been applied in batches in the global market.
Total market value: 106.193 billion RMB
Company website: www.sungrowpower.com
Power Electronics
Company profile:
Power Electronics is a Spanish leader in the field of AC motor control, with over 20 years of experience in developing soft starters and frequency converters. The headquarters is located in the Technologic Park of Paterna, a new technological development center in the Community of Valencia.
Power Electronics is also a major Spanish producer of soft starts and frequency converters. Rely on existing and future-oriented strategic plans to become a leader in the electrical and electronic market. Provide customers with high-quality, innovative technology research. In addition, professional engineers in the technical department also provide comprehensive pre-sale and after-sale services.
Provides a full-service system that includes commissioning support, 24-hour technical assistance, commitment to repair and replacement within one day, three-year warranty, immediate delivery, customer training and specialized engineering applications.
PowerElectronics inverter shipments to be around 15GW in 2021
Company website: http://www.power-electronics.com.cn/
Growatt
Company profile:
Founded in 2011, Growatt is a new energy enterprise focusing on R&D and manufacturing of solar grid-connected, energy storage systems, smart charging piles and smart energy management solutions and become one of the Top 10 pv inverter companies in the world.
Since its establishment, Growatt has always insisted on R&D investment and technological innovation. It has successively set up three R&D centers in Shenzhen, Huizhou and Xi'an, and dozens of R&D backbones with more than 10 years of inverter R&D experience have successfully led the team to occupy the technical high point. , control the core technology of new energy power generation.
More than 80 authorized patents have been obtained. At the end of 2020, Growatt Smart Industrial Park was officially completed and put into operation in Huizhou. The industrial park covers an area of 200,000 square meters and can provide 20GW of high-quality products to global users every year.
Growatt's reliable, sustainable and all-scenario smart energy solutions, the newly launched Battery Ready residential energy storage solution, industrial and commercial inverter MAX 100-125KTL3-X, and THOR series of smart charging piles, were unveiled simultaneously.
The energy storage preparation solutions include the single-phase MIN 2.5-6KTL-XH series and the three-phase MOD 3-10KTL3-XH series, which are characterized by their simple and elegant design that blends in with other home designs.
The MAX 100-125KTL3-X is a new generation of photovoltaic inverters designed for commercial and industrial applications, this new product creates many of the "highest" on the market: the highest power density and the highest single power rating, also the highest The string current is up to 16A, which is perfectly compatible with 600W+ high-power modules.
Growatt also exhibited the THOR series of intelligent charging piles, which include different models such as single-phase 3-7kW and three-phase 11-22kW. THOR series charging piles lead the innovation and change of the industry, combine the optical storage system with the charging piles, and provide customers with intelligent and clean charging solutions.
Registered capital: 30 million RMB
Company website: http://www.growatt.com
Ginlong
Company profile:
Ginlong Technology Co., Ltd. was established in 2005. Based on the new energy industry, the company is a high-tech enterprise specializing in the research and development, production, sales and service of string inverters for core equipment of photovoltaic power generation systems.
After more than ten years of development, it was successfully listed on the Shenzhen Stock Exchange on March 19, 2019. It is the first A-share listed company with string inverters as its main business, and the world's first third-party authoritative organization. PVEL's reliability test report for inverter companies.
Ginlang solis continues to innovate in intelligent photovoltaic solutions with intelligent string inverters as the core. This time, the German exhibition brings a full series of family products to the show.
Among them, S6-EH3P(5-10)K-H injects a new technical concept. It integrates 4 channels of MPPT input, which is suitable for multi-structure villa roofs. At the same time, the maximum string input current of 16A can be compatible with high-current components.
The UPS level switching is less than 10ms, keeping the key load uninterrupted, achieving true non-sensing switching, and adding the function of parallel generator. When off-grid, the generator can be used to supplement the battery energy, or the energy storage system can be used to supply power to the load at the same time .
Total market value: 51.076 billion RMB
Company website:www.ginlong.com
Goodwe
Company profile:
Goodwe as Top 10 pv inverter companies in the world was established on November 5, 2010. Goodwe is a supplier of solar photovoltaic inverters and related products. The company's products include grid-connected inverters, energy storage products, SEMS systems and supporting products. It can be used in household, commercial, ground and energy storage, etc. In addition, it also involves service support such as power station system design, troubleshooting and quality assurance.
Grid-connected inverters contributed the main revenue, and energy storage inverters grew rapidly. The company's inverter shipments in 21H1 were approximately 238,500 units. Among them, the shipment of grid-connected inverters is about 217,500 units, accounting for about 91.19%;
The shipment of energy storage inverters is about 21,000 units, accounting for about 8.81%. It is estimated that the shipments of grid-connected inverters in 21 will be about 450,000 units, and energy storage inverters will be 50,000 units. The proportion of the shipment structure has been increased to 15%, and the optimization of the shipment structure is expected to further enhance profitability.
A complete range of inverter products and continuous expansion of production capacity. The company has a complete range of inverter products, fully covering the needs of households, poverty alleviation, industry and commerce, and large-scale power stations. The string photovoltaic grid-connected inverter covers the power range of 0.7-250kW, and fully meets the requirements of various types of photovoltaic modules and grid-connected grids. The photovoltaic energy storage inverter covers the power range of 2.5-10kW single machine, and provides a series of solutions such as micro grid, industrial and commercial energy storage. The company's Guangde Phase II project of 500,000 inverters is under construction. After the project is completed, the company's production capacity will be further enhanced.
Transform from a single new energy power supply equipment enterprise to a comprehensive energy Internet. The company is developing from a pure new energy power supply equipment enterprise to an energy Internet with functions of power generation monitoring, photovoltaic energy storage, adjustment of peaks and valleys of power demand, and data collection of load power demand.
Total market value: 19.536 billion RMB
Company website:www.goodwe.com
SMA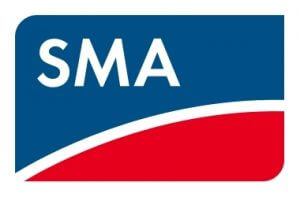 Company profile:
As the world's leading provider of solar system solutions and services, SMA Group has always been committed to setting industry standards for renewable energy supply.
SMA's products include solar and energy storage inverters of different power levels, electric charging piles and energy solutions such as green hydrogen production. So far, the company has more than 110GW of inverter installed capacity, and its products have been successfully applied in 190 countries around the world.
In 2008, SMA Solar Technology AG, the parent company of the group, was listed on the main board of the Frankfurt Stock Exchange in Germany. In 2021, SMA inverter shipments will reach 13.6w
Total market value: 1.525 billion EUR
Company website: https://www.sma.de/en.html
Sineng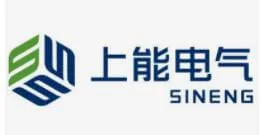 Company profile:
SINENG is a national high-tech enterprise focusing on the R&D, manufacturing and sales of power electronic products. The company is deeply engaged in the field of power electronic power conversion and control, providing users with products and solutions such as photovoltaic grid-connected inverter, photovoltaic power station operation and maintenance, photovoltaic power station development, power quality control, and energy storage bidirectional conversion. Its business covers the whole system of power generation, power supply and distribution, and electricity consumption. It is a leading equipment manufacturer and solution provider in related industries.
The company's energy storage bidirectional converter related products have been widely used in "photovoltaic + energy storage", "wind power + energy storage", thermal power combined energy storage frequency regulation, user-side energy storage, independent energy storage power stations and other fields.
Total market value: 7.100 billion RMB
Company website: http://www.si-neng.com/
Solar Edge
Company profile:
Established in 2006, SolarEdge developed the DC optimized inverter solution that changed the way power is harvested and managed in photovoltaic (PV) systems. The SolarEdge intelligent inverter solution maximizes power generation while lowering the cost of energy produced by the PV system, for improved RoI.
Since its IPO on the NASDAQ in 2015, SolarEdge continuously shows significant growth in revenue and gross margin. Continuing to advance smart energy, SolarEdge addresses a broad range of energy market segments through its diversified product offering, including residential, commercial and large scale PV, energy storage and backup solutions, EV charging, home energy management, grid services and virtual power plants, inverter battery and uninterrupted power supply (UPS) solutions.
According to reports, electricity from residential solar power installations and accompanying deployed SolarEdge battery storage systems can be pooled and aggregated by local utilities to support the grid, especially during periods of peak demand for electricity.
In addition, including the SolarEdge Energy Bank residential battery energy storage system launched last October, the Energy Bank battery energy storage system will be integrated with SolarEdge's energy center inverter hardware and grid service software, build what PearlX is calling a cloud-based real-time aggregated control management and distributed energy (DER) system.
Building on the continued push for smart energy, SolarEdge residential, commercial and large-scale solar systems, energy storage and to backup power solutions, electric vehicle charging, residential energy management, grid services and virtual power plants, to battery and uninterruptible power systems (UPS) ) solutions and other diversified products to meet the different needs of the energy market.
SolarEdge, as the only representative of the cluster + micro-inverter manufacturers, will ship 7.2GW of inverters in 2021
Total market value: 16.537 billion US dollars
Company website:https://www.solaredge.com/us/
TMEIC
Company profile:
TMEIC drives global industry forward through a broad range of system solutions, including variable frequency drives, motors, photovoltaic inverters, and advanced automation systems for a variety of industrial applications.
Toshiba Mitsubishi Electric Industrial Systems Co., Ltd. (TMEIC) was established in 2003 by integrating the industrial systems divisions of Toshiba Corporation and Mitsubishi Electric Corporation.
Committed to developing collaborative solutions that actively benefit industries around the world. With strong resource integration advantages, TMEIC strives to develop innovative technologies, respond quickly to industry trends, and apply solutions to a wide range of global industrial markets.
TMEIC's success is tied to customer achievement. From design concept to equipment installation, we work hand-in-hand with our partners to build lasting relationships to ensure that challenges are solved and even exceed business goals.
TMEIC introduces suitable systems, provides maintenance and support to customers.
In 2021, TMEIC inverter shipments will be nearly 6GW.
Registered capital: 15 billion yen
Company website: https://www.tmeic.com/
For more photovoltaic industry company information, you can browse Top 5 energy storage battery companies and Top 10 powerwall manufacturers for home energy storage.